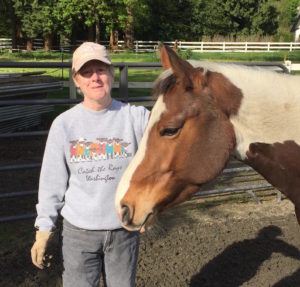 Our April Volunteer of the Month has been a steadfast friend of SAFE for more than three years. She has a quiet way with people and horses. She doesn't need the spotlight and goes about her work with a cheerful willingness that makes the Saturday morning shift run smoothly. Jayne Tracy is always happy to meet new volunteers and new horses. She greets both with a smile. Jayne is a favorite with the horses, and not just because she brings them carrots. Her gentle nature and calm demeanor put even the skittish ones at ease. Jayne is a busy retiree and we are fortunate to have her with us. She also spends her time walking rescue Greyhounds and acting as the president of the Seattle Beagle Rescue, where she has volunteered for 14 years.
Originally from Santa Monica, CA, Jayne started riding horses in high school. As a young adult she traveled to Guam to teach kindergarten. While she was there, she and some friends noticed that many dogs went uncared for on the island. Together with her friends, Jayne helped start the first humane society on Guam. When she returned to the states, Jayne settled in the Seattle area and got back into horses. She bought her first horse when she was 36. Pablo was a Quarter Horse and Jayne's steady friend for 20 years. They enjoyed the trails together and Jayne took devoted care of Pablo until the end. She currently leases a Swedish Warmblood mare and they hit the trails regularly in Bridle Trails State Park. Even with a special horse of her own, Jayne still finds time to come and help take care of the SAFE Herd.
Thanks, Jayne, for sharing your hard work, sunny smile, and gentle ways with us.