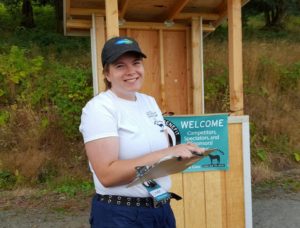 Lexee Navarre is one of the best neighbors, friends and volunteers SAFE has ever had. Selected as October's Volunteer of the Month, Lexee regularly pitches in to do nightcheck, pinch hits on short shifts, and on Day of Caring in September, led a team of adult engineers from Allytics on a construction project, prompting the Allytics CEO to describe her as "amazing." She has been on our official volunteer roll for four years, although she and her family, who live next door to SAFE, have been helping out since SAFE moved to our current site.
Lexee says that when she and her family moved in next door to Safe Harbor Stables, then a for-profit riding stable, she knew she wanted to do something with the horses. "And so, for my seventh birthday, my Mom had me start riding lessons, and horses and I have been inseparable ever since."
Lexee now owns Duke, a chestnut Anglo-Arabian, and Hunter, a half Thoroughbred, half Appaloosa. She shows Duke in English pleasure classes and rides Hunter on trails, because "he gets quite bored in an arena but take him out on the trail, he'll climb any hill, cross through rivers, and jump over logs."
She says she loves volunteering for SAFE because, "I know I'm helping good people and horses who need all the help they can get. I love to help others and I love horses so being involved with a rescue is a no-brainer.
"It's hard for me to pick a favorite SAFE horse, but a horse I have always loved is Ben. He's such a wonderful horse and seeing the progress he's been making with Lisa has been incredible to watch. I can't wait for him to find his forever home and transform into the fantastic horse he's meant to be."
When she's not spending time with friends and family, riding or helping out at SAFE, Lexee is a fulltime college student working toward a degree in civil engineering.
Thanks, Lexee, for all you do for SAFE rescue horses.