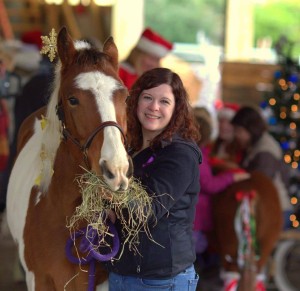 Anyone who has ever owned a horse, ridden a horse, or even just spent time around horses knows just how much work goes into it. There's no such thing as an easy day at a barn. Even mundane daily tasks take energy and effort. No one understand this more than SAFE.
Safe Harbor Stables is staffed entirely by volunteers. Yup, you read that that right. All. Volunteers. They come 4 times a day, 7 days a week, 365 days a year and give of their time to check on, feed, clean, and water the horses. The barn isn't closed on Christmas, or shut down on New Year's Eve. The Fourth of July isn't a day off for celebrating…in fact, fireworks mean that we require more hands on deck to keep horses safe and calm.
There is no time like winter, when the strain of volunteering at the barn is the greatest. This winter in particular was noticeably harder on our volunteers than in the past. Usually the Pacific Northwest eases you into the cold and gives you time to acclimate. Not so much this year. November brought us 20-30 degree days and it continued on into December. Those cold days required the volunteers to spend endless amounts of time breaking and removing ice from outside water buckets, dumping, refilling, and warming stall water, chiseling frozen manure out of runs, dragging out hoses from the tack room, blowing the water out when done, and dragging them back in, all in freezing temperatures. Winter always means more work for SAFE volunteers. However their dedication to the horses and the reprieve of knowing winter won't last forever carries them forward.
Since last fall, we have had several horses on stall rest who need to be hand walked every day. There isn't enough time for one person to hand walk 4 horses, ground work 5 horses, and then ride 6 more in a day. Once again we gratefully called upon the volunteers to help. Between breaking ice and trying to warm up, volunteers could be found calmly walking rehabbing horses around the arena. The horses that aren't on stall rest are in the capable hands of the volunteer riders, who are also always at the barn, in the cold and in the rain.
In any given day, a single volunteer will feed horses, clean stalls, do turn out, hand walk horses, fill waters, and that's an average day. But lately we've had some not-so-average days at the barn. Because caring for them isn't hard enough, some of our horses decided to test our resolve by catching a cold. We went into strict quarantine procedures and once again the volunteers were called on to help carry the load. They were asked to follow a rigid protocol that added several additional steps to their shift, to ensure the continued health of the unaffected horses. Again they mustered up a smile and some positive energy to do what was asked.
We can't say enough how grateful we are for our volunteers. It's because of their day in and day out care and attention that SAFE is able to take in more medically challenging cases and more horses in desperate need. It's because of them that we are able to rewrite the story of so many horses' lives. These last few months have taken a toll on everyone but the volunteers have all endured. As a result, they get the credit for having a barn full of happy and healthy(ish) horses.
Now that January is behind us and February is here, it feels like we are finally turning a corner on the weather. With the sunshine and warmer days approaching, both the horses and volunteers are feeling the cold grip of winter slowly easing. We wish we could promise the volunteers that next winter won't be as bad but unfortunately we can't. The best we can offer is our unending gratitude and as many horse snuggles as they want.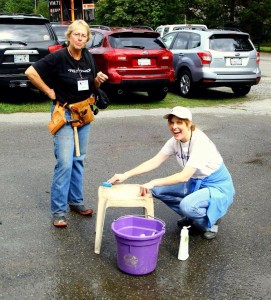 So thank you, volunteers! Thank you for doing chores, for feeding, for training, for riding, for hauling, for repairing, for sorting tack, for arranging events, for massaging horses, for giving meds, for checking them at night, for being a foster family, for serving on the Board of Directors, for being a part of the Operation Council, for helping at work parties, and for everything else you do. We see it, we see you, and we couldn't more appreciative.
Do you want to join our team of super-humans helping horses? Click here to go to our Volunteer Application.