Ani O'Hara has always had a connection to animals — she says she's never met an animal she didn't love! During her teenage years, she spent summers on her Aunt Mary's farm in Cordoba, Argentina, tending to the farm and riding horses. These are Ani's best childhood memories. Fast forward to 2019, when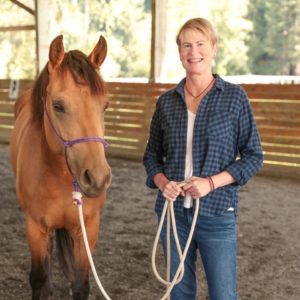 an awakening that told her she had to reconnect with horses. She found SAFE, and began volunteering on a morning chore shift. She says that the extraordinary work SAFE does for so many beautiful beings who deserve their best life is one of a kind. She also found truly kind people, an instant sense of peace doing chores, and a tremendous interest in one of the best run organizations she's ever seen. A position on the SAFE Board of Directors offered her an opportunity to contribute in an additional way.
After 20 years in the healthcare industry, Ani started O'Hara Consulting and Coaching which specializes in culture building, employee engagement, and leadership. She has dedicated herself to helping people take their talent to the next level. In her work with organizations, she facilitates a process to align vision and values with behavior and performance. Ani shares her professional talents and skills with SAFE's staff and volunteers, helping build stronger and more effective teams together.
For fun, Ani loves reading, writing and anything outdoors — especially near a body of water.