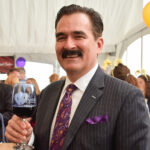 Dan Rike has lived the majority of his life in the Puget Sound area and has a lifelong journey and connection both with horses and working and volunteering with nonprofits.
One of the organizations that Dan has been proud to be a member of is the Washington Civil War Association (WCWA) Cavalry Unit. He has served in a variety of different capacities with the WCWA since 1997, from starting his own Calvary Unit to standing as WCWA President for the State of Washington with over 1,000 members. Currently Dan is serving as the Equestrian Safety Advisor for the organization.
Dan is a natural leader and mentor with the ability to guide, inspire, and problem solve. He officially joined the SAFE Board of Directors in 2020, but he's been an advocate and support of the organization for the past four years. He graciously accepted the role of Board President in April 2020, bringing his strong leadership abilities to the Board as it works to build an exciting future for SAFE.
Dan has been a leader in the real estate industry for over 30 years. In Dan's downtime, he enjoys a good cigar, time with his family, vacationing, and cheering on the the Seahawks.