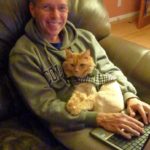 Joe Schick brings a strong finance background to SAFE. Over a 30+ year career, he has held various senior and executive financial positions at large public and private companies. He has been a CFO for the last 10 years and is currently CFO at Branded Entertainment Network (BEN), an advertising company owned by Bill Gates. He is also a CPA.
He has worked with and been a member of boards throughout his career, including public company boards (Expedia as a SVP of Finance interacting with the Board and BioLife Solutions where he is an independent board member); private company boards (as CFO of Vertafore, Talyst, and BEN); and non-profit boards (Hollywood Hill PTA, Homeward Pet, the Archdiocese of Seattle, and now SAFE).
Joe and his wife Bernice have owned horses on their 3‑acre farm in Woodinville for almost 30 years. They adopted Atticus from SAFE a few years ago and Atticus is enjoying his golden years under their care.