Chip
SEX:
gelding
BREED:
Miniature Horse
REGISTERED NAME:
none
INTAKE DATE:
2/13/22
COLOR: grey
MARKINGS:
YOB:1997
AGE: 24 yrs old
HEIGHT: 9.3 HH
WEIGHT: 192 lbs
LOCATION: foster
ADOPTION FEE: TBD
Online Adoption Application
Chip is a 24 year old miniature gelding whose owner's health had quickly decreased in the last month. Being a responsible and caring horse owner, they reached out to SAFE asking for help for their two mini horses, Chip and Dale, while they focused on their medical needs. The staff discussed options and found a foster home where the minis could live until the owner returned to health. When SAFE volunteers arrived to pick up the minis the owner made the very difficult situation to permanently surrender the ownership over to SAFE. Chip and Dale currently live with their foster mom, Laura.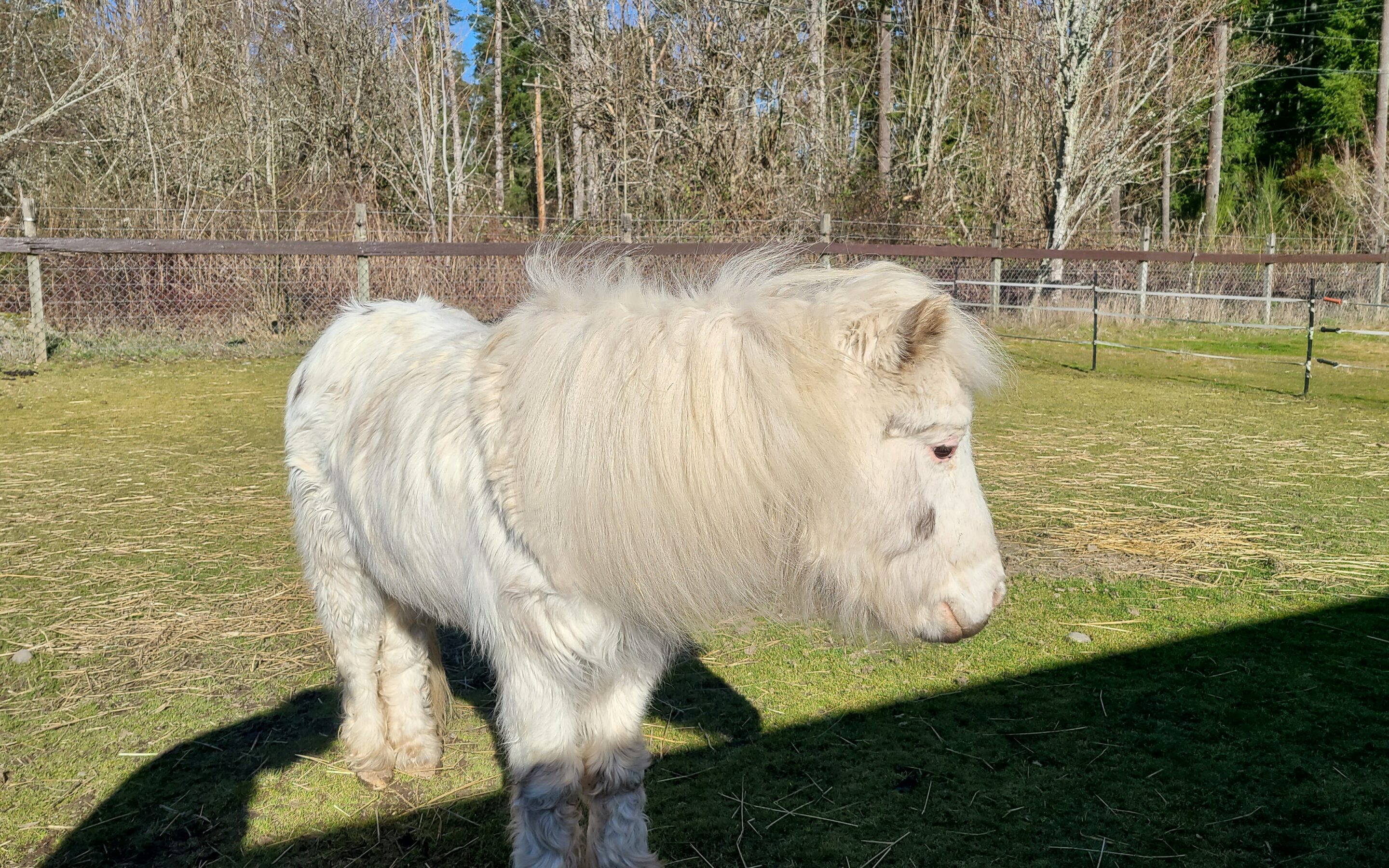 Chip's level of comfort appears to have made some slight improvements since his last visit two weeks ago with Dr. King from Pilchuck Veterinary Hospital. His blood work shows only a very slightly elevated ATCH but visually he has very classic symptoms of Cushing's, including the stagnant, shaggy coat and of course the laminitis. We will begin on a very low dose of Prascend and hope to help him improve and to help support him. His weight is good, so we will be addressing Cushing's disease and will not have to worry about the metabolic side. These would be excessive fat pads indicative of horses who are suffering with both Insulin Resistance and Cushing's simultaneously. Due to age and body type we will continue to manage sugar intake.
Today, Dr. King helped support Chip's front hoof with another conservative trim that took off some of the excess distorted hoof wall. He used an adhesive and casting tape to make a hoof wall cast to provide more support to the hoof. His heels were left open to allow for good movement. We will continue with pain management with Bute and recheck again in two weeks.
Laminitis is a cruel disease. Our number one priority right now is to give Chip comfort and support as his little hooves try to recover. We are realistic that things can change for the worse drastically and quickly in these cases. For right now, he has shown some small improvements. We are reassured that Chip is being treated with dignity and given our best efforts to turn this around. This was not something that just happened and, as the x‑rays showed two weeks ago, he has been suffering for a long time from this disease. We are thankful to have Dr. King helping on this case. His expertise in this area of equine podiatry is valuable. Little Chip is assuredly in very good hands and getting the absolute best care possible.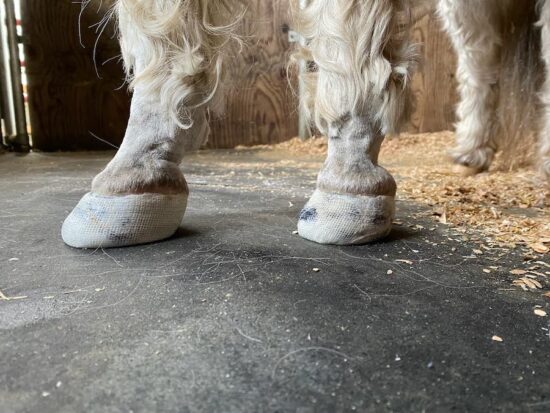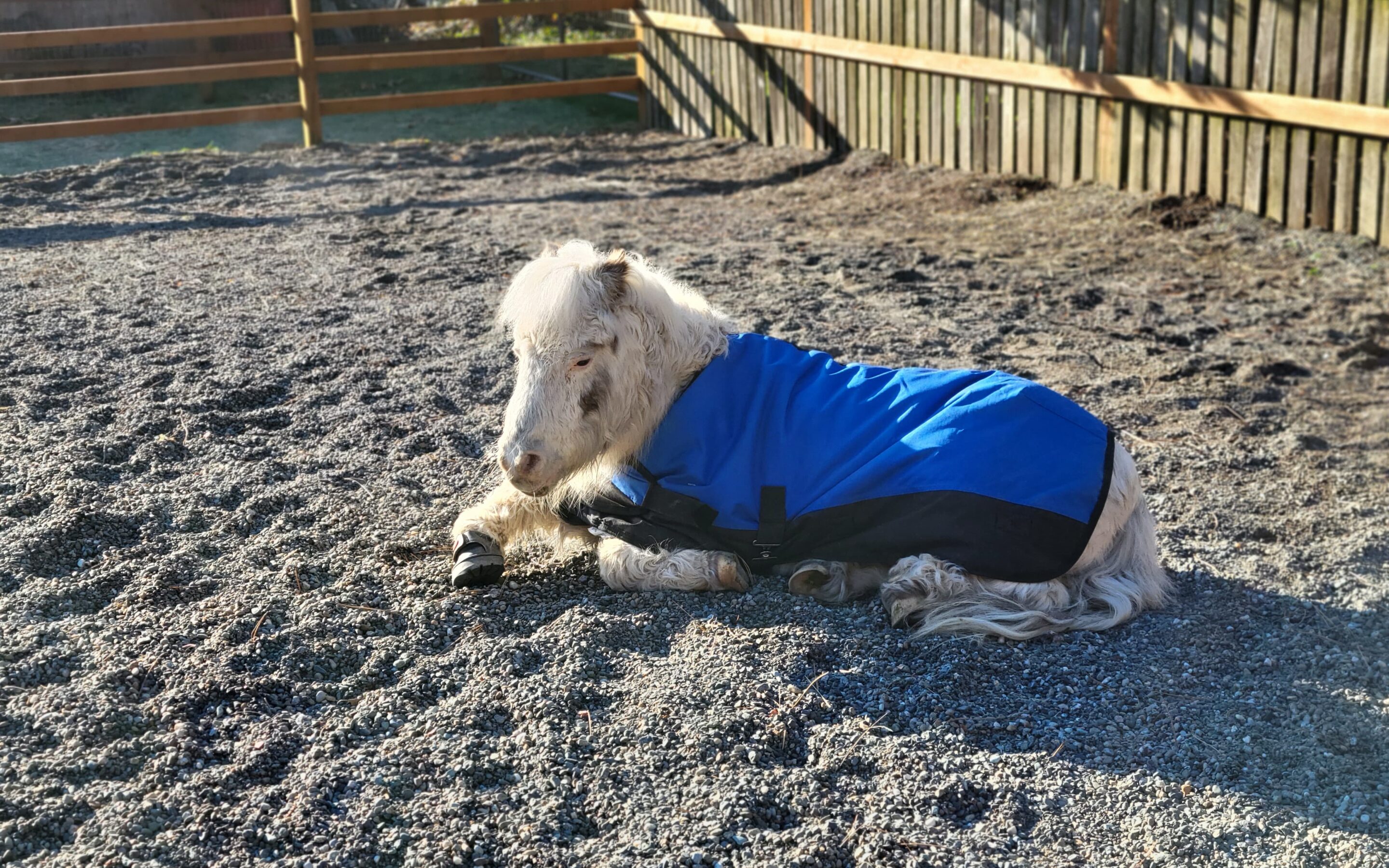 Shortly after arriving at their foster home, Chip and Dale gave us quite a scare. The pair had an intake vet visit scheduled for early March, where they would get overall examinations including bloodwork to test for possible Cushing's, lameness evaluations, and dental checks. But anyone who has ever owned horses knows that things often do not go according to plan, and a medical emergency required them to be seen a bit sooner than expected.
Chip managed to get himself out of his dry lot and on to the grass, which caused a flare up of laminitis. He had previously foundered around a year ago, and upon intake was already appearing a bit sore, with his left front appearing a bit more so than the right. Luckily, a sharp eye by foster mom Laura had the wonderful vets from Pilchuck quick on the scene, where they put together a game plan for treating little Chip.
They first took blood to check his kidney levels. His creatine levels were within normal range, so they were able to administer bute. His front hooves were wrapped in cotton, which seemed to help. Thanks to our wonderful network of volunteers, we were able to quickly connect with fellow foster Shellie, who, having had laminitic minis in the past, had a pair of boots she was able to lend Chip. He will be on bute for a little while to help with the discomfort, and going forward, his hay will be soaked to reduce the sugar content.
Dale is on a no-hay diet, as due to the worn-down grinding surfaces of his teeth, he is prone to choke. We are currently working with his foster mom to help find him a low-sugar senior complete feed.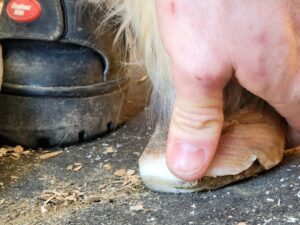 A few days after their unexpected vet visit, the pair were seen for the first of two non-emergency initial visits with Dr. King at Pilchuck. We scheduled Chip for a follow-up X‑ray to get an idea of the rotation in his hooves. Lateral shots revealed that he has a 26 degree rotation on the right, with the left exhibiting even more. Both of his hooves are sunken, with thin sole depth. He received a trim to help, with an aggressive bevel and leveling of heels on his left, and a bevel and toe trim on his right. The pair also had a bloodwork panel done, as well as tests for Cushing's.
Both will have dental checks performed during their next visit, and are scheduled to receive a flu/rhino booster.
We are so very thankful for foster parents like Laura, who was quick to notice something was amiss with these two little ones and was in quick communication with us and the fabulous team at Pilchuck to get them the help they needed.
With all intakes, there is a cost to get them set up with all they need, especially when it comes to veterinary care. In the case of some horses, these costs are higher than others. Our newest intakes, Chip and Dale, are one such case. They don't get discounts for size! We appreciate Pilchuck's assistance and generosity, but they are still a working business.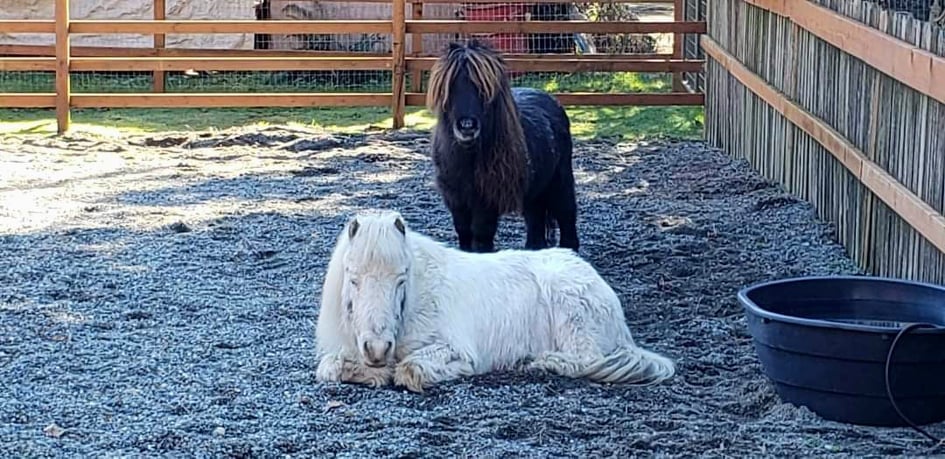 Recently, SAFE received a phone call from a senior in our community. Up until mid January, they had been in very good health. Sadly, they were in an automobile accident and ever since had been experiencing a diminished capacity on their left side. While waiting for more testing and doctor visits, they were unable to care for their two senior minis with the same level of care they had for many years. Being a proactive and responsible owner, they reached out to SAFE for assistance and to prepare in case they were unable to return to full health.
SAFE discussed at length their wishes and assured them the minis would be taken care of if they were unable to regain their mobility, or if they decided to sell their home to move closer to family out of state. Since this case was directly in line with our mission, we agreed to accept the minis as soon the owner was ready. Knowing that the stress of their future and currently not being able to care for their day to day cleaning needs, we arranged for a short-term solution and a temporary foster home. This would allow them to focus on getting healthy and not worry about the minis.
We set out to pick up the littles for foster and while visiting the owner made the very hard decision this should be a permanent move and they would release ownership to SAFE. Luckily plan B was quickly set into motion. The minis, now named Chip and Dale, loaded in the trailer and headed to their foster home. We are so grateful to have amazing people like Laura, their new foster mom, who was willing to open her home to these cuties! This is perfect example of the wonderful community outreach SAFE is doing, often behind the scenes, on a daily basis. Counseling, advocating, supporting, and assisting responsible owners looking to do better for their horses.
Huge efforts were made by our volunteers to make this transition possible. An enormous amount of credit needs to go out to their owner for thinking ahead and for making a tremendous sacrifice to ensure they are well taken care of for the rest of their lives. Welcome to SAFE, darling boys! More updates and information to follow about these CUTIES!!

Chip's Friends:
1. Pauline M.
2. _____________________
3. _____________________
4. _____________________
5. _____________________
6. _____________________
7. _____________________
8. _____________________
9. _____________________
10._____________________
Every horse deserves at least ten friends! Even a small monthly donation can make a difference. Plus, SAFE horse sponsors receive discounts at local businesses through the SAFEkeepers program!