Kat
description: 1997 chestnut Quarter Horse mare
registered name:Playing to the Music (AQHA)
type of rescue: Animal Control Seizure (2012), Returned to SAFE (2019)
original rescue date: 6/26/2012
return date: 2/25/2019
adoption date: 8/30/2019
length of time with SAFE: 6 months
ADOPTED!! by Shar Connor
.
Kat's Story
Kat was originally surrendered to SAFE by her owner in 2012, who could no longer care for a horse due to failing health and financial difficulties. Recognizing that her mare was losing weight and badly in need of dental and farrier care, she made the difficult decision to ask for help. For the next two years, Kat was a favorite of SAFE volunteers riders. She competed at the 2012 SAFE show in several disciplines including Western Dressage, Trot Poles, and Mounted Trails.
Kat was adopted in 2014 but in early 2019, her adopter decided she could no longer keep her. She was returned to SAFE, and put back into our horsemanship program to brush up on her under saddle skills. She proved to be a favorite riding horse to several of our volunteer riders. Kat was adopted by a long time SAFE volunteer who had known her prior to being adopted, and had a great fondness for this little mare. She now lives on a lovely property near Bend OR where she enjoys trail riding and hanging out with another horse named .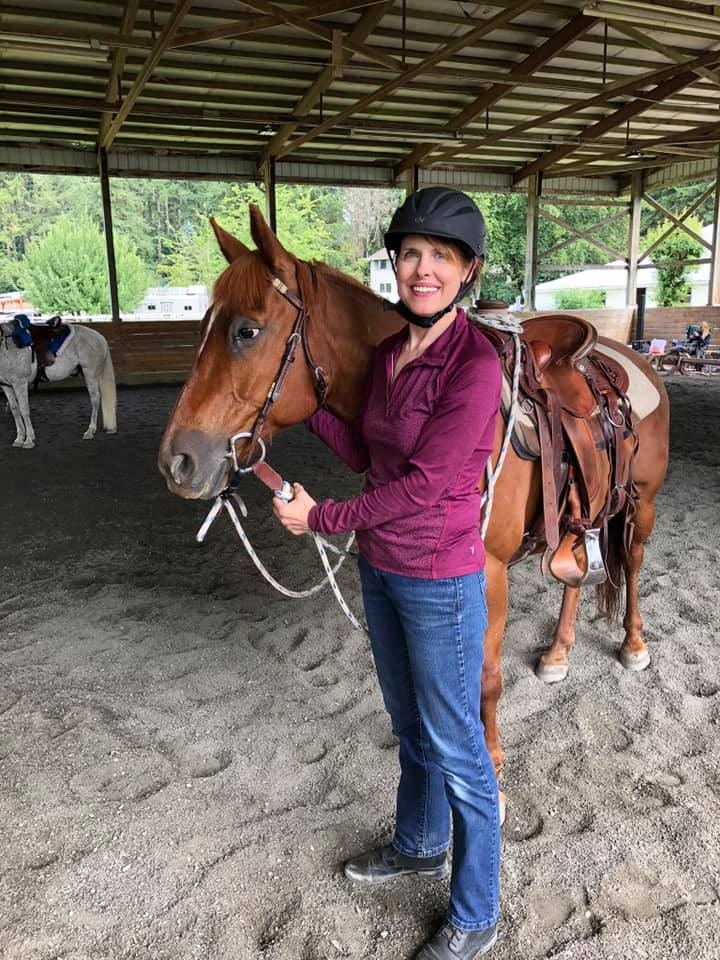 Adoptions are always wonderful to announce but this one has a very special joy around it. Lovely Kat has found a forever home! Long time volunteer and alumni manager Shar has opened her home and family to give this very deserving mare a safe and loving home. We are all very thankful this adoption could happen. Kat was so thin when she returned to us earlier this year and while it took some time for her to became healthy again, it was her connection to the people at SAFE that was such a joy to watch.
Kat is a reserved mare, who sometimes seems uncertain about new people in her life, most likely because she felt she could only count on herself. The horsemanship work she experienced at SAFE opened up a new way of being with people. It is especially satisfying to watch the transformation that happens with sensitive and intelligent mares like Kat.
Kaya, who worked with Kat at SAFE, had this to say about her:
Congratulations to Kat! She has found a fabulous home with a phenomenal person. I'm so glad that I was able to work with her for the past few months and I am so excited for her to be able to live out her days in a comfortable situation with her person; she so deserves it! This summer, we restarted Kat in the Buck Brannaman style of horsemanship. She was super anxious at first and it took a little while to get her to understand pressure. The flag was a big deal to Kat, as was any kind of human produced "pressure". I use pressure in quotes here because that was how Kat viewed the flag, even when there was no intent behind its use. I think that understanding the difference between when something is being asked of her and when something means nothing was a huge step for Kat. Once she understood that difference, she was able to relax so much more and was super responsive to energy. That, combined with feeling free in her feet, allowed her to gain so much confidence! It was really cool to see this journey. Towards the end of my time with Kat, we had grown together so much in our partnership that I felt more confident while riding her than on many other horses I've ridden in the past. She has clearly always been a very thoughtful horse. Now that she has a different way to understand pressure, I think it is easier for her to think things through and be more confident, rather than resorting to an anxious diving away from it. It really seems like this style of horsemanship helped Kat a lot!
Kat settled in quickly with her new family and became fast friends with Shar's other horse, Flicka. As expected, Kat established herself as boss mare and has settled into her comfortable life. We're happy that Kat is finally in the home she was meant to have. She will always be take care of and looked after. Kat is in a phenomenal home and will have all the attention she needs to be health both in her body and soul. We couldn't have asked for a better ending to her SAFE journey!