Lacey
| | | | |
| --- | --- | --- | --- |
| SEX: Mare | BREED: Mustang | REGISTERED NAME: None | |
| COLOR: Chestnut | MARKINGS: Blaze, two socks | | |
| DOB: 7/4/2012 | AGE: 6 | HEIGHT: 13.3 | WEIGHT: 872 lbs |
| LOCATION: Redmond | ADOPTION FEE: $1,000 | Online Adoption Application | |
Lacey's Story
Lacey is a young mustang mare who was born at a wild horse sanctuary. She and Stevie were adopted by a family who fell in love with his photo. Unfortunately their adopter was forced to rehome the two youngsters due to personal circumstances. Two years later, the original owners were contacted by the person who had taken them, who also was unable to keep them. Concerned for their safety, both owners turned to SAFE for help. We evaluated the horses with the assistance of our veterinarian at Mt Rainier Equine, who found them to be in decent health and soundness, but pretty thin. (Lacey needed to gain about 75 pounds.) The two horses were surrendered into our care. After groundwork and saddle work had started at SAFE, Lacey went for 90 days professional training to be started by Joel Conner. She did well with the riding but some of her ground manners still needed to be confirmed.
Lacey Today
Lacey has mellowed into a sweet girl who loves working outside, hitting the trails, and cuddling on her person. She is a pretty dominant mare, though, and can test her handlers, so she's best suited for a confident adult rider.
At 13.3 hands, Lacey needs a smaller rider, but she has a stocky frame and doesn't ride small. She's a fast learner with a forward trot and canter, and a great stop. She's brave and attentive on the trails and would benefit from a rider with the experience to focus her energy. With a solid Horsemanship foundation–including good ground manners for the vet, the farrier, and trailering–Lacey is ready for the right partner to finish her education.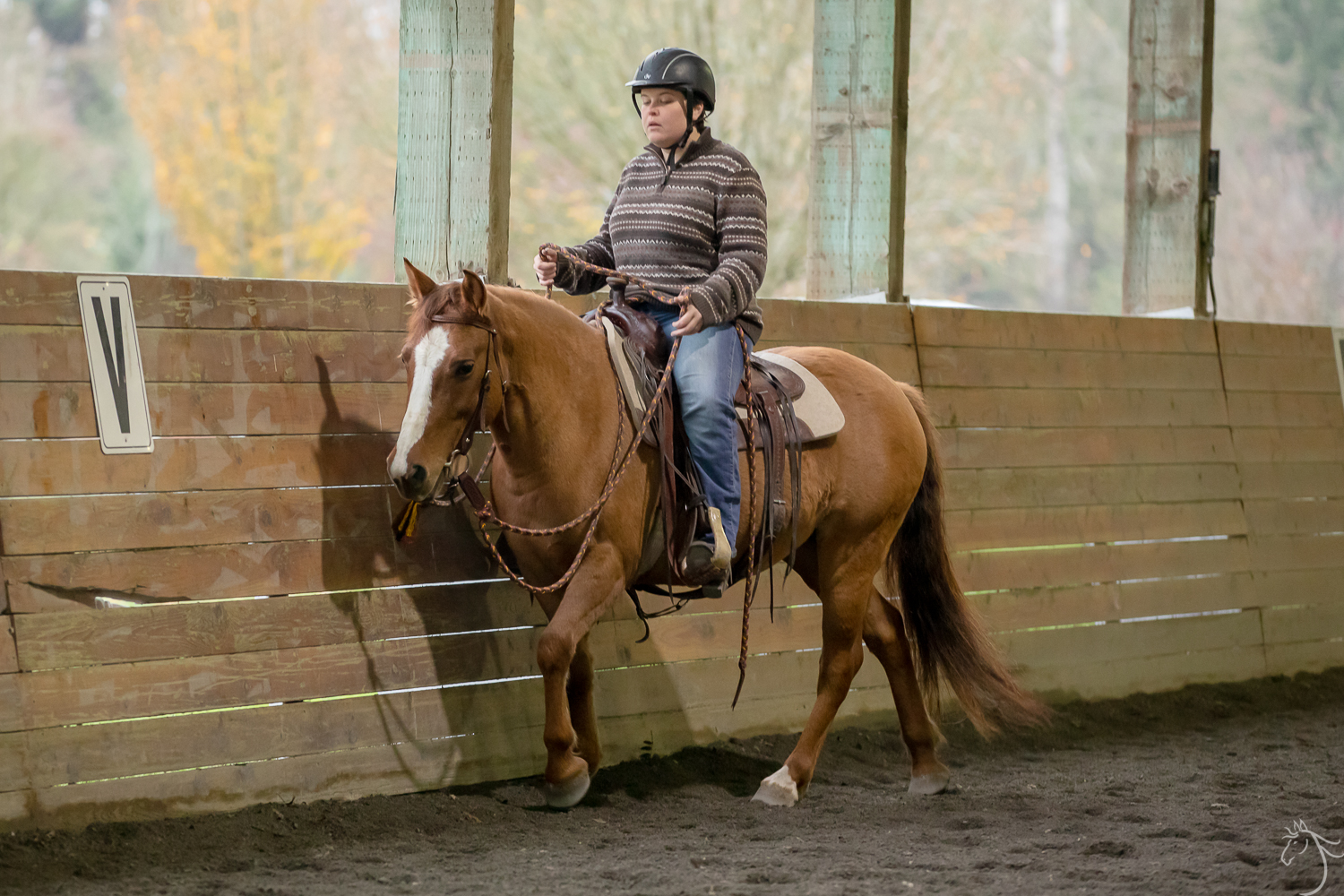 Lacey is making great strides in her riding work and improving immensely with Kaya's consistent care. We recently took Lacey out on a trail ride. She had a good amount of energy and life out on the trails. She was brave and attentive to Kaya. She did feed a bit off the other horse's high energy and became "hot" when a runner came from out of nowhere. Kaya did great getting her to work and get busy to regain her attention and peace. It took a little time but she came to focus and Kaya was able to regain a calm and relaxed ride on our way back home.
Here is Kaya's update about Lacey in the last Joel Conner clinic at Safe Harbor Stables:
This was my second clinic with Lacey and I was a lot more confident this time around! I have come to realize over the last month that Lacey is not generally bothered by outside factors like weather, other horses, commotion, things that might make other horses nervous or flighty. Lacey is one solid pony! That being said, fighting her dullness is a constant struggle. Saturday was great and we were consistently picking up the correct lead and transitioning between gaits with ease. Sunday, however, she was really tired and a lot more work. Joel gave us instructions to focus on short rides that inspire life until around January.
Besides focusing on life, Joel also helped us with front quarters. He noticed that Lacey was really heavy on the front end and gave me tools to help her be more free there. Lacey is such a special horse, I feel so lucky to get to be her friend. Lacey definitely has a lot of love to give, but she's a little selective about who she gives it to. Though some people may think that Lacey is just grouchy and mean, that is so not true! She is one of the most cuddly and lovey horses I've worked with and is so much fun. She has so much to give and is going to make an amazing partner for someone in the future.

Lacey's Friends:
1. Roxanne M.
2. Margaret C.
3. Karen K.
4. Maureen S.
5. _____________________
6. _____________________
7. _____________________
8. _____________________
9. _____________________
10._____________________