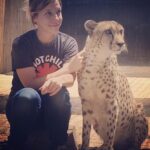 Sarah Young was born and raised in Texas and has loved horses her entire life. Horses were a huge part of her youth. Sarah graduated with a Bachelor's degree in biology from the University of Texas at Arlington and has spent the last decade working as a zoologist. Throughout her career and studies, she has had the opportunity to study wildlife around the world, from Norway to South Africa.
In 2020, Sarah enrolled in graduate school to continue her studies in biology and made the decision to move to Seattle, Washington. With a bit of luck, she discovered SAFE and was inspired by the mission and reached out immediately.
Apart from working with animals, Sarah's passions are traveling the world, hiking, and birding. In her free time, you can usually find her with her fiancée Alex and dog Bowser exploring the great outdoors.