About SAFE Horse Rescue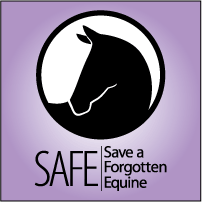 Our mission: To rescue, rehabilitate, and retrain horses facing neglect or abuse and provide them with the best opportunity for a permanent home and a lifetime of safety.
Since 2005, Save a Forgotten Equine (SAFE) has been rescuing and rehabilitating horses that have been starved, neglected, abused or are unwanted. We have formal agreements in place with Animal Control agencies in King, Pierce, and Snohomish counties to support their fight to protect horses in this region. SAFE also provides assistance to horse owners struggling to care for their animals in the current economy.
SAFE is deeply committed to its rescued horses. We have extensive experience in equine rehabilitation and have successfully brought many neglected horses back from the brink of starvation. All of our horses are provided with routine vet care, dental care, vaccinations, and farrier care. Once a horse has been successfully rehabilitated, we carefully evaluate them to discover their strengths and suitabilities, and we provide many of these horses with professional training to help ensure them a safe and productive future. While at SAFE, horses receive a lot of personal attention and handling. Our rideable horses are worked on a regular basis by our on-staff trainer and by qualified volunteer riders under her supervision.
Once a horse is ready for a permanent home, SAFE undertakes a rigorous screening process to find the ideal placement. We carefully review applications, check references, and conduct site visits, with the goal of finding a long-term home that will benefit both horse and adopter. After a horse is placed into its forever home, annual follow-up visits are conducted to ensure the animal's continued well-being and SAFE will take a horse back if its adopter can't continue to care for it.
Despite our years of success helping horses in the local area, SAFE remains a small, modest organization that operates on a shoestring budget and works hard to make every penny count. We rely on public donations to pay the majority of our operating expenses. The funds we raise are used to feed, house, care for and train our horses…essentially paying for everything needed to enure them a safe and productive future. We have minimal management expenses, and only five paid full time employees. The heart of SAFE is our volunteers — from our Board of Directors to the more than 150 volunteers who handle the day to day care of the horses — an incredible group of people who believe in SAFE's mission and give the best of their talents and energy to make it succeed.
Thank you for visiting our website.
What does accountability mean to you?
Here's what it means to us:
1)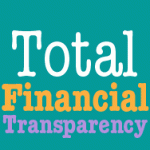 We practice total financial transparency
As a non-profit, SAFE is obligated to make its Form 990 Federal Tax Returns available to the public, and you'll find them on the Financial Disclosures page of this website. But we choose to share more than just our 990s…we publish our monthly financial statements right on our website, so that anyone who's curious can see exactly how much money is coming in and exactly what we spend it on. There are no secrets with SAFE's financials, because frankly, there is no information that we need to hide. Honesty, transparency, and integrity are not just words to us. We feel strongly that if people are going to donate their hard earned money to our organization, we owe them at least that much. So our records are open for your inspection, and we're always here to answer questions too.
---
2) Our horses are your horses
Accountability means more to us than just financial transparency. We also believe that we owe our supporters as much information as they want about the horses that we rescue together. Take a look around the SAFE website and you'll find that we do more than just list our available horses with a picture or two. From the day a horse arrives at SAFE to the day it's adopted, we share regular updates on its progress, including photos and videos. By the time a SAFE horse is offered for adoption, we've created a sort of history to share with SAFE supporters and potential adopters alike. A lot of our horses end up with fans and followers of their own, people who might not be able to adopt a horse but feel they've really gotten to know ours. And it doesn't stop when a SAFE horse is adopted. We do yearly follow-up visits with our adopted horses and when we share an update or a photo of a former SAFE horse, it's like getting good news from an old friend.
---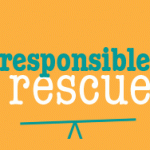 3) We rescue responsibly
We don't just talk about horse rescue — we're actually doing it, every day of the year. SAFE works in partnership with Animal Control agencies in King, Snohomish, and Pierce Counties and we are committed to supporting these agencies so that they can effectively enforce animal cruelty laws. Every time we are able to place one of our horses into an adoptive home, we can take in another horse that's been abused, neglected, or starved. Looking through our quarterly impact statements, you can see exactly how many horses we took in and how many we placed in any given three month period. You can see that we're doing what we say we're doing, but you might also notice something we're NOT doing: we're not taking in more horses than we can reasonably care for at any given time. It's a matter of balance: helping as many horses as we can while ensuring the best possible care for ones we currently have.
The History of SAFE
The founding members of SAFE met online on the Chronicle of the Horse (COTH) bulletin board in the spring of 2005. What began as a few people pooling money to purchase a single horse off a feedlot turned into quite a large group of people banding together in support of a Washington feedlot rescue group. Money raised on COTH was used to purchase and sponsor a large number of slaughter-bound animals, and the group expanded to overseeing the adoption of these horses into permanent homes.
At the end of 2005, the group broke away from the feedlot rescue to form a rescue of their own that would have a greater focus on rehabilitation and careful adoption processes. The new rescue was christened Save a Forgotten Equine, or SAFE. SAFE created a new website, a bulletin board, and a Board of Directors, who worked together to establish formal adoption policies and guidelines, adoption contracts, and foster home criteria.
SAFE became a non-profit corporation in Washington State in October 2006, and received its 501(c)(3) exempt status in June 2007.