Who We Are
SAFE Staff and Senior Volunteers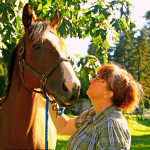 Since the founding of SAFE in 2005, Bonnie Hammond has focused on creating an organization that is open and accessible to its supporters, from its transparent financials to the wealth of information available about the horses on our website. Bonnie has worked locally as a graphic designer for the past 18 years, and she lends her skills to the public face of SAFE through its website and other communications. Bonnie is responsible for finding continual sources of funding for SAFE's operation. She is devoted to the stewardship of our valued donors and acts as the primary point of contact for donors and other members of the public. She loves meeting new people and introducing them to SAFE. A relative newcomer to the horse world as an adult, Bonnie started riding at the age of 37, but quickly made up for lost time. In addition to co-founding SAFE, she also competed on the local Hunter/Jumper circuit. In January 2015, she adopted SAFE horse Owen, a formerly unhandled untouchable Curly Horse stallion that she gentled and helped train, and the two are building a bond through dressage and trail riding. (email)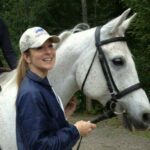 A Seattle transplant, Belinda Jensen will tell you she grew up on the back of a horse! Belinda's best friend growing up was her trusty horse, Choctaw, and they would venture through the hills of Orange County, California for hours. With the duties and obligations of "real life" she fell away from the horse world while pursuing her education and career. In 2009, Belinda realized she needed horses back in her life and found a small horse rescue called Cowgirl Spirit, where she eagerly volunteered to fill the void. She quickly rose to the ranks of Vice President for Cowgirl Spirit. Not long after, she fell in love with a rescue horse there and adopted him in 2010. The rescue organization retired in 2017 and Belinda will always be grateful for the time she served there, and the wonderful horses she was able to help. Belinda is excited for the opportunity to serve on the Board for SAFE and continue her passion for helping horses in need.
Belinda lives in Carnation with her fiancée, Tom, as well as her horse Casanova, and two rescue dogs Cheyenne and Kai. In her spare time, she can be found at the barn with Casanova – her home away from home!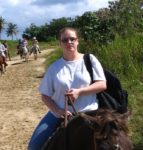 Volunteering at SAFE since 2013, Tiffany's primary focus is helping to raise funds and drive awareness for SAFE. She originally joined to help with procurement for Heart of the Horse and then expanded her role to assist with the quarterly open house events and annual benefit horse show. She partners with the many teams at SAFE to help plan and execute events for our supporters, and generate partnership opportunities and awareness with businesses and the public – the Fred Meyer Community Rewards program, the annual "SAFE Day at the Safe" fundraiser with the Mariners, holiday wrapping events partnering with the Microsoft Store at Bellevue Square, and much more.
When not working at her day job as a Microsoft Program Manager, Tiffany enjoys watching baseball and football, traveling with her husband or friends, and yes, spending time at the barn with the horses.
When SAFE rescues a horse, it makes a commitment to that horse for its entire life – once a SAFE horse, always a SAFE horse! As SAFE's Alumni Program Manager, Shar is responsible for following up with every horse that has "graduated" from SAFE's program. She maintains contact with people who have adopted from SAFE and coordinates regular follow up visits with each adopter and his or her horse.
Shar has been a part of the SAFE family since 2012. She served on the SAFE Board of Directors from 2013 to 2014. When Shar is not volunteering at SAFE or working at Seattle Children's Hospital, she enjoys hiking with her husband and dog and doing crafty things like scrapbooking and making greeting cards to send to friends and family.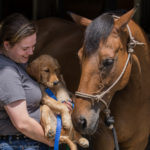 From a young age, Lexee has been involved with horses and has no plans to stop anytime soon. Beginning with taking lessons and working as horse camp counselor to now running horse shows and volunteering at SAFE, horses have been her go to hobby. With her own horses she goes on frequent trail rides, joins a parade annually, competes at casual horse shows during the summer and participates in clinics at SAFE when able.
As of 2020 she finished graduate school and now works full time as a structural engineer. She loves to offer advice on structural questions for SAFE facility projects and then put in the work to help on those projects, too. She also assists with the adoption process by leading a small team of volunteers who complete site and reference checks for our horses future forever homes.
When Lexee isn't at SAFE, she's working towards her bachelor's degree in Civil and Environmental Engineering. After she graduates in 2019, her plan is to continue to get a Master's in Structural Engineering. Lexee also volunteers with a local riding club where she runs horse shows and works on the facilities team where she spends a great deal of time on a big green tractor. Lexee loves the outdoors; she enjoys camping, hiking, running, and exploring local trails with her horses and dogs.
Lisa Schildt began volunteering at SAFE in 2019 on a chore shift and Night Check. Lisa continues as a chore shift co-lead and fills in as needed on other shifts. Always eager for more fun, Lisa was happy to add Herd Health Records, SAFEKeeper Coordinator, and Adoption Volunteer to her responsibilities. In Herd Health Records, Lisa maintains SAFE's database of its horses' health information as well as the spreadsheets that track horse care. As SAFEKeeper Coordinator, Lisa focuses on keeping SAFE's monthly donor information updated and the donors informed of progress on the horses they sponsor. As an adoption volunteer, Lisa tracks incoming adoption applications and responds to initial inquiries about the adoption process. And whenever possible, Lisa loves to help on Facilities projects, especially weed whacking.
Lisa's volunteer background includes positions as Board Member and Officer for various non-profit organizations such as The American Red Cross, PTA, Toastmasters, and a community medical clinic, as well as volunteering with other animal rescue groups. Prior to her retirement from the corporate world, Lisa worked as a paralegal and in the US and Germany for an international clinical research organization and biopharmaceutical services company. When not volunteering for SAFE, Lisa enjoys gardening, weaving, and knitting. She is primary can-opener for two extra-large cats.