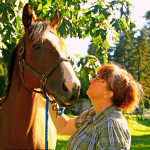 Since the founding of SAFE in 2005, Bonnie has focused on creating an organization that is open and accessible to its supporters, from its transparent financials to the wealth of information available about the horses on our website. Bonnie has worked locally as a graphic designer for the past 18 years, and she lends her skills to the public face of SAFE through its website and other communications. Bonnie is responsible for finding continual sources of funding for SAFE's operation. She is devoted to the stewardship of our valued donors and acts as the primary point of contact for donors and other members of the public. She loves meeting new people and introducing them to SAFE. A relative newcomer to the horse world, Bonnie started riding at the age of 37, but quickly made up for lost time. In addition to co-founding SAFE, she also competed on the local Hunter/Jumper circuit. In January 2015, she adopted SAFE horse Owen, a formerly unhandled untouchable Curly Horse stallion that she gentled and helped train, and the two are building a bond through dressage and trail riding. (email)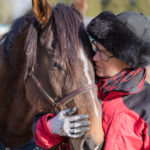 An accomplished Graphic Designer, Barb followed her heart and the man who would become her husband to western Washington over 22 years ago, never looking back.
Barb wanted a horse from the moment she saw one, always hopeful that this dream would come true. While waiting, she rode with friends as often as the opportunity presented itself, most memorably on a paint pony named Bucky. Her first horse was a Quarter Horse/Morgan cross named Bonfire who she had for 20 years. Some months after Bonfire passed, Barb started looking in earnest for a new horse, and found out about SAFE from her neighbor. While taking a long look at the website, she found her horse and set the wheels in motion to adopt Kai.
In 2015 another horse caught Barb's eye for very different reasons: Anakin. He garnered a lot of attention because of the desperate condition he was found in, no one was certain that he'd make it. Local news picked up the story which brought attention to SAFE and the great work that they do. It was a long haul to recovery, but Anakin survived and thrived. Barb adopted him in 2016, giving him his forever home. She says it's a humbling experience to care for a horse that has so much notoriety, and she is forever grateful to the people who helped make his recovery possible.
Deanna has a lifelong compassion for animals on land and in the sea. A Pacific Northwest native, she enjoys all the outdoor beauty of our region. She's also an avid diver who has explored many areas of the world underwater.  A friend introduced her to SAFE, and though she's never owned a horse–and even admits to some fear of them–she was immediately drawn to the mission and values, including the integrity, transparency and accountability of SAFE's operations.
Deanna joined the Board of Directors in 2017, bringing a deep knowledge of strategy, organizational design, and HR leadership capabilities for both global businesses and nonprofits. She's committed to ensuring SAFE is a positive environment for our people as well as our horses. After Board meetings, you see her walking the SAFE property, admiring the horses from a careful distance, and experiencing the transformation of these amazing animals in SAFE's care.
Deanna has spent 20 years in HR leadership roles at Intel Corporation. Her family, based in Portland, includes a teenage boy, a rescued greyhound, and skittish cat. Deanna earned her BA from Whitman College in Walla Walla, Washington and her JD from Seattle University School of Law.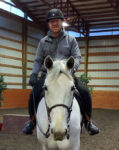 As a lifelong resident of western Washington, William has always cared a great deal about animals and nature. He learned to ride in his early twenties in preparation for a horse trekking excursion Ireland. He has ridden in hunter/jumper events, as well as dressage together with his gray Dutch Warmblood, Kingston. He's helped foster SAFE horses including Sinatra, Marta, and Shay. William works as a Site Reliability Engineer for Google in their Seattle offices with Meta, a rescued German Shepherd, at his side.
Wendy grew up in Southern Oregon on a home with just enough acreage for a couple horses. She was a longtime 4-H member, riding through the hills and along the rivers of the Umpqua Valley near Roseburg. She practiced equitation, trail, and gymkhana, hoping that–if she tried really hard–she might someday be half as talented as her horses were.
She now lives with her husband and twin teenage boys in University Place. For fun, they like skiing, baseball, hiking and watching Pac-12 football. Wendy enjoys her time in Redmond at SAFE, witnessing the horses' growth and improvements under the guidance of SAFE's talented and energetic staff and volunteers.
She has a global career that spans both the private and non-profit sectors, including global finance, marketing and operational leadership roles at GE Healthcare, Russell Investments, and PATH. Wendy is a Lean and Six Sigma Master Black Belt, with an MBA from the University of Washington and a BS in Journalism/PR from the University in Oregon. She is also on the Board of the Pierce County Library Foundation.
Ani O'Hara has always had a connection to animals — she says she's never met an animal she didn't love! During her teenage years, she spent summers on her Aunt Mary's farm in Cordoba, Argentina, tending to the farm and riding horses. These are Ani's best childhood memories. Fast forward to 2019, when Ani has an awakening that she had to reconnect with horses. She found SAFE, and began volunteering on a morning chore shift. She says that the extraordinary work SAFE does for so many beautiful beings who deserve their best life is one of a kind. She also found truly kind people, an instant sense of peace doing chores, and a tremendous interest in one of the best run organizations she's ever seen. A position on the SAFE Board of Directors offered her an opportunity to contribute in an additional way.
After 20 years in the healthcare industry, Ani started O'Hara Consulting and Coaching which specializes in culture building, employee engagement, and leadership. She has dedicated herself to helping people take their talent to the next level. In her work with organizations, she facilitates a process to align vision and values with behavior and performance. Ani will be sharing her professional talents and skills with SAFE's staff and volunteers, helping us build stronger and more effective teams together.
For fun, Ani loves to write, read, and help people along their journey to express their unique gifts and talents.
Bio and photo coming soon!
Bio and photo coming soon!
SAFE Founding Board of Directors
Jaime Taft
Bonnie Hammond
Jenny Mscichowski
Melanie Davis
Connie Kudsk
Peri DeVlieg
Past Members of the Board of Directors
Chelsea Ekyel
Elizabeth Clark
Beth Amberg
Sara Hall
Debi Shatos, Past President
Victoria Guy
Sharman Conner
Heather Andreini
Peter Houghton
Eve Tai
Kyle Putnam, Past President
Carol Olson
Eileen Carrel, Past President
Lara Lutz
Sheridan Jones, Past President
Barbara Gordon
Maeve Harris
Richard Duncan, Past President
Joe Schick
Jeannette Parrett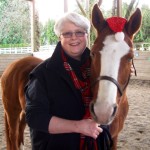 As Facilities Manager, Jeanne oversees the day-to-day maintenance needs of our stable, attends to the unique needs of our horses and coordinates special projects. She has a special interest in creating and maintaining an environment that is both safe and supportive for our volunteers and guests.
Jeanne started volunteering at SAFE in 2014 after retiring from a long nursing career. Not being a lifelong horse person, she discovered our organization after reading a feature in the Woodinville Weekly! The compassion expressed in that little article sparked her curiosity and began what she calls "the best retirement ever"!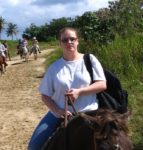 Volunteering at SAFE since 2013, Tiffany's primary focus is helping to raise funds and drive awareness for SAFE. She originally joined to help with procurement for Heart of the Horse and then expanded her role to assist with the quarterly open house events and annual benefit horse show. She partners with the many teams at SAFE to help plan and execute events for our supporters, and generate partnership opportunities and awareness with businesses and the public – the Fred Meyer Community Rewards program, the annual "SAFE Day at the Safe" fundraiser with the Mariners, holiday wrapping events partnering with the Microsoft Store at Bellevue Square, and much more.
When not working at her day job as a Microsoft Program Manager, Tiffany enjoys watching baseball and football, traveling with her husband or friends, and yes, spending time at the barn with the horses.
When SAFE rescues a horse, it makes a commitment to that horse for its entire life – once a SAFE horse, always a SAFE horse! As SAFE's Alumni Program Manager, Shar is responsible for following up with every horse that has "graduated" from SAFE's program. She maintains contact with people who have adopted from SAFE and coordinates regular follow up visits with each adopter and his or her horse.
Shar has been a part of the SAFE family since 2012. She served on the SAFE Board of Directors from 2013 to 2014. When Shar is not volunteering at SAFE or working at Seattle Children's Hospital, she enjoys hiking with her husband and dog and doing crafty things like scrapbooking and making greeting cards to send to friends and family.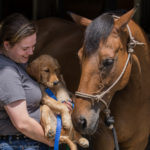 When Lexee's family moved next door to an equestrian center, she knew at age 5 that she wanted to learn how to ride and care for horses. On the brink of turning 7, Lexee finally got her wish and began taking horseback riding lessons at a local riding center. She fell head over heels in love with horses and over the next 11 years of her life, she became a farm hand, camp counselor, and trainer at the facility.
Lexee first became involved with horse rescue about six years ago, when SAFE moved their operations to the farm next door to where she lived! She and her mother started off as Night Check volunteers, as well as participating in Work Parties, and helping out at the barn when bad weather kept other volunteers away. When SAFE moved to Redmond, Lexee couldn't volunteer on a weekly basis anymore but happily took over the position of Open House Manager. When the position of Weekend Barn Manager opened up, she was encouraged to apply for the position and ended up landing the job.
When Lexee isn't at SAFE, she's working towards her bachelor's degree in Civil and Environmental Engineering. After she graduates in 2019, her plan is to continue to get a Master's in Structural Engineering. Lexee also volunteers with a local riding club where she runs horse shows and works on the facilities team where she spends a great deal of time on a big green tractor. Lexee loves the outdoors; she enjoys camping, hiking, running, and exploring local trails with her horses and dogs.