Who We Are
SAFE Staff and Senior Volunteers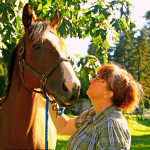 Since the founding of SAFE in 2005, Bonnie Hammond has focused on creating an organization that is open and accessible to its supporters, from its transparent financials to the wealth of information available about the horses on our website. Bonnie worked locally as a graphic designer for 18 years, and she lends her skills to the public face of SAFE through its website and other communications. Bonnie is responsible for finding continual sources of funding for SAFE's mission. She is devoted to the stewardship of our valued donors and acts as the primary point of contact for donors and other members of the public. She loves meeting new people and introducing them to SAFE. A relative newcomer to the horse world as an adult, Bonnie started riding at the age of 37, but quickly made up for lost time. In addition to co-founding SAFE, she also competed on the local Hunter/Jumper circuit. In January 2015, she adopted SAFE horse Owen, a formerly unhandled untouchable Curly Horse stallion that she gentled and helped train. When she's not working with horses, Bonnie enjoys reading, running, and racing in 2009 MX‑5 Miata.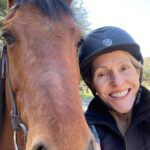 Trish Markey feels that horses are a daily passion that brings joy, accomplishment, and accountability. She was introduced to Joel Conner in 2018 and started participating in his horsemanship clinics at SAFE with her gelding Sampson. After learning more about SAFE, she began volunteering with SAFE's Alumni Program and working on Heart of the Horse. Trish worked in the medical field her whole life and has been very active with nonprofit work for more than twenty years. She's held leading roles for a number of high profile local gala events, including Woodland Park Zoo's Jungle Party, the Seattle Aquarium's Splash Gala, and Virginia Mason's Dreambuilders Ball. She's also served on Boards and Development committees for the Seattle Aquarium, Benaroya Research Institute, and the Virginia Mason Foundation. As a member of SAFE's Board of Directors, Trish would like to help the Board grow its ability to raise money and build strong donor relationships. She would also like to achieve greater communications between SAFE and the board.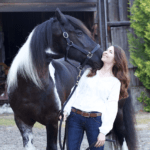 Sheila Otter has been passionate about animals since she was a child. She loved horses, but did not start into a riding program until she was 29. She bought her first horse at 32, and says that being at the barn and in a saddle are definitely her happy places. Sheila has been involved with SAFE for the past three years, procuring items for the auction at Heart of the Horse and attending work parties and SAFE Open Houses. She works as an Account Director for a full-service marketing/branding agency. She's done a mix of volunteer stints over the years, including an executive co-chair position for Woodland Park Zoo's annual fundraiser, helping Friends of the Children with event theme and invitation design for their annual fundraiser, and serving two years on the board for the Seattle Women's Hockey Club. As a member of SAFE's Board of Directors, Sheila would like to contribute to a strong strategic plan for the organization, increase funding to expand programs, and to develop programs to increase awareness in the community of the great work SAFE does. Sheila is looking forward to a successful year and is honored to be involved with an organization that truly lives its mission.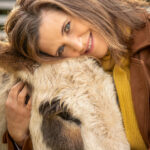 Ashley Farrington was 'horse crazy' as a kid but her parents did not allow her to have any animals, much less a horse. When she went off on her own, the first thing she did was adopt a kitten and her own horse! That love for horses and all animals continues as Ashley currently shares her home in Woodinville with 3 mini donkeys, 2 mini pigs, 1 pet turkey, 6 chickens, 2 dogs & 2 cats.
First and foremost, Ashley is a wife and mom to 2 great young men, but she is also a Windermere real estate agent based out of Woodinville for the last 9 years. One of her specialties is equestrian properties and hobby farms. Ashley started volunteering at SAFE in 2016, joining the Thursdays AM chore shift. She also helps out at Open Houses and with the SAFEkeepers Club.
In 2001 Ashley's youngest was diagnosed with Mitochondrial Myopathy, an unheard of disorder at the time. In her search to learn all that she could, she met a small group of moms who had just started the Mitochondrial Research Guild of Seattle Children's Hospital. She took on the role of Vice President and served for 10 years. Ashley's husband founded the Woodinville Boys Lacrosse Club and Ashley was active with that group as well, planning meet-ups, fundraising events and team trips.
Ashley believes that SAFE is hands-down one of the best run non-profits supported by truly dedicated staff & volunteers! She's excited to formally become a member of the community by accepting a role on the Board to put her efforts to work where they are needed most.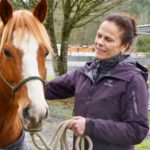 Lisa Pascualy has had some type of animal as a companion at pretty much every moment in her life. Right now, her small dog Oscar is her sidekick. Horses are a bigger commitment and one of the things she appreciates about SAFE is the opportunity to enjoy horses without the very big responsibility of actually owning and caring for one on a daily basis. Lisa started volunteering at SAFE in February 2018 as an afternoon Chore Shift member. Eventually she became a Shift Lead and was named Volunteer of the Month in February 2020. These days, you'll see Lisa at the barn prepping grain baggies for the horses, and of course, serving as an Advisory Council Member. Lisa is an attorney, currently working in real estate management and investment. As a member of the Advisory Council, Lisa hopes her legal background and business experience can provide advice and counsel to SAFE when needed.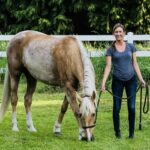 Lauren Engle grew up around horses, cleaning stalls for free lessons, learning everything she could and wanting more. She has always been a huge animal lover, and horses bring her a sense of peace, encouragement and a place of love and joy. Lauren found SAFE in 2018 when she decided it was time for her to have her own horse. She stalked Phoenix online for months until her husband Bryan finally insisted they go meet him. It was love at first sight, and Phoenix became the first of four SAFE horses the couple would eventually adopt. Lauren has been a part of SAFE even since: volunteering at the farm and at the horse show, learning horsemanship with Joel Conner, and attending Heart of the Horse. As a member of the SAFE Board of Directors, Lauren hopes to broaden SAFE's reach into nearby communities to help more people understand what goes into rescuing horses and how to keep horses out of the rescue pipeline. She has also taken on the role of Board Treasurer where she can help streamline SAFE's financial reporting and maintain transparency to our supporters. Lauren is employed at Google, and loves being able to work from home. She has two sons under 5 years old, is married to her love of 12 years.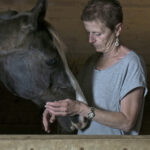 Ruth Kennedy always had a variety of animals growing up — strays, pound dogs, lost bunnies… That trend continued into her adulthood and with her own children. Ruth currently lives with a cat that was surrendered during the pandemic. Horses have a special place for her. She's never "owned" a horse, but some of the most meaningful relationships in her life have been with horses. She first rode as a child on a friend's farm, took dressage lessons much of her young adult life, and have worked with them in some form for many years. Ruth was first introduced to SAFE in 2013 when she was a volunteer and Board member at the Equamore Foundation in Oregon. SAFE had an unadoptable mare named April that needed sanctuary and Equimore offered her a place. Ruth met three SAFE representatives who came to check out the facility before sending April. After that meeting, Ruth became an enthusiastic supporter and visitor to SAFE.
Ruth is an attorney and retired as the Executive Vice President and General Counsel of Electronic Arts. From 2011 until 2020, she was a volunteer, board member, and President of the Equamore Foundation. She is currently an Advisor to Street Dogs Project and on the National Leadership Council of the Animal Legal Defense Fund.
As a member of the SAFE Board of Directors, Ruth hopes to help the Board, Executive Director, Advisory Council, and Staff stretch to the next level of facility ownership, broader community commitment, and long term sustainability.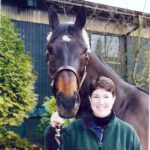 Barb Jensen is someone who can truly be called a lifelong equestrian, starting from age three when her mother caught her trying to shimmy up the front leg of the neighbor's saint of a draft horse. Barb's very non-horsey parents supported her as best they could, buying her first horse for $25. Barb cleaned stalls, fed, and did any chore she could to support her habit and loved every minute of it. As a young adult she was able to pursue riding on a more serious level, and thanks to some wonderful mentors was able to show, manage a large show stable and work part-time for a vet while attending nursing school. Barb's last horse was a recused racehorse, who, after two years of trust building, became a faithful friend and a neighborhood pet. Sadly, he left her a few years ago and she has been searching for a way to fill that void ever since.
Barb Jensen has been a Registered Nurse for 42 years in a variety of settings. She spent 22 years at Harborview Medical Center in Seattle before moving to EvergreenHealth in Kirkland, where she currently manages Trauma Services and the Forensic Nurse Examiner team. Barb was one of the early members of the Equestrians Institute while in its infancy, doing marketing, contacting media, and gaining recognition for the fledgling enterprise. She was an active member of the Civil Air Patrol for several years while her son was a member. She achieved the rank of Major, served as Chief Medical Officer, Cadet Programs and Squadron Commander, teaching and training young people in leadership and search and rescue operations. She also led the squadron Color Guard to state and regional championships. Barb currently serves on the Board of the Central Region EMS and Trauma Council. As a member of the SAFE board, Barb hopes to offer her passion, enthusiasm, and skills to helping SAFE achieve its goals.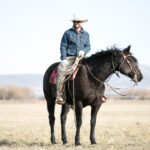 In Joel Conner's life, horses are his work and his play. Professionally, Joel starts colts and teaches horsemanship using the techniques of the masters: Tom Dorrance, Ray Hunt, and Buck Brannaman. He started riding horses for SAFE back in 2015, and had been involved with SAFE's horsemanship program ever since. Joel is deeply committed to developing a horsemanship program at SAFE to help staff and volunteers learn solid and consistent skills for working with the horses. He began coming to SAFE multiple times each year, putting on clinics to teach groundwork and riding. In 2018, he began starting young horses under saddle for SAFE as well as teaching colt starting skills to staff members and volunteers. He also began donating his time to teach basic horse handling skills to SAFE volunteers, allowing those with little to no horse experience get safe, hands-on practice. As a member of SAFE's Advisory Council, Joel wants to use his ability to build relationships with depth and breadth for the benefit of the SAFE horses.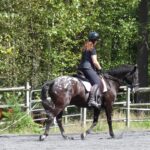 Kellie has had a love for horses (and dogs and cats) her whole life, starting at a young age, riding with her cousins in Oregon every summer at her grandparents' place. Every summer her grandparents had a new pony for her to ride. When her parents moved back from Alaska to the Pacific Northwest in the early 70's she got her very own pony, despite her dad's resistance to both a pony for her and a motorcycle for her brother.
That led to lessons on her mom's horse, starting out Western and ending up doing Hunters and Jumpers with her newly relocated (East coast) trainer at Washington Zone shows. She "took time off" from horses to go to the University of Washington, and as soon as she graduated she bought herself a horse! BJ was supposed to be an eventer, but he seriously didn't like to jump and he became a dressage horse instead.
Although he was not the world's greatest mover, they managed to show at National level shows through 4th level and school all the FEI movements. She learned so much on him and apprenticed with a local trainer to learn even more. She studied with Henrik Johansen who founded the Positive Riding System, a system that applies the classical theories and philosophies of dressage to accommodate the conformation, instincts and behaviors of all types of horses. She's a graduate of all the instructor modules through FEI, and the USDF L program, and judges dressage schooling shows locally in Washington state. Previously, Kellie volunteered as Dressage Director for Equestrian's Institute, and ran National Level and local schooling shows for E.I. for several years.
She and her and husband Peter both ride dressage, and own a small horse farm in Duvall. She teaches dressage locally and occasionally clinics out of the area. She has worked with SAFE in the past to foster a couple of SAFE horses, including Rocky and Misty.
Kellie recently retired after over 25 years in the Dental world. She plans on a few new horses, volunteering with SAFE and some travels as she and Peter find the time to escape!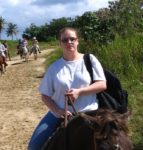 Volunteering at SAFE since 2013, Tiffany's primary focus is helping to raise funds and drive awareness for SAFE. She originally joined to help with procurement for Heart of the Horse and then expanded her role to assist with the quarterly open house events and annual benefit horse show. She partners with the many teams at SAFE to help plan and execute events for our supporters, and generate partnership opportunities and awareness with businesses and the public – the Fred Meyer Community Rewards program, the annual "SAFE Day at the Safe" fundraiser with the Mariners, holiday wrapping events partnering with the Microsoft Store at Bellevue Square, and much more.
When not working at her day job as a Microsoft Program Manager, Tiffany enjoys watching baseball and football, traveling with her husband or friends, and yes, spending time at the barn with the horses.
When SAFE rescues a horse, it makes a commitment to that horse for its entire life – once a SAFE horse, always a SAFE horse! As SAFE's Alumni Program Manager, Shar is responsible for following up with every horse that has "graduated" from SAFE's program. She maintains contact with people who have adopted from SAFE and coordinates regular follow up visits with each adopter and his or her horse.
Shar has been a part of the SAFE family since 2012. She served on the SAFE Board of Directors from 2013 to 2014. When Shar is not volunteering at SAFE or working at Seattle Children's Hospital, she enjoys hiking with her husband and dog and doing crafty things like scrapbooking and making greeting cards to send to friends and family.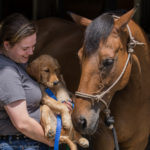 From a young age, Lexee has been involved with horses and has no plans to stop anytime soon. Beginning with taking lessons and working as horse camp counselor to now running horse shows and volunteering at SAFE, horses have been her go to hobby. With her own horses she goes on frequent trail rides, joins a parade annually, competes at casual horse shows during the summer and participates in clinics at SAFE when able.
As of 2020 she finished graduate school and now works full time as a structural engineer. She loves to offer advice on structural questions for SAFE facility projects and then put in the work to help on those projects, too. She also assists with the adoption process by leading a small team of volunteers who complete site and reference checks for our horses future forever homes.
When Lexee isn't at SAFE, she's working towards her bachelor's degree in Civil and Environmental Engineering. After she graduates in 2019, her plan is to continue to get a Master's in Structural Engineering. Lexee also volunteers with a local riding club where she runs horse shows and works on the facilities team where she spends a great deal of time on a big green tractor. Lexee loves the outdoors; she enjoys camping, hiking, running, and exploring local trails with her horses and dogs.
Lisa Schildt began volunteering at SAFE in 2019 on a chore shift and Night Check. Lisa continues as a chore shift co-lead and fills in as needed on other shifts. Always eager for more fun, Lisa was happy to add Herd Health Records, SAFEKeeper Coordinator, and Adoption Volunteer to her responsibilities. In Herd Health Records, Lisa maintains SAFE's database of its horses' health information as well as the spreadsheets that track horse care. As SAFEKeeper Coordinator, Lisa focuses on keeping SAFE's monthly donor information updated and the donors informed of progress on the horses they sponsor. As an adoption volunteer, Lisa tracks incoming adoption applications and responds to initial inquiries about the adoption process. And whenever possible, Lisa loves to help on Facilities projects, especially weed whacking.
Lisa's volunteer background includes positions as Board Member and Officer for various non-profit organizations such as The American Red Cross, PTA, Toastmasters, and a community medical clinic, as well as volunteering with other animal rescue groups. Prior to her retirement from the corporate world, Lisa worked as a paralegal and in the US and Germany for an international clinical research organization and biopharmaceutical services company. When not volunteering for SAFE, Lisa enjoys gardening, weaving, and knitting. She is primary can-opener for two extra-large cats.