Bean
description: 2001 Quarter Horse mare
registered name:
type of rescue: Snohomish County Animal Control Seizure
intake date:
12/28/15
adoption date:
5/19/16
length of time with SAFE: 4 months
ADOPTED!!
Bean is one of three mares seized by animal control in Snohomish County after they were discovered hidden in a barn, locked in filthy stalls, and starving. Bean's filly Jessel was one of the three. Bean was considerably underweight when she was seized. The horses were signed over to SAFE in late December, four months after their seizure.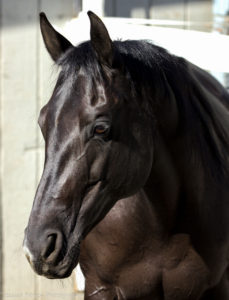 From time to time, a family comes into SAFE looking for a horse and we don't have a match. It is hard thing to say no to a great family but finding the right horse is very important. When Michelle first came in looking for a horse for her family, unfortunately this was the case. Michelle grew up with horses but it had been a few years since she had been around them so I suggested the family start taking riding lessons and volunteer at SAFE to learn more about horses and horse care.
A few months went by as the family prepared for bringing a horse into their lives. When Bean became available for adoption, I knew she could be that perfect horse. They had originally thought of getting a younger horse that the kids could grow with but I explained "green plus green equals black and blue." They came out to ride Bean and were instantly in love. Here was a horse that both Michelle and her kids could enjoy. Safe to have the kids groom and do lead line riding and fun for mom to take lessons and go on trail rides.
Bean has been with her new family for a few months and she is relaxed and comfortable in her new home. There are a few horses living next door and her own baby goats to watch over. There is a nice big field that she has access to 24/7 and she will NEVER be locked up in a stall again! This is truly a dream come true for Bean and this all-star adoption family. Anything she needs they are able to provide. They have already shown good ownership skills by asking questions and getting the help when needed. We never know exactly the future each of our horse will have but the some of the most important parts are SAFTEY, LOVE and HAPPINESS. Bean has all of these and more. We are so grateful she has found a forever home.
Michelle had a few things to share about adopting Bean:
I know we have only had Bean for a short time but already my family cannot imagine life without her. She has the sweetest personality and loves company. She follows the kids down to pick blackberries, greets us when we get home, and runs to the fence when she sees us. Her favorite thing to do is go for a ride out on the trails, especially when there is another horse along.
This has been an amazing experience. SAFE was beyond amazing. I knew everything possible about Bean before going into this, which is way more than I would have gotten from Craigslist. I grew up with horses but this is my first horse on my own. The buying and owning were a little intimidating to me and I also faced issues I never expected, however SAFE was helpful and there for me with anything I needed. I was able to work with Bean and a trainer from SAFE a few times before deciding to adopt. Terry from SAFE came out to my place beforehand and helped me with ideas on how to keep the pasture and stall safe. She also came out when Bean arrived and helped transition her and work through some issues we had. Bean had not been adjusted to as much grass as we had so Terry sat on the phone with the vet as we came up with a plan. At a later point I had issues with saddle fit and Terry came out and brought some saddles to try on her.
I honestly can't imagine buying a horse anywhere else. They were so helpful with everything and it made it such an easy transition for Bean and a lot less stressful for my family and myself. Wonderful experience, thank you SAFE.