Addie
4–5 yr old mare
Suitability: For Intermediate Rider
Color: bay
Markings: blaze, snip, LH, RH
Height: 14 hh
Weight: 970 lbs
Adoption Fee: $1,500

Online Adoption Application
Addie came to SAFE in November of 2022 as part of a seizure of 27 horses from Pierce County (who we called The Graham 27).
The youngest of the Graham bunch, this cute little mare has already been through quite a lot despite her age, having had multiple owners before she even turned 5. Addie came to us with some basic skills already in place, and she quickly ran through our pre-saddling checklist. She has spent the last 30 days at off-site training, refining the groundwork and riding skills she learned at SAFE, and is ready to meet adopters!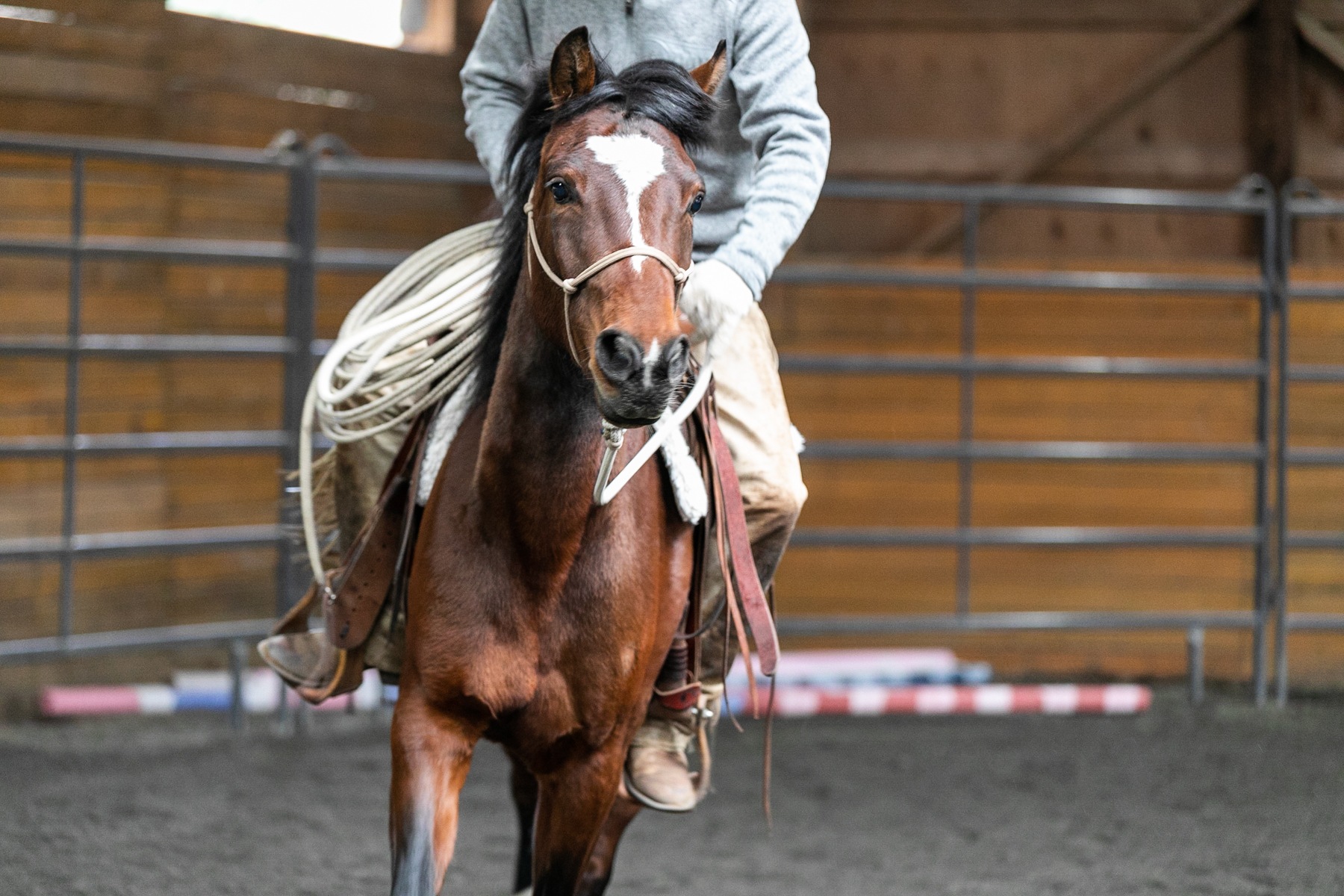 As was standard with the Graham horses we started (or re-started) under saddle, Addie had some issue when asked to go forwards. As is the case, the things that reveal themselves on the ground also appear under saddle and vice versa. It was clear that Addie was tremendously stuck – even when asked to go forward on the ground she felt that she could not move her feet, which manifested in her moving in another way: up. But we were confident once we showed Addie she had options, that she could go forward and find freedom in the space around her, the rearing would stop.
It did not manifest the same way on her back, but there her attitude emerged, a general unwillingness to move out. Like the other Graham horses, it was clear that Addie had been able to play the role of the leader quite often when it came to her riders, and say "no thanks!" quite a bit. When we hung in there and said, 'no really, you do have to do this' she was far from happy.
Working on freeing her up going forward has done wonders for her range of motion. It's clear that once she feels like she can move, she is a lot happier. Her expression is better when her feet feel free, and she just looks overall more let down and relaxed.
We continue to help Addie find freedom in her movements, and in a few weeks she will join our good friend Dylan for some off-site training. Then, she will be ready to start meeting adopters!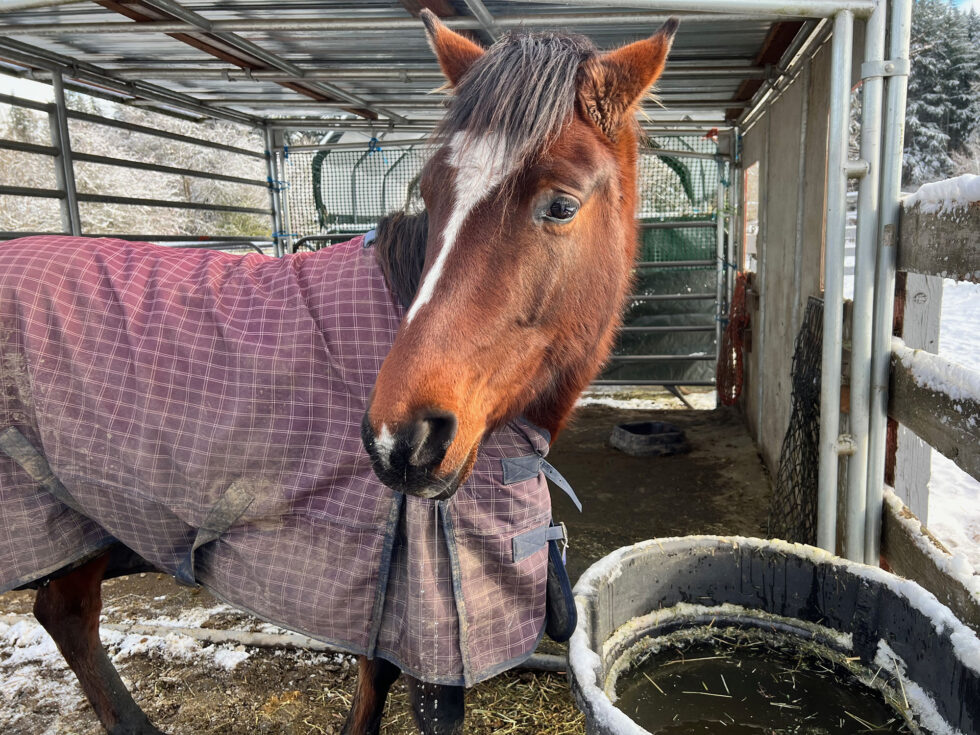 Little mare Addie seemed wise beyond her years when she first stepped off the trailer — for such a young horse (we thought she might be 3 at the time), she was already accustomed to picking up her feet and had no problem being blanketed. Despite her age, it is clear that she has already had quite a number of experiences.
If anything, Addie is almost too brave, which can translate to disrespect towards people. She has kicked out at us when we asked her to move off her hay, and will do the same on occasion in the round pen when asked to move forward. Not particularly atypical, but something we are aware of. Instilling horses, especially young ones, with proper boundaries keeps them happier and the humans who interact with them safer.
Addie has made nice progress in our training program. She quickly ticked all the boxes we check before saddling, and her first saddling here was pretty uneventful. She moves out a bit 'tight' at first, but has not reacted in an explosive manner the way some horses do when saddled. She does quite a nice job giving to the pressure of the rope, and changing eyes on a person. She is a nice little mover!
Addie is up to date on vet and farrier care. She has had a dental float, been microchipped, and had her teats cleaned. She is up to date on her vaccines. She was also dewormed upon arrival, as she arrived with a positive worm load. She is gentle about being groomed and is mostly good for picking up her feet– she has been trimmed once since arriving at SAFE, with her next trim planned for next week, and a 6 week trim schedule set going forward. She gets daily thrush treatments to help combat the thrush all the Graham horses arrived with.
Addie is in turnout with Bramble, where the two make occasional plays for dominance with one another, especially when food is concerned. She and him, along with neighbors Betty and Eleven, get turnout in the big arena together.

Addie's Friends:
1. ____________________
2. ____________________
3. ____________________
4. ____________________
5. ____________________
6. ____________________
7. ____________________
8. ____________________
9. ____________________
10._____________________
Every horse deserves at least ten friends! Even a small monthly donation can make a difference. Plus, SAFE horse sponsors receive discounts at local businesses through the SAFEkeepers program!