Addie
4–5 yr old mare
Suitability: For Intermediate Rider
Color: bay
Markings: blaze, snip, LH, RH
Height: 14 hh
Weight: 800 lbs
Adoption Fee: $3,000

Online Adoption Application
Addie came to SAFE in November of 2022 as part of a seizure of 27 horses from Pierce County (who we called The Graham 27).
The youngest of the Graham bunch, this cute little mare has already been through quite a lot despite her age, having had multiple owners before she even turned 5. Addie came to us with some basic skills already in place, and she quickly ran through our pre-saddling checklist. She has spent the last 30 days at off-site training, refining the groundwork and riding skills she learned at SAFE, and is ready to meet adopters!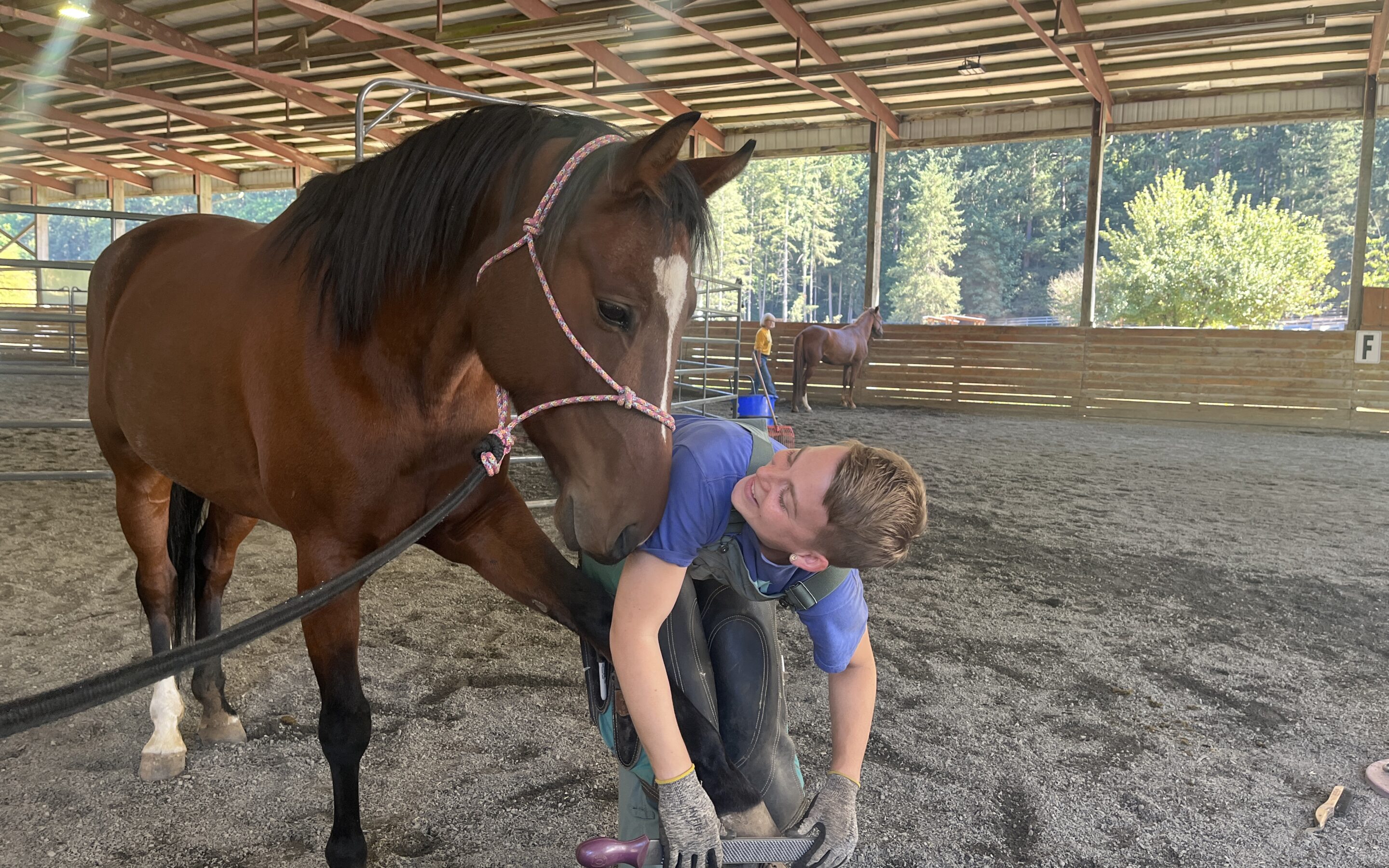 When the Graham horses arrived at SAFE last November, their feet were a stinky mess. Overgrown toes, cracks and chips, and thrush for days. They were all, lucky for us, willing participants for the farrier, who was able to see them quickly after their arrival. But one horse in particular stood out on that day, not because of how cute or pleasant she was (though she also happened to be both of those things), but because of how good her feet were despite all of the circumstances working against her.
That mare was Addie. Sure, she had some thrush, but it paled (darkened?) in comparison to her peers. And underneath a bit over overgrowth were some truly beautiful feet. Our farrier remarked on this the first time she trimmed her, and has every six weeks since. It doesn't hurt that her feet have since come fully around, and are thrush-free and kept up with these days, but she had an amazing foundation to begin with.
So what makes her hooves so good? According to our farrier, she has feet that are very symmetrical, with healthy and robust soft tissue. Her heel bulbs are full, and she has tons of sole depth. To drive the point home further, our farrier even told us that if she were to draw a perfect foot, Addie's would be it.
We told Addie this, and she didn't seem to care — really, she was just looking for her post-trim snack — but for the future humans in her life, we can definitely add 'great feet' to the list of her assets.

Addie's Friends:
1. Christian C.
2. Whitney-Bear B.
3. Dejenelle J.
4. Barb J.
5. ____________________
6. ____________________
7. ____________________
8. ____________________
9. ____________________
10._____________________
Every horse deserves at least ten friends! Even a small monthly donation can make a difference. Plus, SAFE horse sponsors receive discounts at local businesses through the SAFEkeepers program!