Boss Hoss
| | | | |
| --- | --- | --- | --- |
| SEX: Stallion | BREED: Arab | REGISTERED NAME: unknown | |
| COLOR: Brown and white pinto | MARKINGS: | | |
| YOB: | AGE: | HEIGHT: | WEIGHT: |
| LOCATION: Redmond | ADOPTION FEE: TBD | Online Adoption Application | |
Boss Hoss and his daughter Millie were surrendered to SAFE after their owner suffered a stroke and could no longer care for them. Hoss is a stallion, and will soon be a gelding, but he's quite gentle and friendly. His short mane and tail almost make him look like a foal, despite being about 20 years old. Hoss is a bit on the skinny side, and we are a bit concerned about his dropped pasterns. He's likely to be offered as a companion horse, so once he's feeling better, we'll see how he gets along with other horses.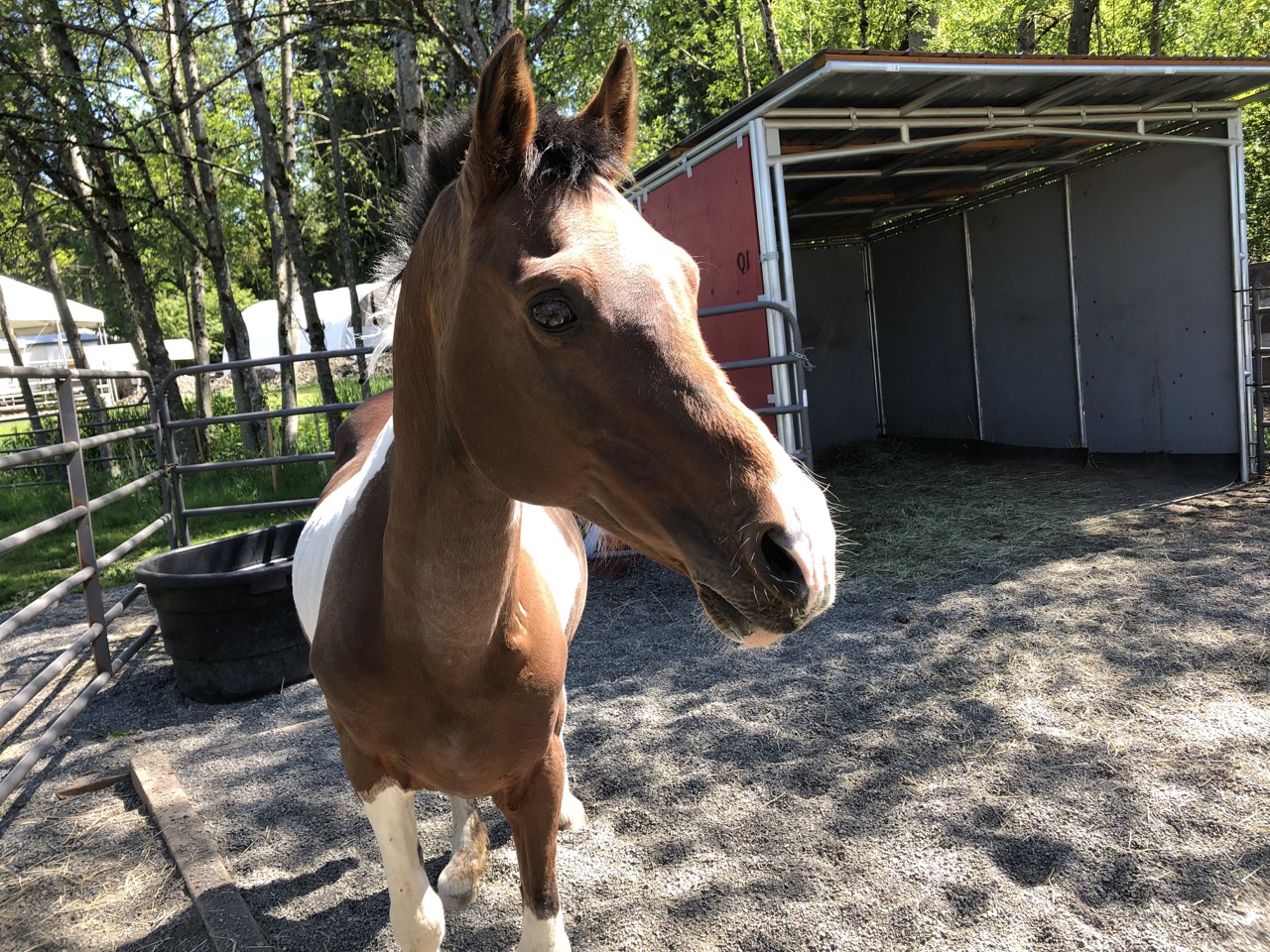 At the heart of the work that SAFE does is one simple goal: putting a stop to equine suffering. It's something we have done for every horse we've encountered over the years. We've removed horses from situations of dire neglect and shown them that there are good people in the world who want only the best for them. And no matter how long our time together ends up being, each horse we save is given the gift of love, care, and peace; a gift that can never be taken from them.
We do everything we can to return our horses to a healthy and comfortable existence once they're in our care. But when we're faced with a horse with pain we can't lessen, we have to make a difficult choice. Boss Hoss and his daughter Millie were rescued by SAFE about six weeks ago. Hoss was a 20 year old stallion, and under normal circumstances, we would have transformed him into a happy gelding as soon as possible. But we decided to hold off on gelding surgery for Hoss until we knew for sure that we were going to be able to save him. Hoss had a condition called Degenerative Suspensory Ligament Desmitis (DSLD), an incurable disease that affects the connective tissues of his limbs. When Hoss walked, his fetlocks (the "ankle" joints) would sink nearly to the ground with each step. Dropped fetlocks were the most noticeable symptom of Hoss' condition, but we also began to notice that he sometimes had an incredibly difficult time getting back to his feet after laying down. This loss of mobility not only caused Hoss a great deal of physical discomfort, it also likely left him feeling defenseless and vulnerable in the face of danger. In other words, not only was he in pain, his quality of life was being affected by his DSLD. We'd been postponing Hoss' gelding surgery because we did not want to put him through that procedure at his age if we couldn't be sure of his basic comfort and soundness. Since there was nothing that could be done for his DSLD, and since it was clearly impacting his comfort and mobility, we decided that the kindest thing was could do for Hoss was to let him go.
Boss Hoss was humanely euthanized on Wednesday, and his passing was as quiet and peaceful as any we've ever seen. He left this life knowing that we loved him, and that we valued his comfort and happiness. While we had hoped that we could make him comfortable enough for a few more months or years, we take comfort in knowing that we gave Hoss six weeks of the very best care and kindness at SAFE. Saying goodbye to a sweet and friendly horse like Hoss is painful, but it's a pain that we have to accept so that he can be free. Hoss runs free now, and he will not be forgotten.
Millie is doing very well. She was able to say goodbye to her sire, and she seemed at peace with his passing. She's been introduced to a new friend in Amelia, and the two mares are enjoying each other's company. Millie has made such amazing progress in learning to trust, and we look forward to seeing that work continue.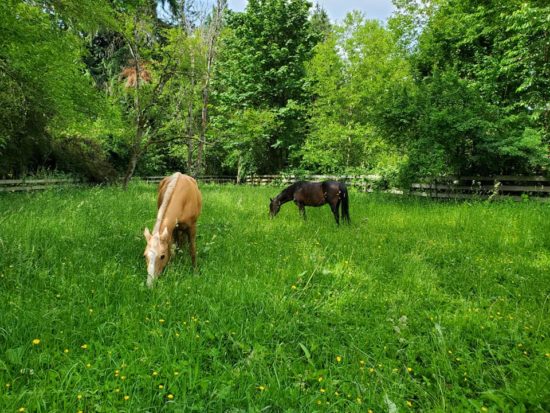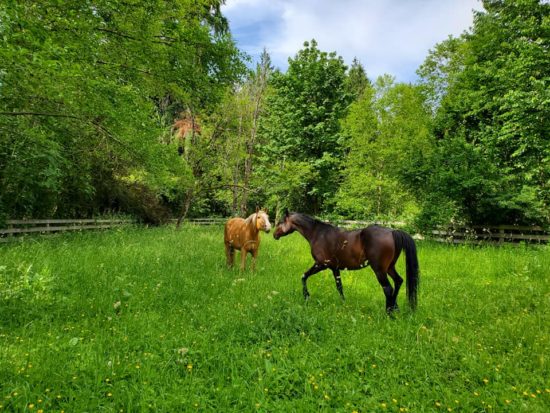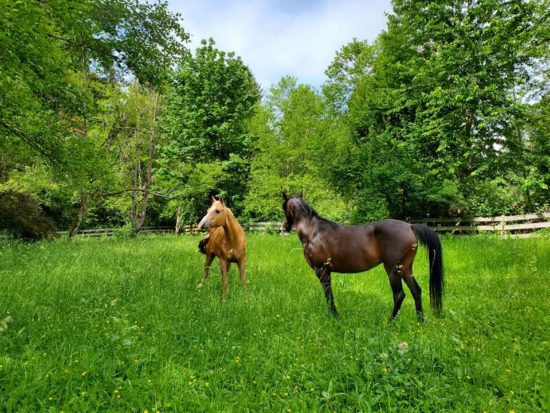 The latest additions to the SAFE herd are a pair of Arab horses who were surrendered to SAFE after their owner suffered a stroke and could no longer care for them. Boss Hoss is a 20 year old pinto Arab stallion, and Millie is his 11 year old daughter. The two are in reasonable shape, but they were living hard prior to their rescue. Hoss is a little thin, and his dropped pasterns are a concern to us. He's a friendly and curious fellow, and his short mane and tail give him a baby-ish appearance, in spite of his age. Millie lived together with her sire for most of her life, but she seems to have avoided pregnancy, probably because of her ability to double-barrel kick. (It should be noted that keeping a mare and stallion together is asking for an unplanned pregnancy, whether the two horses are related to one another or not!) Millie came to SAFE without being halter-broken, and at 11 years of age, she's completely unhandled. Her forelock, mane, and tail are packed with burrs, and we'll have to get her much more comfortable with being handled by humans before we can tackle that particular grooming project. Millie's made great progress towards being gentled already by Terry, and we have high hopes for this lovely girl.