Cali
Breed: 2000 chestnut Quarter Horse mare
Registered Name: Fine China
Type of Rescue: Owner surrender
Intake Date: 8/10/2017
Adoption Date: 4/24/2018
Length of Time with SAFE: 8 months
ADOPTED by the Brill Family of Duvall WA
Cali and her five herdmates were surrendered to SAFE by their owner, who was no longer physically or financially able to properly care for them. The horses were in decent weight but had not had farrier or dental care in some time. Cali came in with a badly broken molar that was impacted and infected, that had gone undetected due to lack of dental care. The tooth was successfully removed by SAFE's veterinarian. Cali was 17 years old when she was surrendered to SAFE, and we were told by her owner that she had never been trimmed, shod, tied, sacked, or ridden. Considering her rocky start in life, Cali did very well in her new environment with the help of patient handling and groundwork. Cali and her friend Rosie were adopted together by the Brill family of Duvall WA.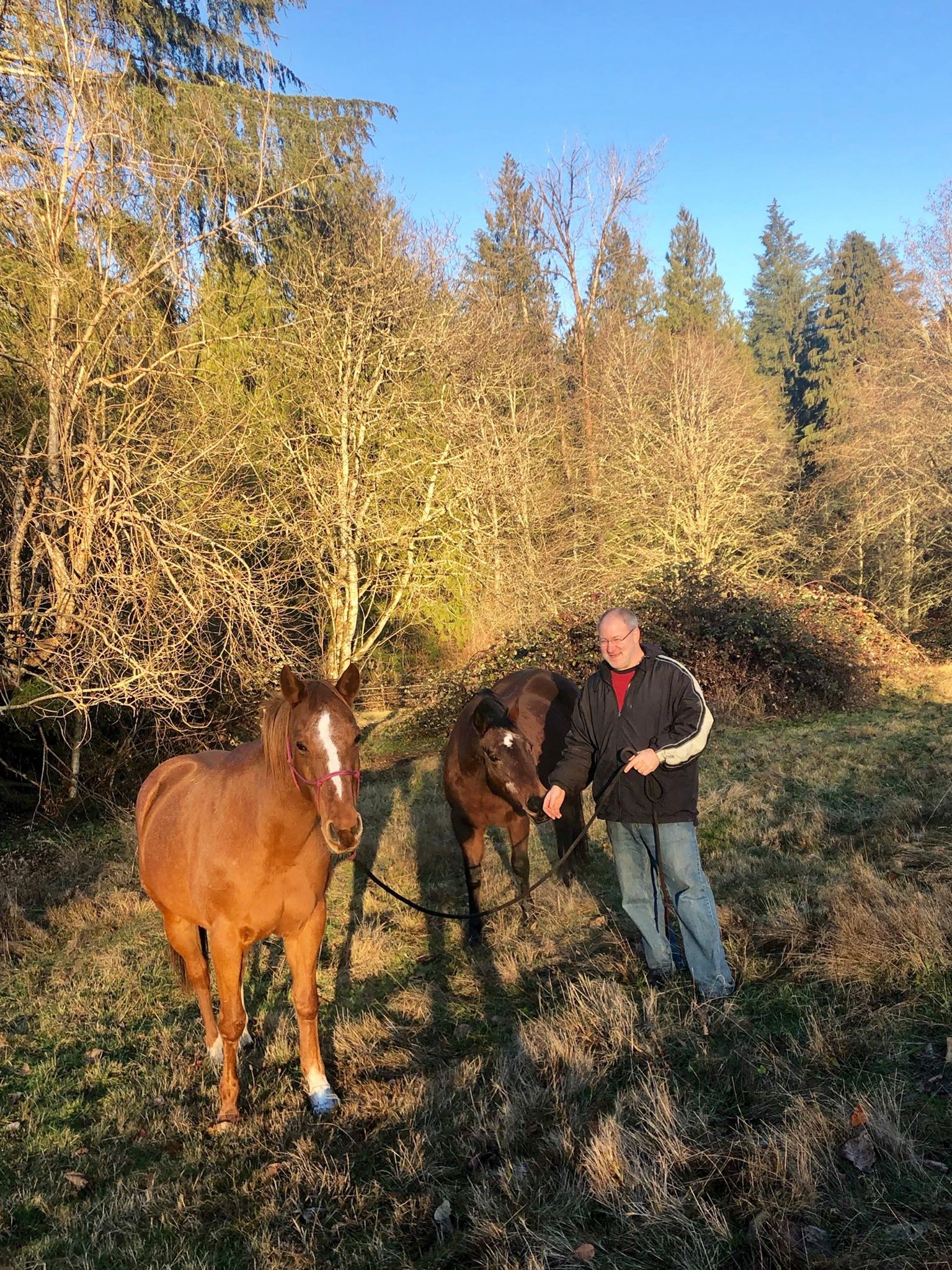 This past spring, SAFE had been called to help on several large intake cases. This filled our stalls and while we have a great medical staff to get our horses healthy and training program to prepare them for new lives, finding the right home takes time. SAFE was in a dilemma: we had some lovely companions that were ready to be adopted and horses in the community who desperately needed our help.
Eric had come to us about a year ago after purchasing a large property. He wanted to bring horses on the land but knew little about their care. We suggested he come volunteer at SAFE and start learning about horses and take advantage of our educational opportunities as well as learn from the knowledge of our staff and community. Eric spent the next months helping at Safe Harbor, coming to our herd health talks and participating in our horsemanship classes.
Fast forward to this spring and our full barn and horses waiting to come into SAFE. We called Eric up and told him the situation and he was willing to help. We met at the barn and walked from stall to stall visiting with the horses and talking about each of their personalities. Two that stood out were Rosie and Cali. They were already turned out together in the mare field and complemented each other. Rosie was older, calm natured and wise; Cali was younger, sensitive and devoted to a herd leader. After a few visits and grooming sessions, the girls were ready to move home.
Both settled in quickly and were a happy and bonded pair. Eric and his family love spending time with the girls. Both are very healthy and enjoy each other's company. This is a wonderful retirement home for these sweet mares and they will have a wonderful life living out their days together in safety and comfort. It is a sweet life!