Dixie
description: 2005 dark bay Thoroughbred mare
type of rescue: owner surrender
intake date: 10/9/2011
adoption date: 11/13/2011
length of time with SAFE: 1 month
ADOPTED by Kirsten B
Dixie was surrendered to SAFE by her owner who could no longer afford to care for her. She was adopted in 2011. Dixie's adopter had hoped to enjoy her as riding horse, but not long after starting training, Dixie started showing signs of discomfort and lack of balance. A vet exam revealed a stifle injury and Dixie became a companion horse. This sweet and friendly mare enjoyed walks on the trail with her owner. Sadly in 2015, Dixie began showing signs of pain and discomfort, likely caused by past neglect. She was humanely euthanized. Rest in peace, dear Dixie.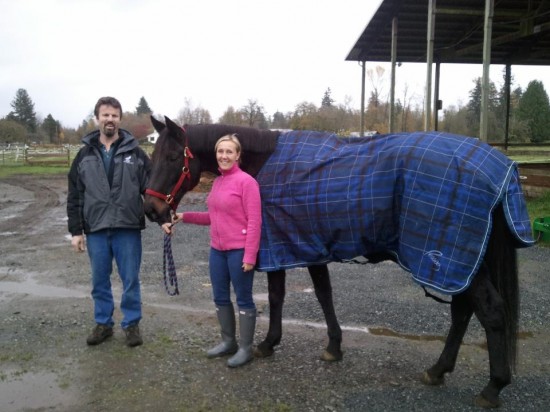 Congratulations to Kristin B. of Duvall, WA on her adoption of Dixie! You are adopting the sweetest mare ever!
Dixie arrived at SAFE on Sunday Oct 9, 2011. She has a Body Condition Score of about 2-2.5. She has lots of old kick wounds and is covered in bot fly eggs. Dixie shows signs of a recent abscess or puncture wound to her left front foot but seems sound today. She's extremely sweet and easy to handle — she loaded right up in the trailer and she stood quietly for an hour while we groomed her and got the bot eggs off of her.