Jollie
| | | | |
| --- | --- | --- | --- |
| SEX: Mare | BREED: Paint | REGISTERED NAME: none | INTAKE DATE: 12/14/2019 |
| COLOR: Bay | MARKINGS: blaze, LH sock | | |
| YOB: 2017 | AGE: 3 | HEIGHT: | WEIGHT: |
| LOCATION: Redmond | ADOPTION FEE: TBD | Online Adoption Application | |
Jollie and Merry were rescued from well-meaning people who adopted a pair of pregnant mares from an auction, and found themselves unable to care for the horses when the fillies were 3 years old. They were living in a remote location in eastern Washington where horsekeeping was difficult to begin with. Thanks to the efforts of several people in the horse community, the two older mares were taken in by Rodeo City Horse Rescue, and their fillies came to SAFE. Although relatively unhandled, the two young mares are friendly and curious. They will be entering SAFE's training program soon, to learn to be riding horses on their ways to new and better lives. All SAFE horses are adopted with a no-breeding clause, no exceptions.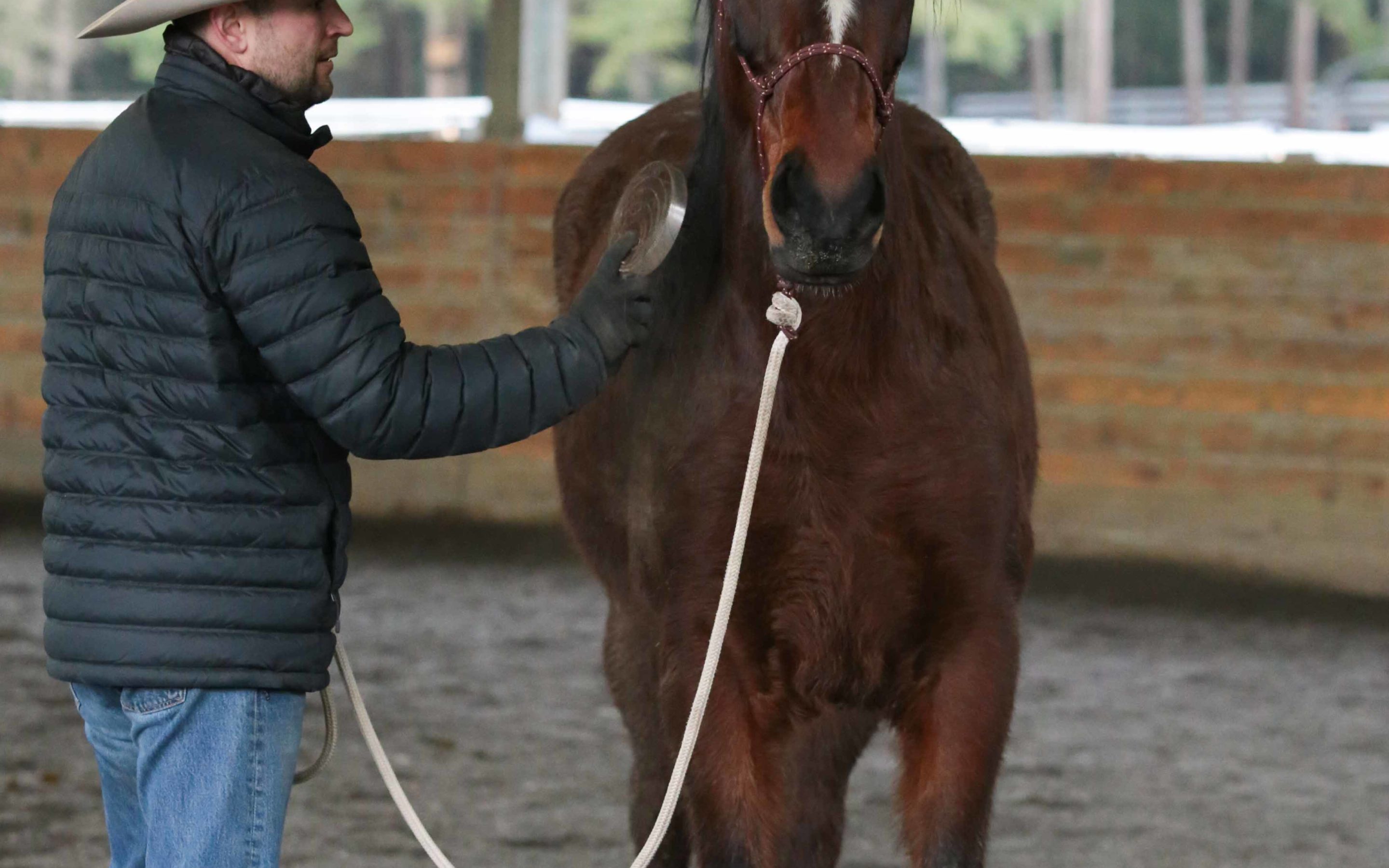 Thank you to Casey A for this update about Jollie, who got to participate in her first Joel Conner Clinic* this month!
Jollie had a fantastic week! When she arrived at SAFE she hadn't really been halter started, and she was quite pushy, so leading her to and from her paddock each day was a great opportunity. By Sunday, she led more confidently and was more respectful of personal boundaries. She also made great progress in the groundwork. Terry saddled her for the first time on Wednesday, and though she was a bit tight, she lined out pretty quickly. By Sunday, Jollie was moving with a lot of freedom and balance, and she had a great feel. We also worked on picking up her feet to ready her for the farrier. To do this we started with rope work. While I led her with the halter rope, Kaya used the rope to stop her with a hind foot. Once she understood the rope, Joel was able to get in to nip the flares off of her feet safely and without issue. Our goal is to get her started under saddle when Joel returns in June, so we'll continue to work with her on changing eyes, freeing up her feet, bumping her up to the rail, and bending her to a stop on the ground. Jollie has a really sweet disposition, and I expect that she is going to make an awesome partner.
*the March clinic was cancelled but Joel still came to SAFE to work with our horses and our horsemanship volunteers. It was a great session, and we got so much done!

Jollie's Friends:
1. Liz C.
2. Diana G.
3. Carolyn M.
4. Wendy T.
5. _____________________
6. _____________________
7. _____________________
8. _____________________
9. _____________________
10._____________________
Every horse deserves at least ten friends! Even a small monthly donation can make a difference. Plus, SAFE horse sponsors receive discounts at local businesses through the SAFEkeepers program!