JR
description: 2001 chestnut Thoroughbred gelding
type of rescue: owner surrender
intake date: 3/4/2012
adoption date: 4/5/2013
length of time with SAFE: 1 year, 1 month
ADOPTED by Pony Up Rescue for Equines (a trade for Kai)
JR was surrendered to SAFE by his owner, who could no longer care for him. He came to us in pretty poor condition, underweight with badly cracked hooves and his tail was one big mat. He made a nice recovery, and spent 5 months in training at Dutch Mills Farm with Helga Roberts. Helga worked him steadily and patiently, and he made terrific progress. At the 2012 SAFE Benefit Horse Show, JR was shown up to Training Level dressage and Trot Pole Hunters at the schooling show level, winning Champion in the Trot Pole Hunter division. JR was not able to stay sound, however, so he ended up being offered as a companion horse. SAFE ended up doing a swap with another local rescue, Pony Up for Equines, trading JR for Kai, a younger Thoroughbred that they had rescued. Kai would benefit from SAFE's training program, and JR would do well as a companion at Pony Up.
We have a new horse to introduce to everyone today. His name is Kai (pronounced Kye) and he is an 8 year old dark bay Thoroughbred gelding who raced under the name Santorini Island. He's a gorgeous beast…here he is meeting Strider for the first time yesterday: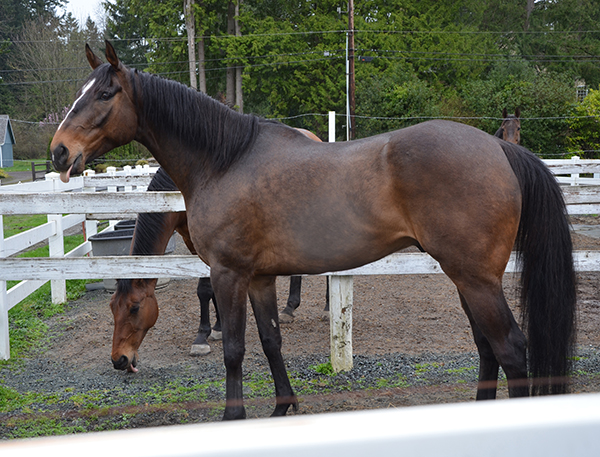 Kai might look familiar to those of you who also support Pony Up Rescue for Equines, and that is because he was originally rescued by Pony Up about a year or so ago, and you probably know him as Sky. Pony Up was contacted by Sky's owner who could no longer keep him, and when they took him in, he was in very poor condition with rain rot and bad feet. He had not had much if any training or handling beyond what he got at the track. Pony Up did a fantastic job of getting Sky rehabilitated and back to health, and then sent him to Cam Reeves at The Jones Farm for retraining. He had 60+ days of training with Cam, who guided him through the transition from racehorse to sport horse, working him 6 days a week and giving him an excellent start towards a new life.
Pony Up founder and President Rosemary Collins recognized that while Sky "passed" his training with flying colors, he was still not a beginner horse. She also knew that when he returned to her farm in Olalla, his training would more or less come to a halt, since she does not have a volunteer rider available at the moment who can continue Cam's work. So she called her good friends at SAFE and made an interesting proposal: why not arrange a trade? SAFE is very fortunate to have a talented dressage rider and trainer on staff who can continue Sky's training, so sending him to SAFE makes a lot of sense in terms of Sky's future as a sport horse. At the same time, Pony Up has an older gelding named Valentine who needs a kind and gentle turnout buddy, and SAFE has just the fellow: JR — whose ongoing soundness problems recently made it necessary for us to "demote" this wonderful gelding to "pasture companion" status. We know that Rosemary and Pony Up are great with the care and feeding of Thoroughbreds, and the idea of JR living in a situation where he will be turned out with a friend made us feel like this trade was meant to be. So yesterday, we picked up Sky from The Jones Farm and brought him to SAFE Harbor, and delivered JR to Pony Up's Starfish Ranch.
JR's trailer ride yesterday was unbelievably long due to horrible traffic (!!) but he arrived safe and sound, and had a nice, clean stall waiting for him. He met his new buddy Valentine through the paddock fence and both horses were very friendly and interested in each other, which bodes well for the future. At SAFE Harbor, JR was a great pasture buddy, very submissive (even to Sinatra!) and so we have our fingers crossed that he and Valentine will be close friends. JR will probably also get to do some light trail riding while at Pony Up, and he'll participate in Pony Up's "Neigh Days" that include pony rides for kids in the community which he's sure to enjoy. We are really going to miss JR at SAFE Harbor Stables…he was a favorite to lots of volunteers, but we know that he'll be getting the best of care as a Pony Up horse.
The most difficult part of the entire trade was figuring out what to do about the fact that we already have a horse named Skye! After much debate, we decided to rename the newcomer Kai — a name that is close enough to Sky that he probably won't know the difference, but different enough for us humans to be able to retain our sanity! Then we discovered that the word "Kai," in Germanic languages, can mean "quay" or "safe harbor!"
Trading horses is something we've never done before, but it makes sense, not only for us, but for Sky/Kai and JR too. We are grateful to Pony Up for all their hard work helping horses in this area; they are a great organization doing great things. It's important that rescue organizations like SAFE and Pony Up are able to work together and help each other, because it only makes things better for the horses. We look forward to continuing to work in cooperation with Pony Up!
We'll be taking the next few weeks to get to know Kai and evaluate him under saddle before offering him for adoption. But if you're looking for a young sporthorse prospect wrapped up in a gorgeous package, take a look at this handsome fellow! More about Kai can be found on his page here.