Lucca
2002 bay Arabian mare
Type of Rescue: Owner Surrender
Intake Date: 4/5/21
Adoption Date: 8/9/21
Length of Time with SAFE: 4 months
ADOPTED!! by Jane
Lucca was surrendered to SAFE when her family needed to sell their home due to medical reasons. She arrived with another horse, Aries, who was also a senior mare. They both were healthy with shiny coats and just in need of a farrier visit. These mares had experience trail riding, but hadn't been ridden in a year.
Today
Lucca was a special mare who was only at SAFE for 4 months! She now lives happily with SAFE's very own long term volunteer and supporter, Jane Millar. Jane boards Lucca at a barn just across the Farrell-McWhirter park to the east of SAFE. The staff and volunteers were thrilled when Jane decided to adopt Lucca and we had a small parade of volunteers and staff walk SAFE horses as they escorted Lucca to her new home at Mackey Creek with Jane.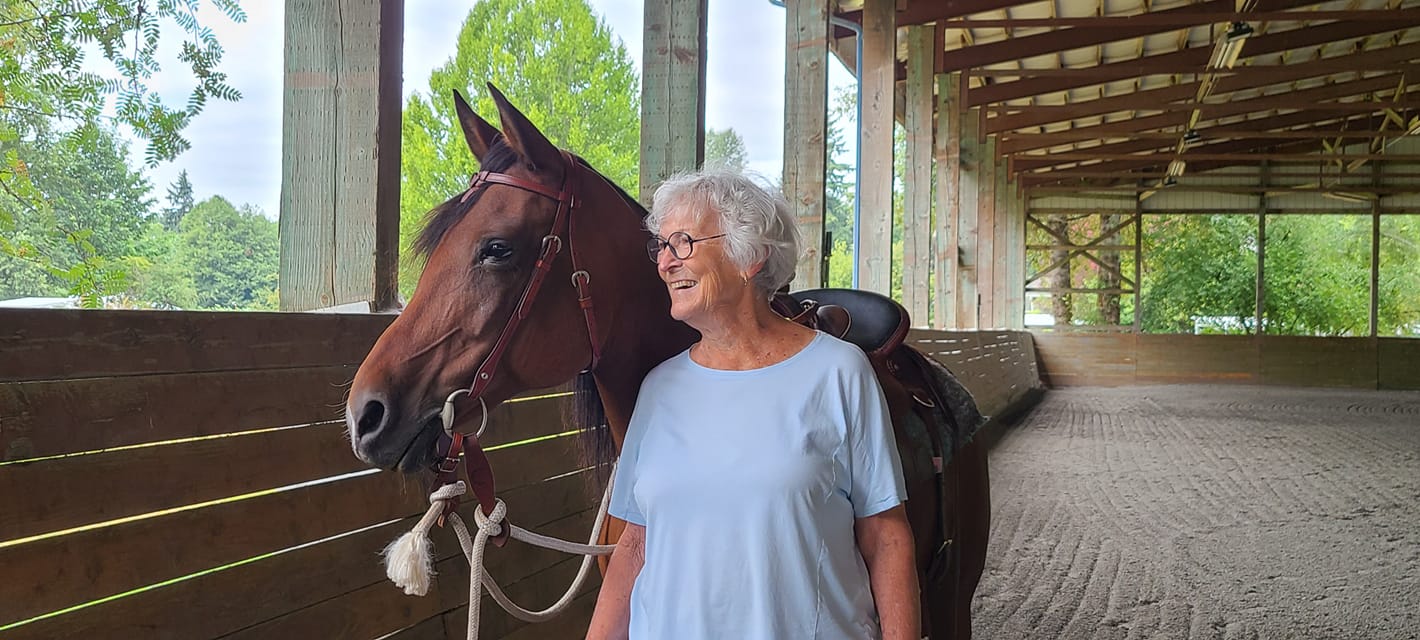 Lucca is adopted by our very own Jane Millar! Jane has been a huge part of SAFE for many, many years and we could not be more over the moon that she found Lucca. As the Volunteer Manager for over 3 years, most long-term volunteers remember her as the first face of SAFE. Jane transitioned from a pretty big part time volunteer job to wanting to have more free time, try a few different roles at SAFE and be part of the horsemanship program.
Jane adopted one of our alumni horses, Dyna, back in 2017. Dyna was boarded at a barn just across the park from SAFE called Mackey Creek. The two would often take a trail ride through Farrel McWhirter Park to SAFE, do a little loop and then back home. Occasionally you could hear your name called somewhere in the park and realize it was Jane riding Dyna and hollering a quick hello. This past Thanksgiving weekend, we were heartbroken to hear Dyna was sick and Jane had to make the horrible decision to help end Dyna's suffering. She was devastated and our hearts were so sad for Jane's immense loss. She loved Dyna and had provided her so much love and care during Dyna's golden years.
When it came time for Jane to start considering another horse, SAFE didn't have a horse that matched her needs. Jane continued her work at the barn each week, helping with various barn chores and working with a horse or two. Then one day, Jane accompanied Terry on a ferry ride to pick up Lucca and another horse, Aries, in Kingston. Jane did not know at the time this would be her future horse, but Terry was hopeful.
A few months later, Jane was asked to ride Lucca in the Joel Connor Clinic and that may have been love at first ride. Jane loved this mare's temperament and was aware of the interest potential adopters had in Lucca. She had to act fast if she wanted her, so she spoke with her accountant and was able to make it work!
In early August, Lucca left SAFE with Jane riding her, accompanied by staff, volunteers and SAFE horses. We had a SAFE "adoption parade in the park" where Jane had ridden so many times with Dyna, to bring Lucca to her new home at Mackey Creek. It was a wonderful way to start Lucca's new life with one of our favorite people, Jane. The two continue to do trail rides and Jane keeps us updated on how lucky she feels to have found Lucca. We think they are both really lucky.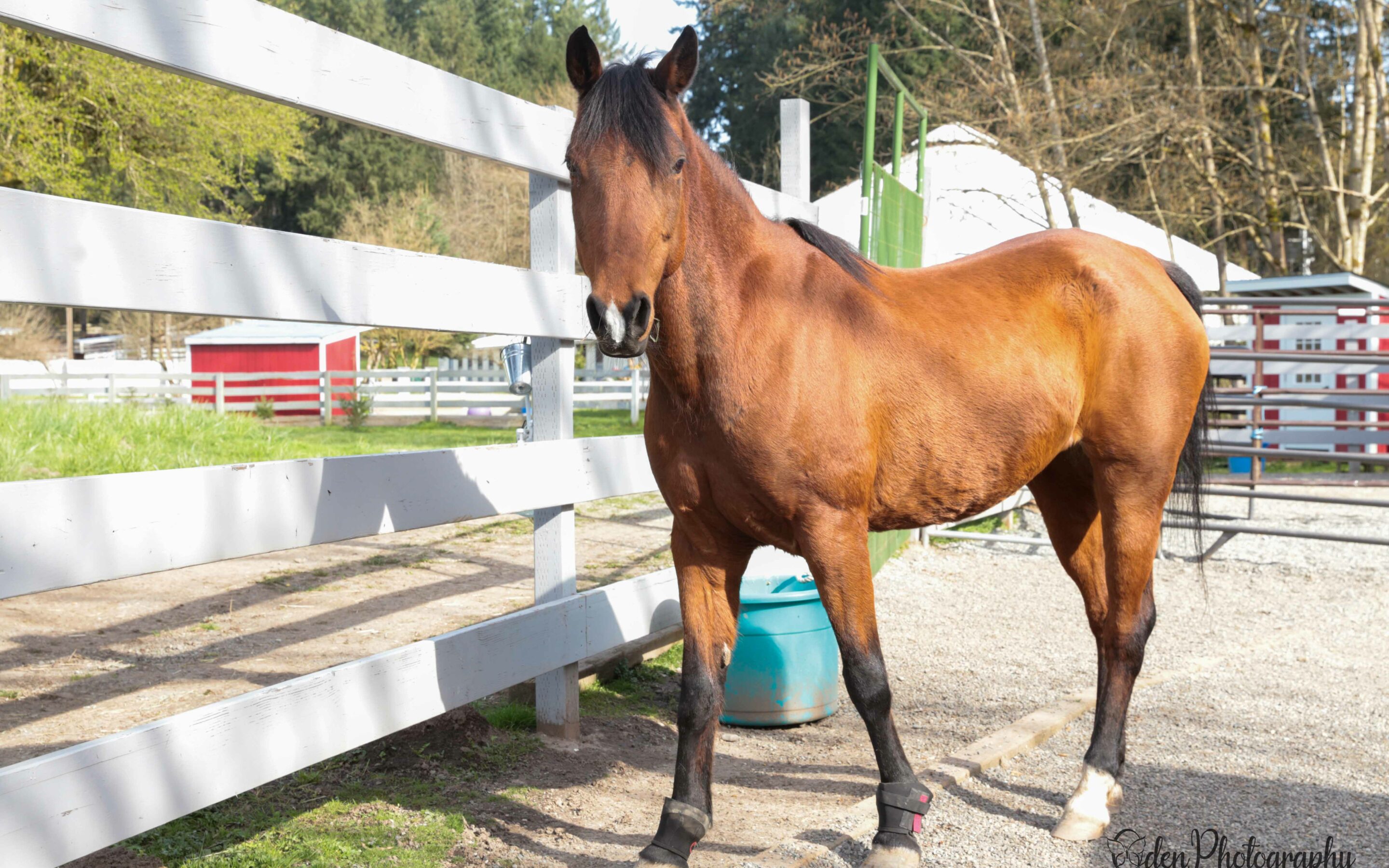 Lucca has been at SAFE for about six weeks. Aries, the horse she arrived with, and her came to SAFE without medical issues, so we were able to start training immediately after their 14 day quarantine. Terry, our Operations Director, recently starting riding Lucca and here is what she had to say about her.
"Lucca's biggest hurdles are learning go through the transitions, walk trot and canter, and being relaxed and without bracing and throwing her head up. Recently, she had some great changes and we can see the riding horse she can become. At the beginning of next month, the plan is to take Lucca to a three day horsemanship clinic with Joe Wolter in Sultan. This will be a good indicator how she does outside of the property around new horses and more energy around her."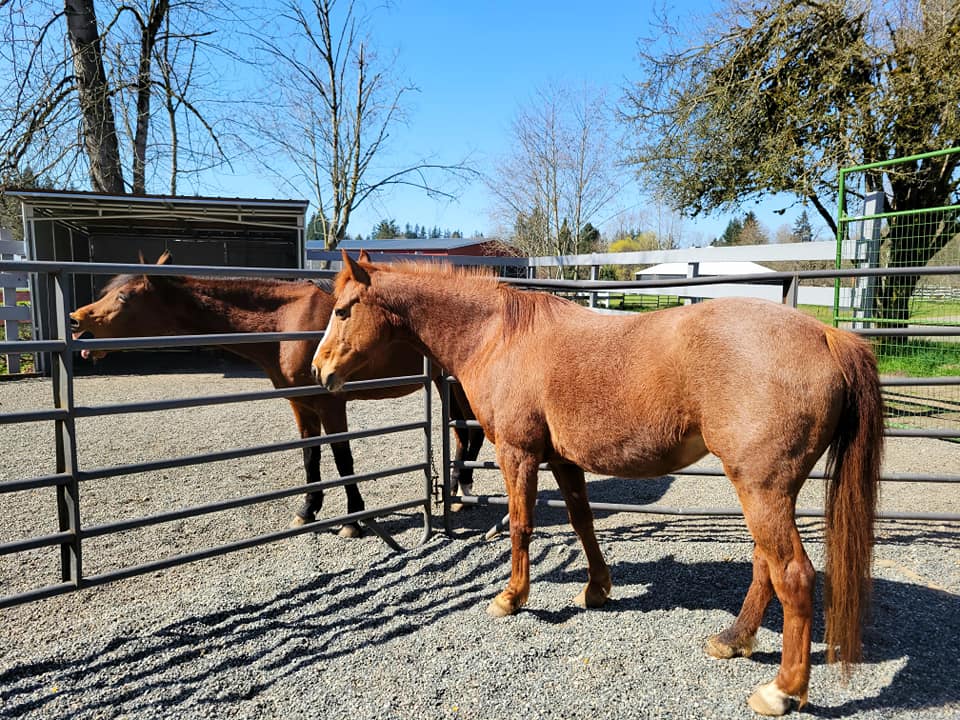 Terry, our Operations Director and Jane, a long time SAFE volunteer, headed across the waters on a ferry ride to Kingston. They picked up two new horses this week, Lucca, a 19 year old bay Arabian mare and her friend, Aries, an 18 year old red roan Arabian. Both are very sweet and well behaved.
Sadly, their owner had to rehome them when they had to sell their home due to the husband's cancer diagnosis. They were unable to find them a good home when they were dealing with so much themselves. Fortunately, SAFE had room, and was happy to step in and help. Both mares have been on trail rides and Aries was their daughter's 4H horse. They both are healthy and just need a little TLC to prepare for riding again, since it's been about a year since they've been under saddle.
Both seemed relaxed when they arrived. Lucca kept yawning in the sunshine while Aries stood calmly next to her. Neither one broke a sweat on the long journey across a ferry to their new home. We are excited to get to know these sweet mares and prepare them for their next chapter in life.