Arigato
SEX:
mare
BREED:
Mustang
REGISTERED NAME:
none
INTAKE DATE:
6/16/21
COLOR: pinto, brown/white
MARKINGS:
YOB: 2017
AGE: 4
HEIGHT:
WEIGHT:
LOCATION: Redmond, WA
ADOPTION FEE: TBD
Arigato, or Ari for short, is a 4 year old BLM Mustang paint. Her previous owners got her from the Adoption Incentive Program in September 2020, but were never able to handle or gentle her. Arigato lived there, standing in mud without proper care until her feet were long and cracked. Our plan is to focus on teaching her that human touch is not a bad thing so we can then take care of her feet and medical needs. We immediately got to work and she let one of our volunteer riders pet her on the face after two days. She is a very sweet, smart horse who loves back scratches. What once was a scared horse, is now a curious, willing to learn mare.
All SAFE horses are adopted with a no-breeding clause, no exceptions.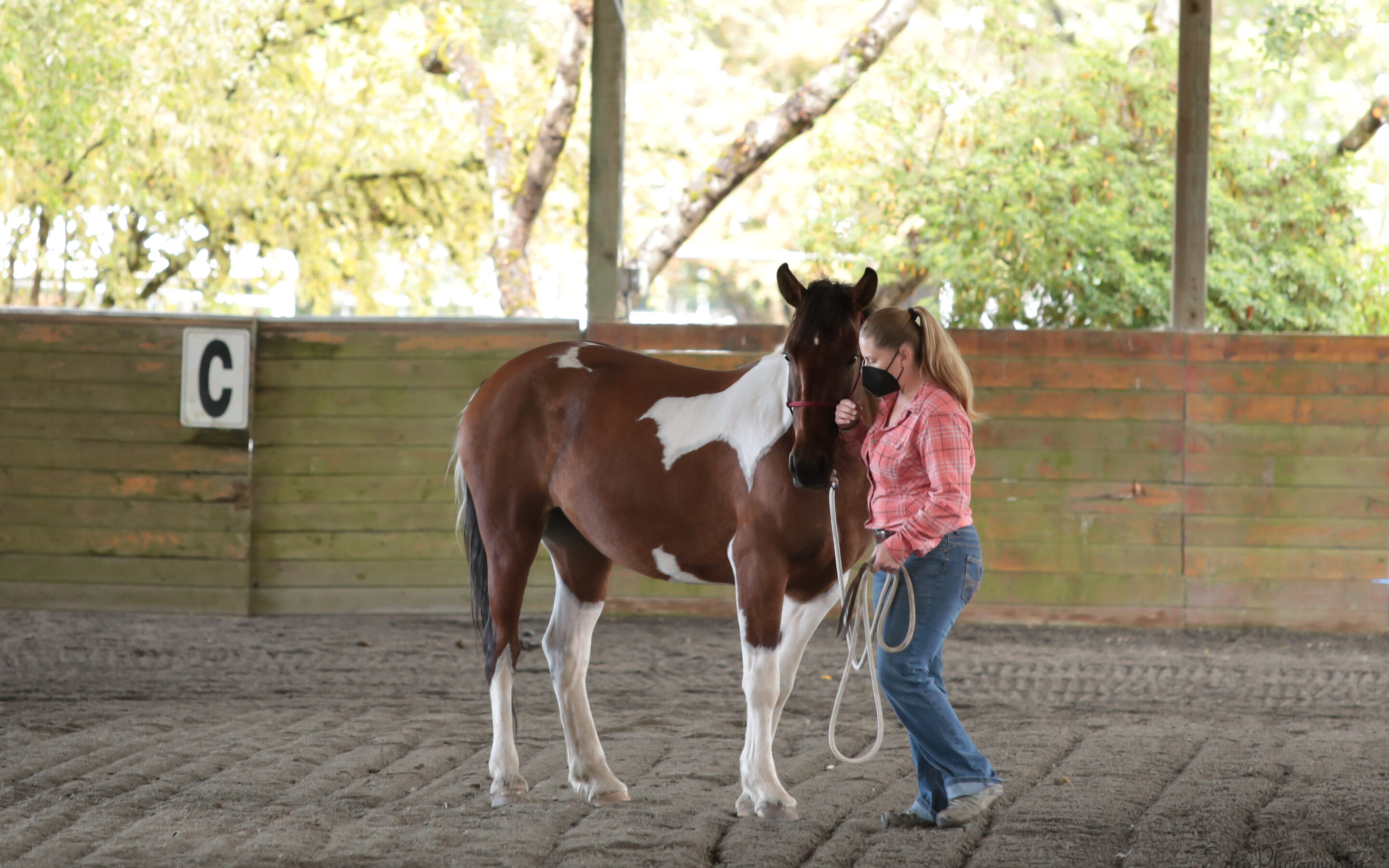 Arigato came to SAFE with very overgrown hooves and some apparent lameness in her right hind. We have been working with her to gentle her enough to safely sedate her for X‑rays. She has a bulge about one inch below the coronet band. There is a possibility that this is a benign tumor known as a keratoma, but this will need to be confirmed through the X‑rays. The only way to treat a keratoma is by surgically removing a section of the outer hoof wall to access the keratoma. Depending on the size of the area sectioned off, it can take up to a year for the hoof hard layer to regrow. This would be a year on limited movement and stall rest. That length of confinement is particularly difficult for a horse to endure. A decision on whether or not it is in Arigato's best interest to do the surgery is pending results of further diagnostics. In the meantime, she had her first farrier visit in early August to trim her hooves.
In the last month, Ari has made major steps in groundwork training. During the September Joel Conner clinic at SAFE, Terry spent about 45 minutes on the first day of the clinic convincing Ari that she could just get through the door to the arena. By the third day, Ari walked right into the arena to join the groundwork class. Another challenge that Arigato conquered was having the vet get up close to her. By taking the time needed to overcome Ari's fears, the vet was able to give Ari's first vaccinations and booster shots. Ari has had two visits from the farrier for hoof trims, and her lameness seems to have evened out. She has good days and bad days, but seems comfortable enough to continue the gentling work with her. We're careful that working with her to improve her balance does not make her lameness worse.

Arigato's Friends:
1. Janis G.
2. Sophia B.
3. Jean E.
4. Hanna S.
5. Molly V.
6. Julie H.
7. Carrie S.
8. Jill W.
9. Jennie G.
10.Carol P.
11. Lorrenda M.
12. Whitney-Bear B.
Every horse deserves at least ten friends! Even a small monthly donation can make a difference. Plus, SAFE horse sponsors receive discounts at local businesses through the SAFEkeepers program!