Beauty
1999 chestnut Arab cross mare
Registered Name: none
Type of Rescue: Animal Control Surrender
Intake Date: 11/21/19
Adoption Date: 3/21/21
Length of Time with SAFE: 2 years, 4 months
ADOPTED!! by Emily
Beauty was surrendered to Animal Control because her owner failed to care for her. She went without proper vet and dental care for a period of time, and was malnourished and underweight when she was surrendered. Today, Beauty is spunky, happy, and healthy! After working with Beauty, it has become clear that she has not always had the best experiences with people. She can be quite defensive when she feels stuck or is unsure of what is being asked of her. With help from the horsemanship volunteers, Beauty gained more confidence and found comfort in people, where she couldn't find it before. We tested Beauty under saddle and we were pleasantly surprised how great she did. This wonderful mare became part of the riding program and we were able to offer her as a light riding horse. She now lives with a wonderful family and their horse, Rocky.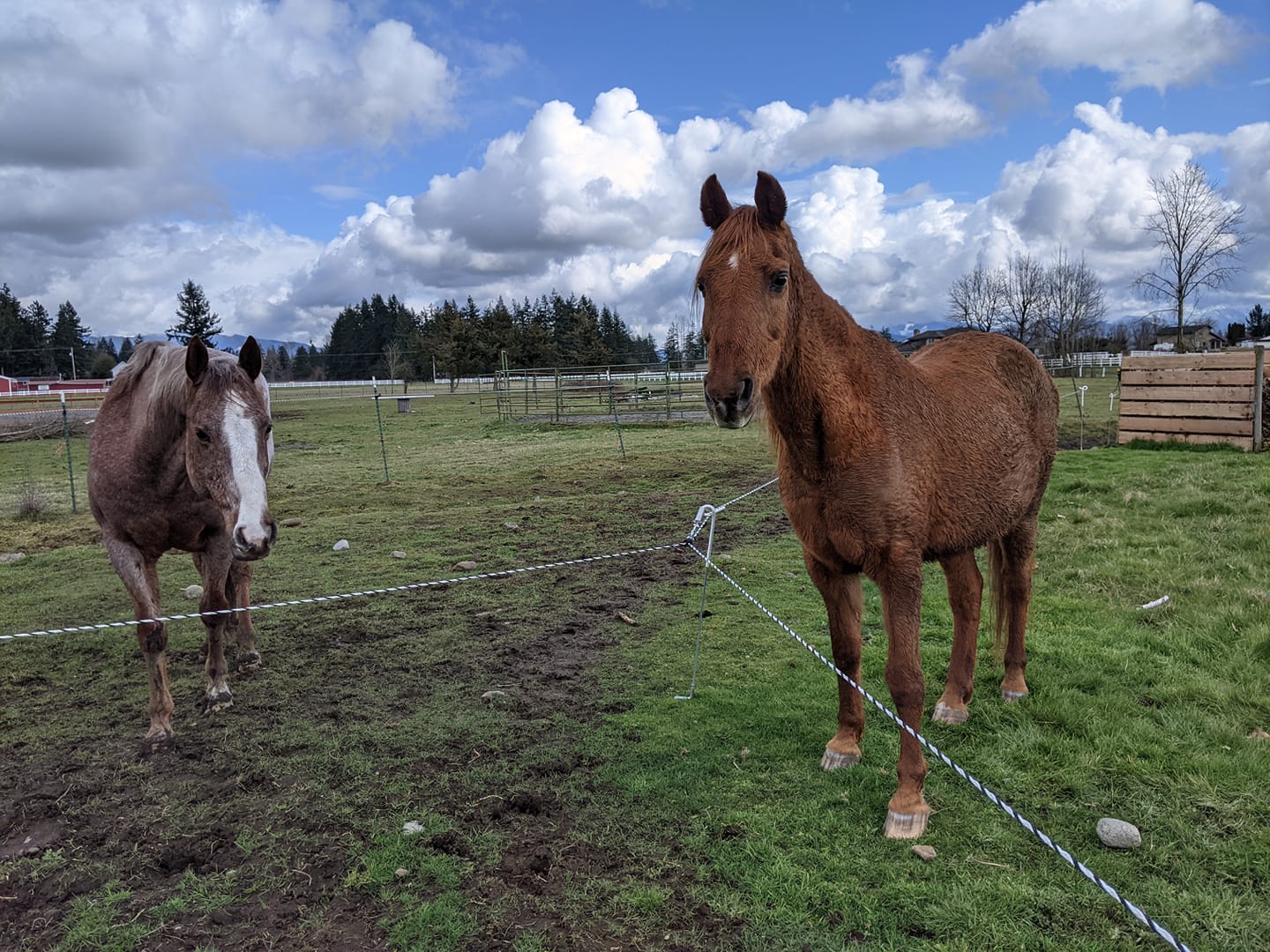 Our Beauty has been adopted! When she arrived at SAFE in late 2019, under the gloom of November skies, it was immediately clear that Beauty had also seen brighter days. Her chestnut coat was rough and patchy from malnourishment, and her teeth were in poor condition, so much so that it was decided she would have to be fed an all-grain diet to reduce her risk of choking. However, it quickly became apparent that she didn't mind her special feeding circumstances, as she would usher in each mealtime with a chorus of nickers. Another caveat — grass was OK, so who needs hay, anyway?
If we could speak horse, we could ask Beauty about her past directly. Perhaps she would tell us she was a child's 4H horse, or that her favorite activity was walking the trails, taking in the sounds, smells, and sights. But alas, we can only guess at these things, and with 20+ years under her cinch, it was clear she had been through a lot. With the help of some two-legged friends, Beauty was given the support she needed to work through some of the trouble from her past, and learn a few new tricks along the way. Her progress was so immense that she was even restarted as a light riding horse!
Beauty's adopter came to SAFE looking for a good fit, and found one in this special mare. A pleasure to trailer-load from day one, Beauty was chauffeured to her new home by her good friend Jane, where she made quick work of settling in as the newest member of the family. Quite the social butterfly, Beauty was especially delighted to meet her new neighbor, the handsome gelding Rocky.
Since she arrived home in March, Beauty has been filling her days (and her belly!) by grazing alongside her buddies, enjoying a bit of light riding, and, above all else, being loved and doted on. She is gentle with the littlest members of her family, and, curious and friendly as ever, does not hesitate to investigate what her human companions are doing when they're near. The family said they feel fortunate to have found such a kind old lady. All in all, a beautiful life for such a beauty!