Beauty
| | | | |
| --- | --- | --- | --- |
| SEX: Mare | BREED: Arabian cross | REGISTERED NAME: none | INTAKE DATE: 11/21/2019 |
| COLOR: Chestnut | MARKINGS: Small star, snip | | |
| YOB: 1999 | AGE: 22 | HEIGHT: 14.0 | WEIGHT: 816 |
| LOCATION: Redmond | ADOPTION FEE: $500 | Online Adoption Application | |
Beauty was surrendered to Animal Control because her owner failed to care for her. She went without proper vet and dental care for a period of time, and was malnourished and underweight when she was surrendered.
All SAFE horses are adopted with a no-breeding clause, no exceptions.
Today, Beauty is spunky, happy, and healthy! From working with Beauty, it has become clear that she has not always had the best experiences with people. She can be quite defensive when she feels stuck or is unsure of what is being asked of her. With help from the horsemanship volunteers, Beauty has gained more confidence and has found comfort in people, where she couldn't find it before. Beauty still tests us and lets us know when she's uncomfortable, but she is making such improvements in trusting humans! Just recently, we tested Beauty under saddle and we were pleasantly surprised how great she did. This wonderful mare is now part of the riding program and we are excited Beauty can go to a home where she would be lightly ridden.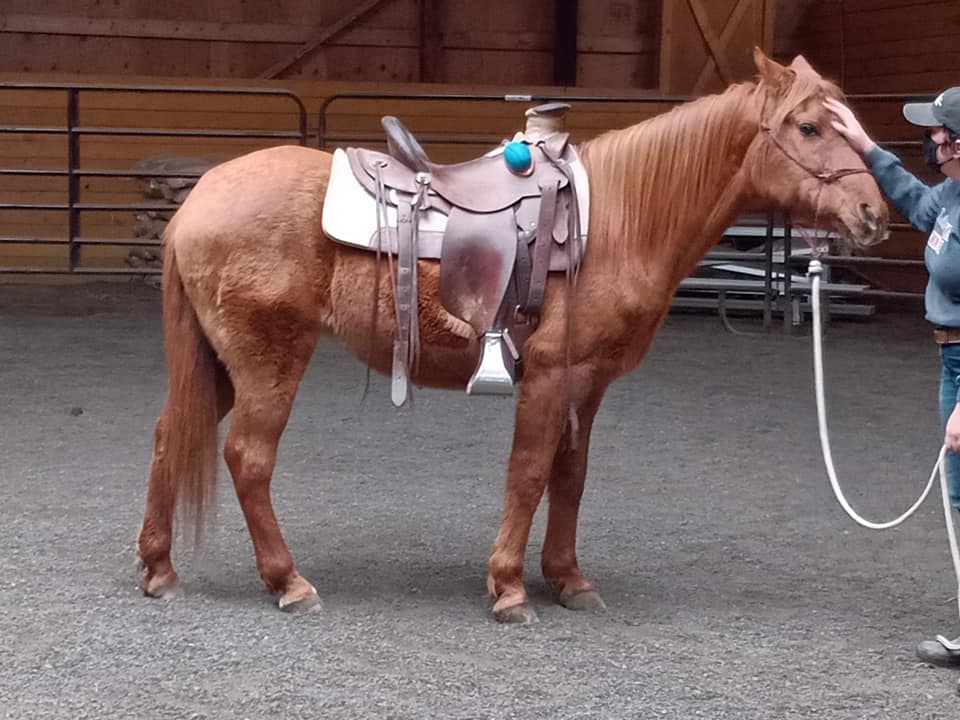 Beauty's been enjoying the past year, settling into her life at SAFE. Her friend Jane has helped her become so much happier and relaxed around people. It is clear that Beauty has a riding history and she's sound, so we thought we would see if she could be a riding horse again!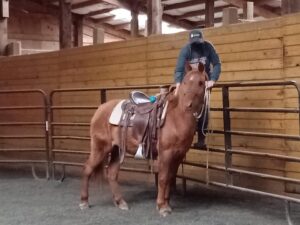 We tested out all of the rope work and saddle prep that we would do for a totally green horse and Beauty was completely unfazed by all of it. She handled being saddled really well and didn't really get tight or bothered about it at all. She took everything in stride and even seemed to be saying, "yeah, what else you got?"
Beauty needs some more work relaxing when turned out loose in the round pen and also needs help with bending down to a one rein stop. We want her to relax her head and neck down in a long, even trot, and to have easier transitions. We're also looking for her to bend more evenly and balanced. Right now, she stays pretty stiff until she crooks her neck around, so we need to help her increase her flexibility and understanding. We're confident that we will be able to help Beauty with these things through more groundwork and hopefully we'll have a new riding horse soon!

Beauty's Friends:
1. Traci G.
2. Colleen M..
3. Jan M.
4. ___________________
5. ___________________
6. ___________________
7. ___________________
8. ___________________
9. ___________________
10._____________________
Every horse deserves at least ten friends! Even a small monthly donation can make a difference. Plus, SAFE horse sponsors receive discounts at local businesses through the SAFEkeepers program!