Beauty
| | | | |
| --- | --- | --- | --- |
| SEX: Mare | BREED: Arabian | REGISTERED NAME: none | INTAKE DATE: 11/21/2019 |
| COLOR: Chestnut | MARKINGS: | | |
| YOB: 2000 | AGE: 20 | HEIGHT: | WEIGHT: |
| LOCATION: Redmond | ADOPTION FEE: $300 | Online Adoption Application | |
Beauty was surrendered to Animal Control because her owner failed to care for her. She went without proper vet and dental care for a period of time, and was malnourished and underweight when she was surrendered.
All SAFE horses are adopted with a no-breeding clause, no exceptions.
Today, Beauty is spunky, happy, and healthy! From working with Beauty, it has become clear that she has not always had the best experiences with people. She can be quite defensive when she feels stuck or is unsure of what is being asked of her. With help from the horsemanship volunteers, Beauty has gained more confidence and has found comfort in people, where she couldn't find it before. Beauty still tests us and lets us know when she's uncomfortable, but she is making such improvements in trusting humans! She loves her horse friends and will make a wonderful companion!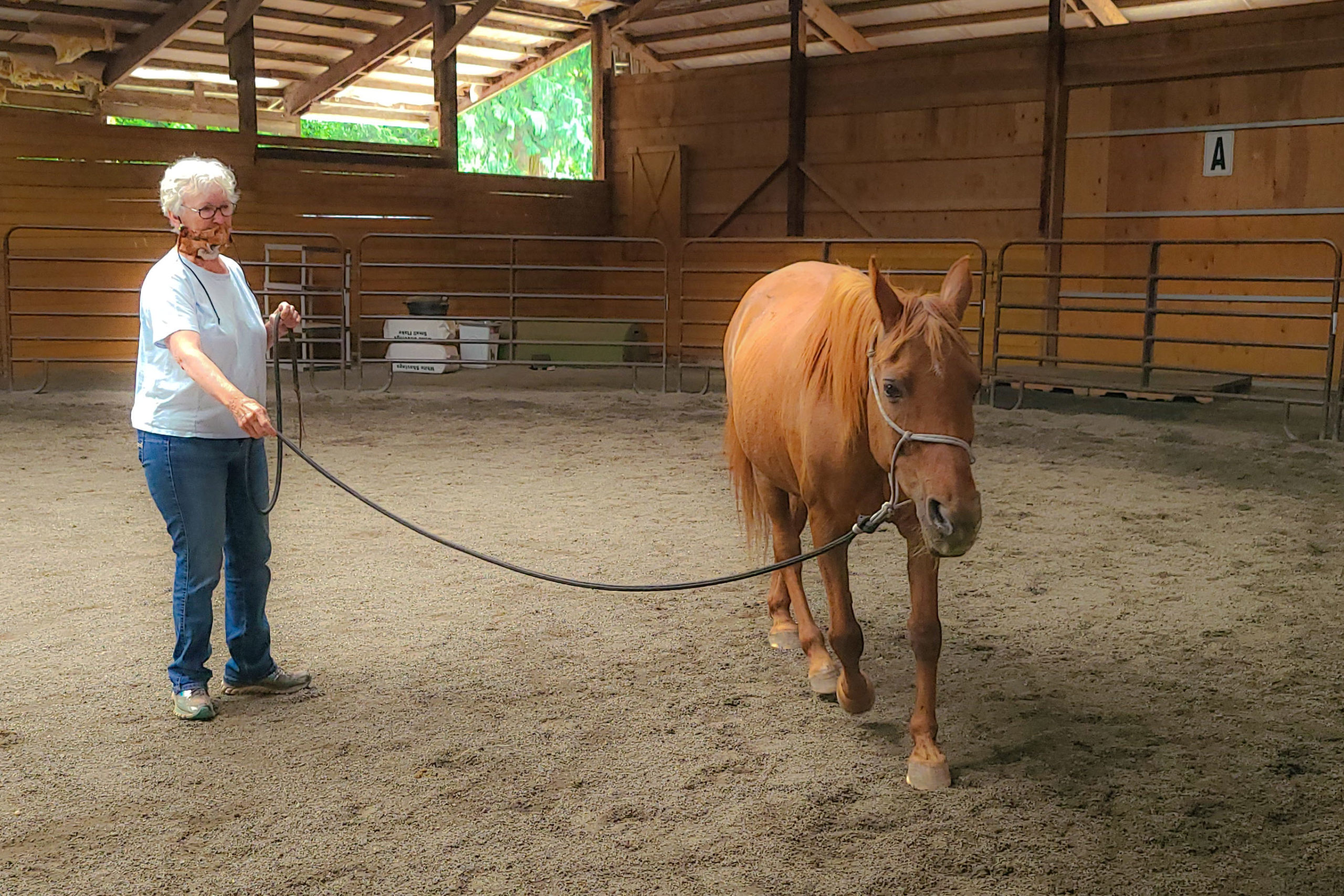 Clinic report from Jane M:
I had the distinct pleasure of working with Beauty, a 20+ year old Arabian mare, in the Joel Connor Clinic this past week. I spent five days in a row doing groundwork for an hour under Joel's supervision. It's impossible to know what abuse this sweet mare endured before she came to SAFE, but her extreme reaction (head thrown up, ears pinned, eyes wild, teeth often bared) whenever she's asked to back up may be evidence of violent treatment in her past. By the end of the fifth day, Beauty managed to w/t/c both directions with a relatively pleasant expression. She was able to back a few steps with my hand at her chin on the halter and maintain a pleasant expression. Whenever we finished a movement, I could rub her forehead and poll and her head would drop against my chest. She clearly has a very sweet side. I am optimistic that eventually Beauty will back up with a lovely, unconcerned expression. I have time. Thank you, SAFE, for the opportunity to get acquainted with this lovely mare.