Beauty's been enjoying the past year, settling into her life at SAFE. Her friend Jane has helped her become so much happier and relaxed around people. It is clear that Beauty has a riding history and she's sound, so we thought we would see if she could be a riding horse again!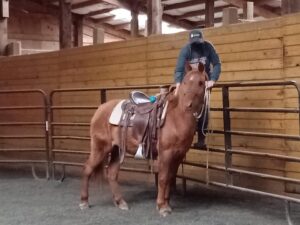 We tested out all of the rope work and saddle prep that we would do for a totally green horse and Beauty was completely unfazed by all of it. She handled being saddled really well and didn't really get tight or bothered about it at all. She took everything in stride and even seemed to be saying, "yeah, what else you got?"
Beauty needs some more work relaxing when turned out loose in the round pen and also needs help with bending down to a one rein stop. We want her to relax her head and neck down in a long, even trot, and to have easier transitions. We're also looking for her to bend more evenly and balanced. Right now, she stays pretty stiff until she crooks her neck around, so we need to help her increase her flexibility and understanding. We're confident that we will be able to help Beauty with these things through more groundwork and hopefully we'll have a new riding horse soon!