Belle
SEX:
Mare
BREED:
Thoroughbred
REGISTERED NAME:
Phenomenal Times
COLOR:
Bay
MARKINGS:
Blaze, 3 socks
DOB:
May 2, 1998
AGE:
19
HEIGHT:

WEIGHT:
LOCATION:
Redmond
ADOPTION FEE:
TBD
Online Adoption Application
Belle and her daughter Aurora were surrendered to SAFE by their owner who was no longer able to take care of them. Belle raced in the PNW as a 2- and 3-year old, and retired with a record of 1 win and 1 second in 11 starts. After the track, Belle went on to have a career as a sport horse and was ridden extensively, but she hasn't done much in the past 10 years or so. She is a nice, big bodied mare who needs some refresher training but hopefully can go on to be a riding horse and a companion to someone special.
All SAFE horses are adopted with a no-breeding clause, no exceptions.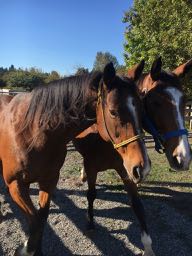 SAFE welcomed two new horses to our herd today. Belle is a 19 year old Thoroughbred mare, and her daughter Aurora is 11 years old. The two girls are sharing a quarantine space at Safe Harbor for the time being, and seem very interested in all the goings on around them. We'll give them time to acclimate and settle in before we start evaluating them to see what they know and what they need to learn. First impression is that they are nice girls who haven't gotten a great deal of handling lately so they need to be reminded about paying attention to their handlers and respecting personal space. We're pretty sure they'll do well once training starts. They are both big-bodied, gorgeous mares with a lot of potential!

Belle's Friends:
1. Andrea L.
2. Kirsty E.
3. _____________________
4. _____________________
5. _____________________
6. _____________________
7. _____________________
8. _____________________
9. _____________________
10._____________________
Every horse deserves at least ten friends! Even a small monthly donation can make a difference. Plus, SAFE horse sponsors receive discounts at local businesses through the SAFEkeepers program!