We lost a dear friend last week. Annabelle, who lived with Aubrey in one of our very best foster homes, collapsed suddenly on Tuesday morning and passed away shortly thereafter. She may have had a heart attack or an aneurysm, we'll probably never know. Whatever it was, it happened quickly.
Annabelle came to SAFE in May 2015, traumatized by a life of neglect and abuse. As a SAFE horse, she enjoyed two and a half wonderful years of care and love and friendship and calm. Annabelle must have felt she was living in paradise with her foster mom Jackie and Aubrey and the rest of Jackie's beloved creatures. Annabelle and Jackie had a wonderful friendship and a huge hole has been left in Jackie's heart. Jackie gave Annabelle a wonderful life,and we are so grateful to her for that.
Annabelle was laid to rest on Jackie's property. The sunny spot that Jackie chose for Annabelle is within view of Jackie's burn pile…Annabelle loved to stand and watch the fire…and is marked with stones and a newly planted flowering cherry tree. Rest in peace, sweet girl.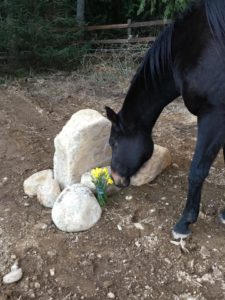 Aubrey was given the chance to see Annabelle after she passed, and say her goodbyes to her dear friend. She periodically visits Annabelle's grave too.