Betty
2002 Freisian-cross or Perch-cross mare
Suitability: Companion
Color: black
Markings:
Height: 15.2 hh
Weight: 1030 lbs

Online Adoption Application
Of the two large black mares, this is the shyer of the two, but she is no less sweet. She definitely has some hesitancy in certain situations, but is still very gentle. Her near mirror image is her current paddock mate, and the two get along famously.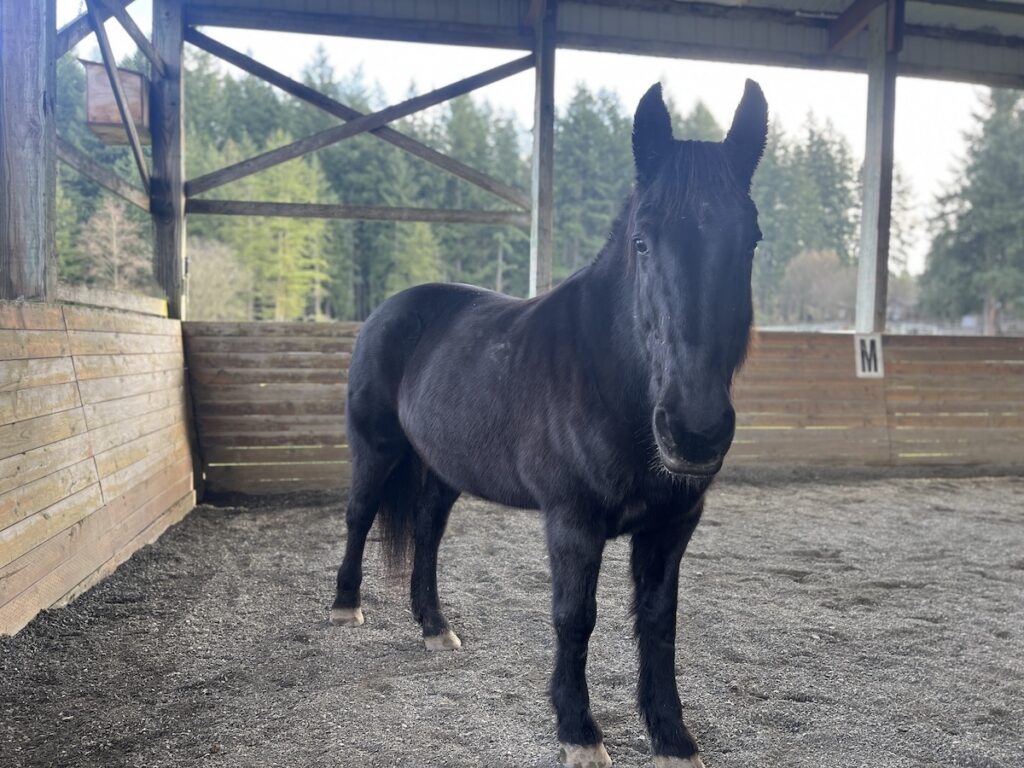 Betty is the slightly smaller of the two big black mares, and she lacks a facial marking like her friend and counterpart, Eleven. But smaller is a relative term — this is a big lady, made even bigger by being overweight. Betty has been on a diet since she was checked out by our vet shortly after arriving. Romps in the arena with her friends will help her lose as well.
A bit timid, Betty has recently graduated from having to wear a breakaway halter to make it easier to catch her. While she can still be a bit shy, she is much more receptive to folks coming up to her now.
Betty is nearly up to date on vet and farrier care. She has a dental float scheduled, where she will get a microchip and a teat cleaning. She is up to date on her vaccines. She was also dewormed upon arrival, as she arrived with a positive worm load. She is gentle about being groomed and is good for picking up her feet, though she can be a bit heavy sometimes – she has been trimmed once since arriving at SAFE, with her next trim planned for next week, and a 6 week trim schedule set going forward. She gets daily thrush treatments to help combat the thrush all the Graham horses arrived with.
Betty has been lightly assessed in our training program. She can be a bit dull when asked to move forward, but did quite well having the rope touching her and changing eyes on it. We have not yet saddled her or completed all the checks that we would before doing so, but it appears that she might be on that path.

Betty's Friends:
1. ____________________
2. ____________________
3. ____________________
4. ____________________
5. ____________________
6. ____________________
7. ____________________
8. ____________________
9. ____________________
10._____________________
Every horse deserves at least ten friends! Even a small monthly donation can make a difference. Plus, SAFE horse sponsors receive discounts at local businesses through the SAFEkeepers program!