Betty
2002 Freisian-cross or Perch-cross mare
Type of Rescue: Animal Control Surrender
Intake Date: 11/28/22
Adoption Date: 3/28/23
Length of Time with SAFE: 5 months
ADOPTED!! by Cindee
Betty arrived in November 2022 as part of the 27 horse Pierce County Animal Control seizure and seemed pretty attached to her herd mate, Eleven. It was sweet to see them more often than not, sharing a meal together at the same hay net, even though they each had access to their own. We are beyond happy that these two best friends were adopted together to a lovely family just down the street from SAFE.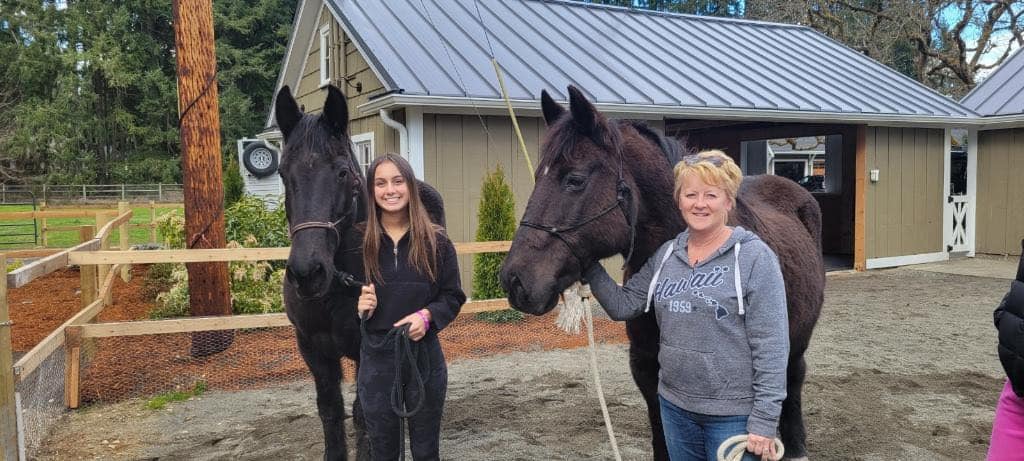 Eleven and Betty arrived as a pair, nearly indistinguishable from one another, and left just the same: together. We'd gotten to know them a lot better by then — the way Eleven would maneuver her lips into a quasi-vacuum to suck up her prascend-stuffed carrot each morning, or the way Betty's coat would shine nearly blue-black in the sunshine — but the one thing we knew for sure was that we wanted them to have a future together.
Often horses arrive at SAFE in groups, and often these groups are disbanded as they move on to greener pastures, but there are some special cases we hope to keep together, forever. And lucky for Betty and Eleven, this was exactly the future they found. When Cindee came to meet these two ladies, she found them perfect for her intended purpose: sweet and kind pasture ornaments that she and her younger family members could live with and love on. And so, after a few preliminary visits, Betty and Eleven got to go to their new home just as they had come: together.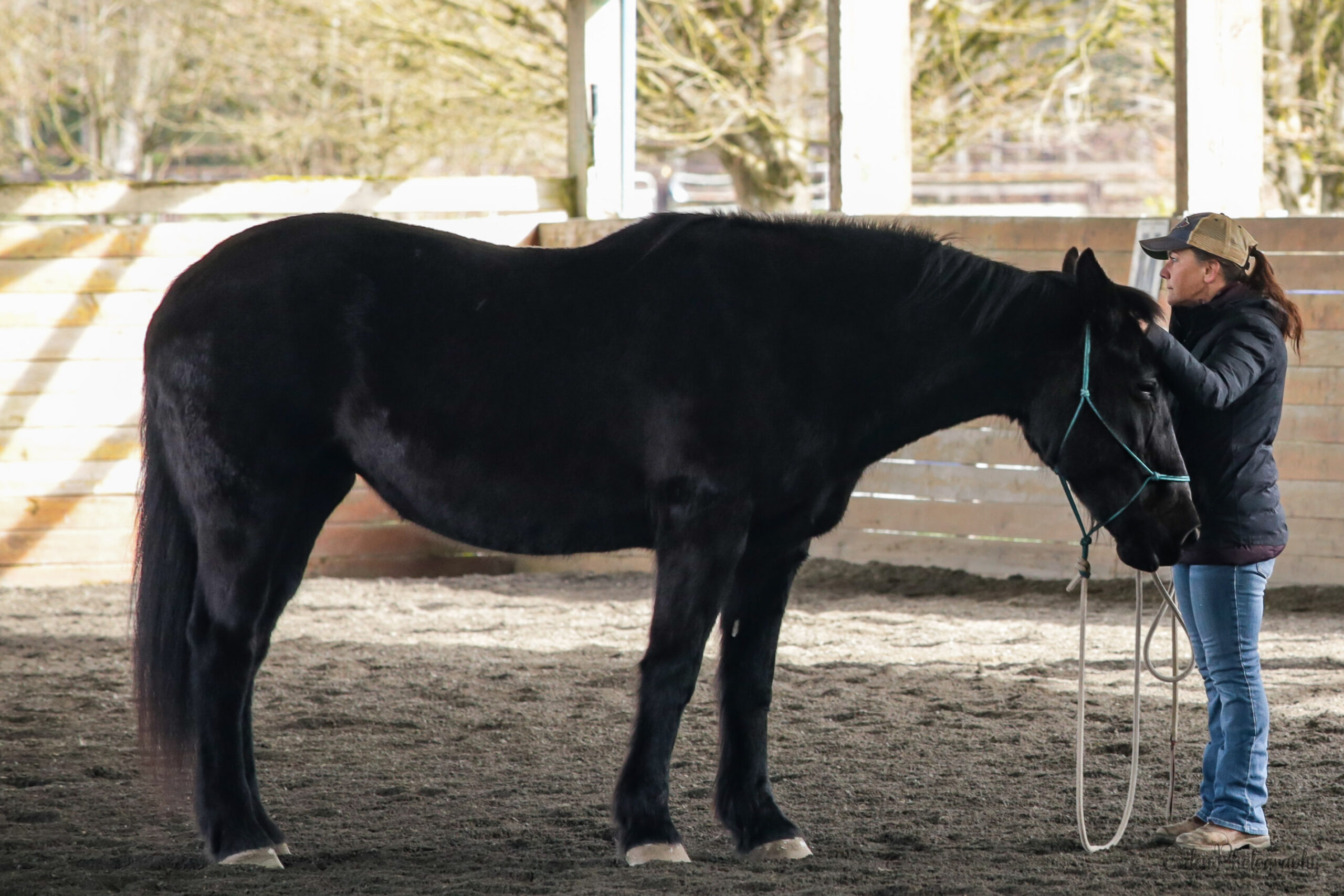 "At first glance you might think Betty is big and assuming but once you look into her eyes you will see a gentle soul. At all of 5'1" I barely come up to her withers, her head is bigger than my torso and her hooves are bigger than my feet. None of that mattered though as we grew together over the three days of the Joel Conner Clinic.
During the clinic we worked on walking unified circles and hindquarters with the flag. She was not as receptive to the flag in the beginning, especially on her right side. Continually wanting to trot off we had to go to hindquarters over and over again. Eventually she began to soften and by the end of the clinic the flag wasn't an issue at all.
Betty has had difficulty backing up since arriving at SAFE. She would back up slowly if that and drag her feet. We worked on backing up with a feel and moving all four feet with punctuality. By the end of clinic all I needed to do was raise my hand to the lead rope and she would back promptly on her own.
Betty is a gentle giant always standing quietly. She wants to please, receive your kindness and know that you are her person. Don't let her size fool you. The twinkle in her eye says it all."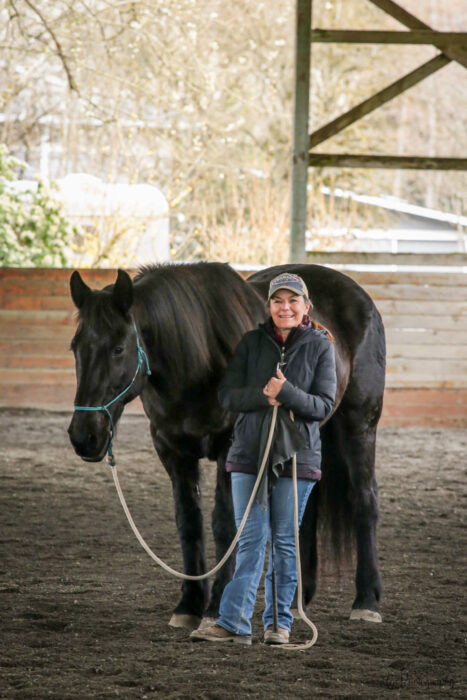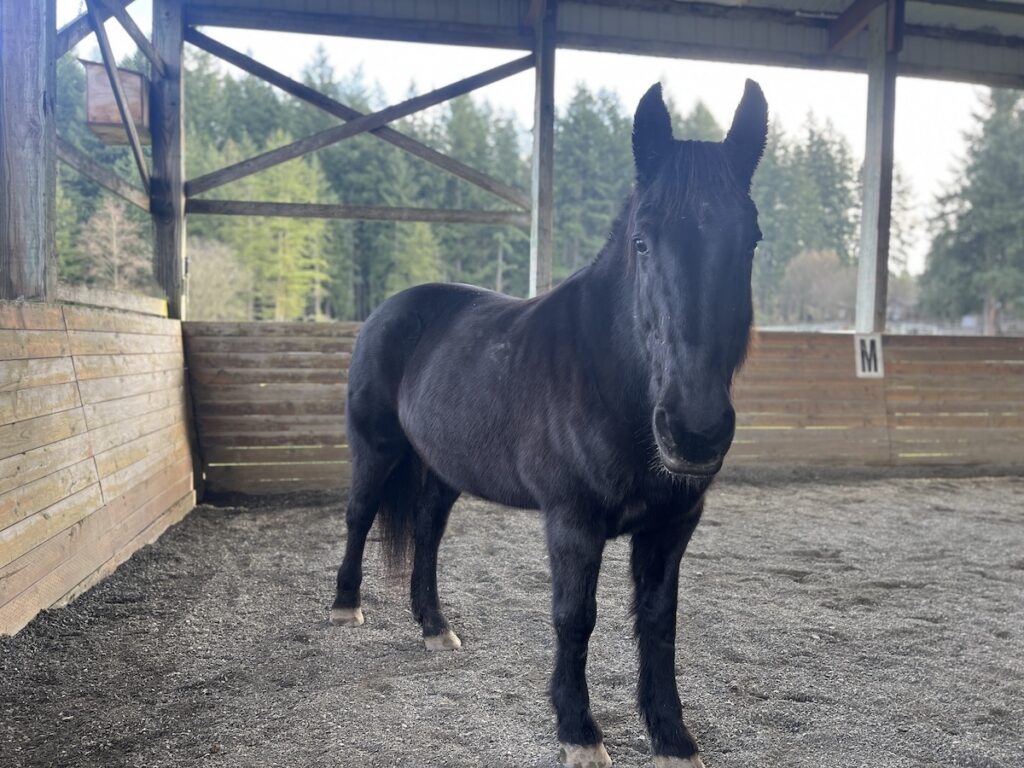 Betty is the slightly smaller of the two big black mares, and she lacks a facial marking like her friend and counterpart, Eleven. But smaller is a relative term — this is a big lady, made even bigger by being overweight. Betty has been on a diet since she was checked out by our vet shortly after arriving. Romps in the arena with her friends will help her lose as well.
A bit timid, Betty has recently graduated from having to wear a breakaway halter to make it easier to catch her. While she can still be a bit shy, she is much more receptive to folks coming up to her now.
Betty is nearly up to date on vet and farrier care. She has a dental float scheduled, where she will get a microchip and a teat cleaning. She is up to date on her vaccines. She was also dewormed upon arrival, as she arrived with a positive worm load. She is gentle about being groomed and is good for picking up her feet, though she can be a bit heavy sometimes – she has been trimmed once since arriving at SAFE, with her next trim planned for next week, and a 6 week trim schedule set going forward. She gets daily thrush treatments to help combat the thrush all the Graham horses arrived with.
Betty has been lightly assessed in our training program. She can be a bit dull when asked to move forward, but did quite well having the rope touching her and changing eyes on it. We have not yet saddled her or completed all the checks that we would before doing so, but it appears that she might be on that path.