Duchess
2006 palomino Saddlebred mare
Type of Rescue: Animal Control seizure
Intake Date: 2/23/2008
Adoption Date: 7/24/2008
Returned to SAFE: 01/6/2018
Adoption Date: 4/30/2008
Length of time at SAFE: 8 months
ADOPTED by Marianna C of Seattle WA
Duchess became a SAFE horse in 2008 as part of a major Animal Control seizure involving 17 horses. Duchess was 2 years old at the time of the seizure, and arrived emaciated with horribly overgrown feet and parasites. After she was returned to health, she was adopted to a great home where she was loved and cared for for nearly 10 years. She was professionally started under saddle, and became a wonderful beginner safe trail horse. In 2014 she suffered an injury and spent the next 3 years enjoying pasture rest. Unfortunately Duchess' owners were no longer able to keep her, and were unsuccessful finding a new home for her in their area. The decision was made to return her to SAFE where she could get some refresher training under saddle in preparation for finding the perfect adopter. Duchess was ridden regularly at SAFE and participated in two Joel Conner clinics with her volunteer rider, Phoebe. 3 months after returning to SAFE, Duchess was adopted by a lovely rider who plans to do dressage with her. She has been re-christened "Esperanza," which means "hope."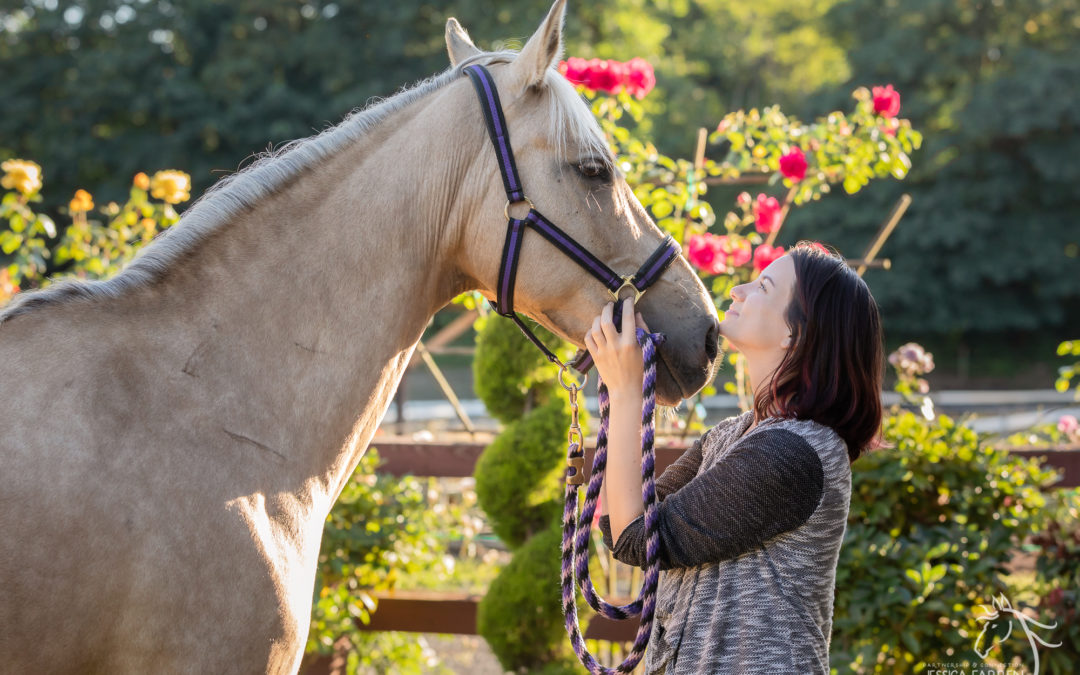 Here at SAFE we have a lot to say about our horses, a lot of stories to share. But in the case of Duchess, whose re-adoption became final in June 2018, a new voice has taken up her story, and it's only fitting that we share that with our wonderful supporters so everyone can appreciate the journey that this horse has taken. She's been rechristened Esperanza, which means Hope. This is the latest chapter in a new story being written every day.
Oh what can I say about this golden girl that hasn't already been said?
She is simply lovely. Even though Esperanza has only been with me for a short time, she has stolen the hearts of many at her new home, mine included. Her name literally means hope and she embodies that to her fullest. I don't feel that I initiated the adoption with her, but she did with me. We shared a moment when we first met – we made eye contact, she approached me with her ears forward and without hesitation she placed her head into my arms as if to say "hello, would you be my human?"
That moment was really all that it took for me to come around to say "yes" to her simple request. I rode her a couple times at SAFE and each time she responded to me in a way that she hadn't with other riders, so I'm told. We did have a set back the day she was going to be dropped off at our barn, I got a call from SAFE that she had caught a cold and we needed to push it back until she was healthy. The news devastated me, but it was the right call. I went out to be with her two or three times while she got better, we bonded further and at that point I think she knew what was happening.
A week later, she was dropped off "healthy as a horse" to her new home. She is settling in so well at the barn — she goes out every day with the other mares and LOVES it, she has an endless supply of carrots and treats from her momma, she just got a new saddle and bridle, and is working with my wonderful trainers.
I've been riding horses ever since I was could remember. Horses are the one thing that have always given me continuous and steady happiness. I have had several horses over the years, unfortunately both ended painfully abrupt. I had taken a horse hiatus while I was in grad school, but after I was graduated and employed, I decided it was time to go back to what I always went back to – and that was horses.
I leased an amazing horse for a year, a gelding that will always have a place in my big old heart, and that time I spent with him ignited me to seek for a forever bond with a horse of my own again. Which is when I reached out to SAFE and told Terry my very long story. I originally put together an application for a complete different horse at SAFE, but it was all over after I met Esperanza. And now here I am, with a gentle sweet mare that chose me and heals me just as much as I heal her.
My riding style is different than what Esperanza has done before, I practice classical dressage and it is very relaxed and calming. I plan to have her in training for the next few months to build a solid foundation. But even for the past thirty days or so I have seen her drastically improve and begin to have "ah ha" moments, which I love to witness. She is a fast learner, eager to please and I am amazed how responsive she is to the work.
SAFE holds a special place in my heart now, not just for the amazing work that they do but because I will forever be grateful to Terry and the rest of the staff for connecting Esperanza and I together. The process was amazing, and I think that everything worked out exactly how it needed to. Anyone that knows me, knows that I can never stop talking about how wonderful Esperanza is and I how much love her already. I couldn't imagine life any different now.
With love,
Marianna & Esperanza "Essie"