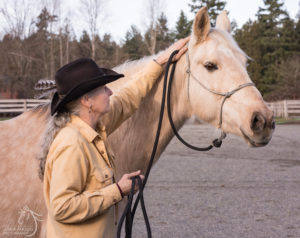 Duchess is a lovely gentle mare that we really hope will prove to be suitable for a beginner rider. She settled into Safe Harbor last week nicely and we have lightly started groundwork as we becomes accustom to our barn and getting back into work. Overall, things are going very well. The only thing she has had trouble adjusting to is not being with a pasture mate 24/7, as she's been accustomed to in her past life. She does well in her stall overnight but spends a lot of time looking out her window. She would prefer to live outside with a buddy so when looking for her perfect placement, it would be great to find a family that can keep her outside most of the time.
We are helping her with some basic foundation things like re-learning how to stand tied and relaxing when away from other horses. She is catching on quickly and does connect with her handler. We are starting her back to work slowly and hope to have her saddled up soon and beginning some basic riding. She needs to build up some riding muscles before asking too much. She is in great condition and does not require any physical rehabilitation. Over the next few weeks we will be finding out more about her and have a better understanding what her riding future will look like.
Meeting Duchess myself for the first time I could not stop seeing my old friend Phoenix in her eyes. I know that there is no way to really know how closely they are related but there is definitely a very strong similarity. She was sleeping in the field eating grass for crying out loud! A total Phoenix move!
Jessica Farren took some nice "woolly winter" coat intake photos of this kind mare. Can't wait to see her coat shine as she sheds out this spring!