Harissa
Quarter Horse mare
Suitability: TBD
Color: chestnut
Markings: heart shaped star
Height:
Weight:
Adoption Fee: TBD
Harissa came to SAFE in May of 2023 as part of a 7 horse owner surrender situation in the Gig Harbor area. She, along with her 6 herd mates, were living in poor conditions, surrounded by broken panels, standing in deep mud, without clean water.
Without knowing her exact history, Harissa read to us as the most untouched horse of the group — certainly the most unwilling to be touched. Our initial assessment of her was that she was a mare with significant herdboundness, and one who leaned more towards 'fight' than 'flight.' We decided that what Harissa needed was time, which is what we've been giving her.
Harissa is a curious mare, and has gone from figuratively (and literally) barring her teeth at people, to investigating them and what they're doing. It may take a bit of time for us to fully get to know her, but we will give her all the time she needs.
All SAFE horses are adopted with a no-breeding clause, no exceptions.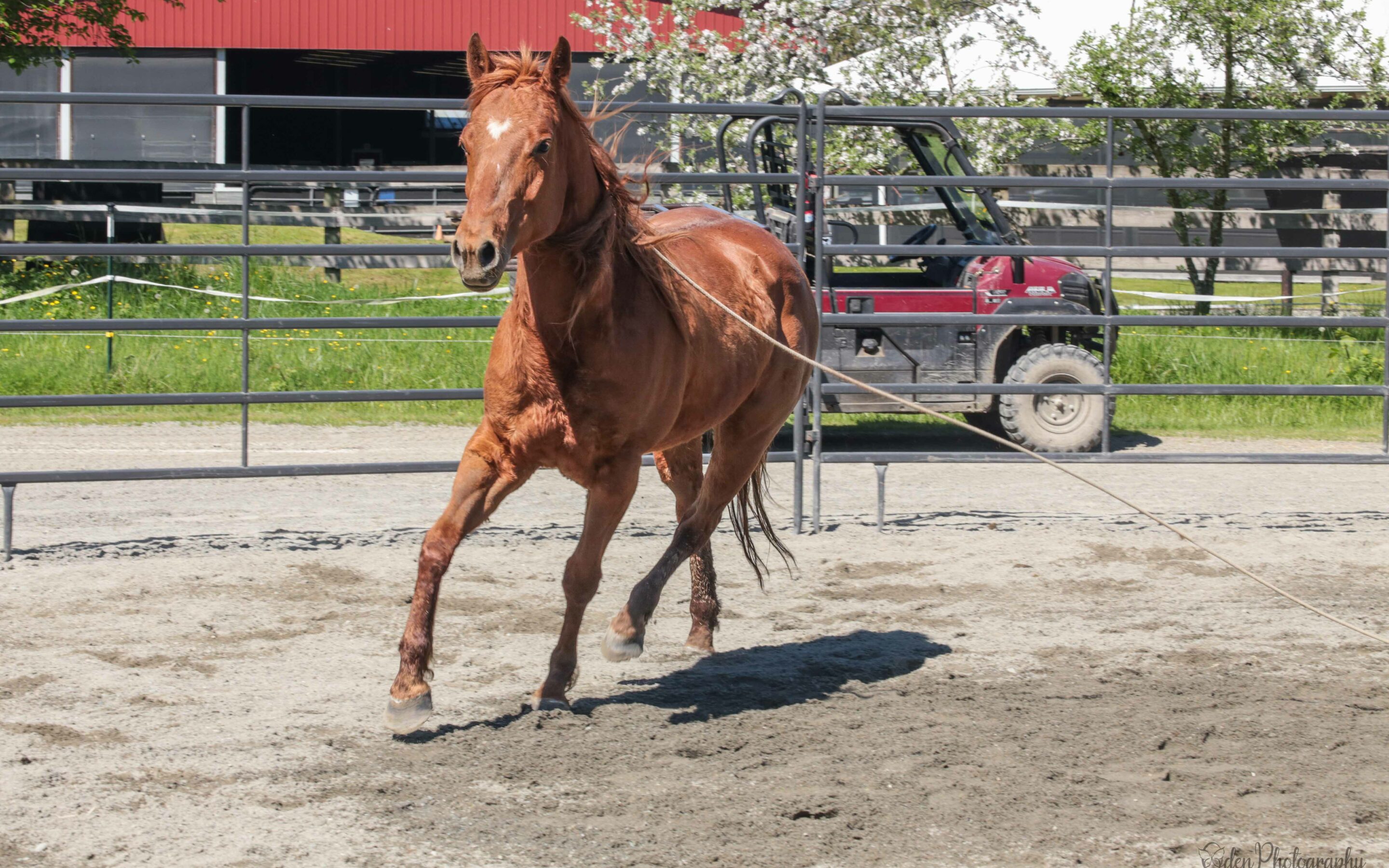 Some stories, by their very nature, take a bit longer to tell than others. Harissa's story will be one of these, especially when framed alongside the others she came in with, who are steadily trucking along in their training, checking off boxes and working towards true domesticity.
On the property from where she came, Harissa was living in the four mare herd alongside Mirana, Meadow, and Wren. She and Wren were the more wary members of the group when it came to humans, but it became clear to us in simply watching the mares interact with one another that Harissa was, to her horse peers, high up in the ranking. It was also clear that she had tried some of those same lead mare behaviors on humans, and that they had worked.
What I mean to say is that Harissa had a spot in there where she turned nasty. At the suggestion of being pet, her initial reaction was not to flee like the rest of her peers, but to strike out. All horses are an unknown quantity when they first arrive, but Harissa proved early on exactly how these unknown quantities can sometimes be dangerous.
When we got her in the round pen for the first time, this behavior only intensified. We roped her, as is the common first step in our halter starting practice, but instead of giving to pressure, not only was she pushing against it, but lunging at the person on the other end of the line. She was also incredibly herd bound to the point where she was completely unable to use her thinking brain. When offered a release, she was unable to find any relaxation whatsoever, and spent her time pawing great trenches in the sand. Even when we brought the hose out, since the day was so hot, she hardly even registered that she was being sprayed, so caught up in her anxieties was she.
A horse like Harissa is one of the most heartbreaking, because she has clearly had some experiences with people that have led her to not only find no comfort in humans, but to mistrust them to the point of aggression.
So we needed to rethink our strategy for Harissa's success. The first step would be giving her a bit more time to settle in, to limit the people who came into contact with her, to show her that we don't always expect things from her. And so far, the time has done her good. She is curious of the people she interacts with, and seems to be developing a better view of people by the day. She still has a long way to come, and we are still exercising caution around her to ensure that she has the best chance at future success, but we do believe that with a lot of time and patience, she can learn to trust in people, maybe for the first time ever.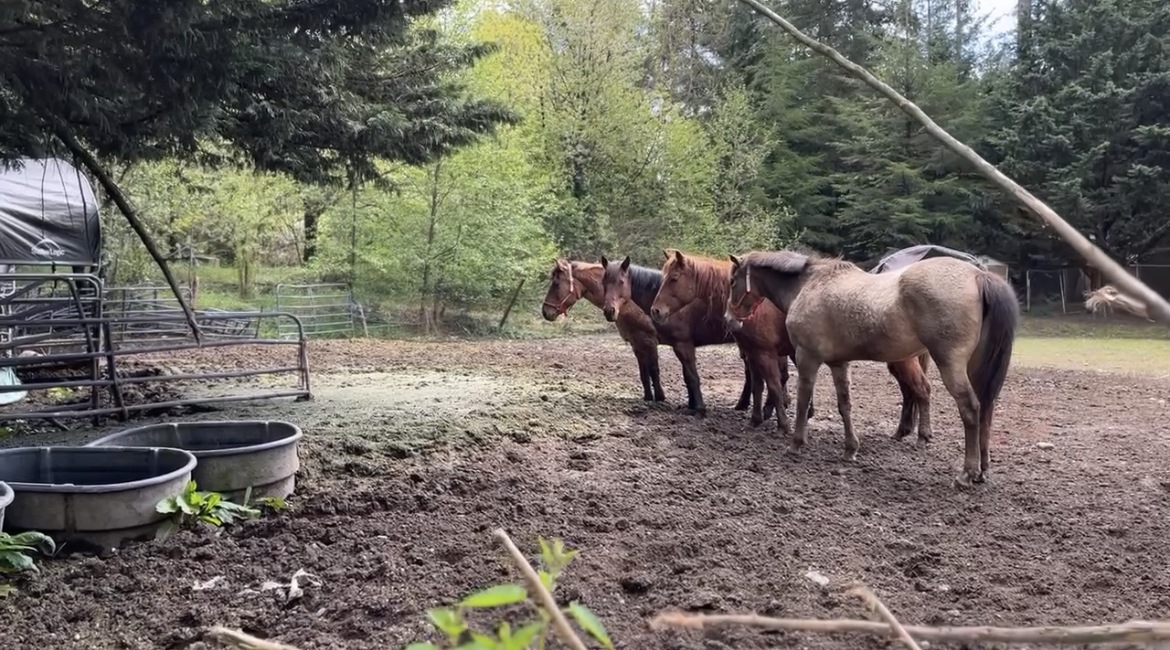 The majority of the horses who come to SAFE come as singles or in pairs. One here, one there, typically with some space in between arrivals. But on occasion, we are called to assist with a larger seizure. It hasn't been all that long since the Fall City 40, and an even shorter period since we took in the Graham 27. Now, we were once again called to help with a multi-horse intake. Seven horses in the Gig Harbor area needed our help, the owner needing to quickly re-home horses that were not easily re-homeable. On the heels of the Graham horses, we felt a bit more prepared for a larger intake, but unlike the Graham horses, these horses had not had regular (or any) handling in some time.
So on a Saturday morning, we loaded up our trailers with panels, and set out with a robust team of people and a brigade of trailers and a plan to pull seven horses out of the mud.
Thanks to a ton of planning, a great deal of manpower, and an earlier scope of the property, we were able to successfully remove all the horses from the property over the course of just a few hours. We ran chutes from the pens, some quite winding and intricate, but everyone left unscathed, and arrived at SAFE in one piece.
Lancelot, the stallion, was the first to pull through the gates.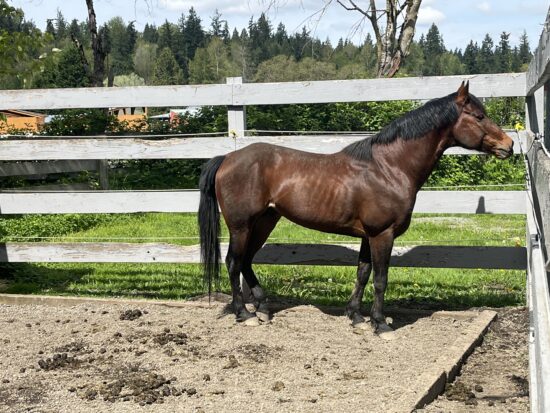 Next were mother and daughter, Ciara and Inula,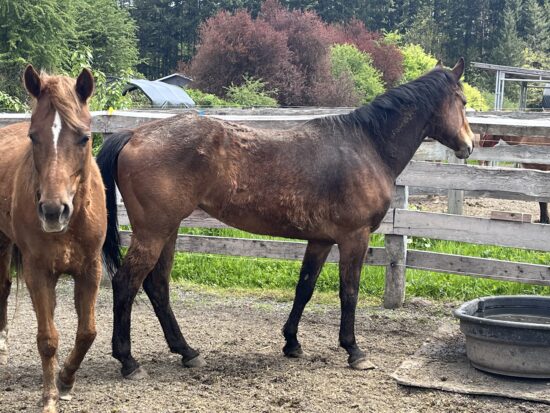 followed by the small herd of mares: Meadow and Mirana, the elders of the group, (and the only ones who allowed us to halter them), and Wren and Harissa.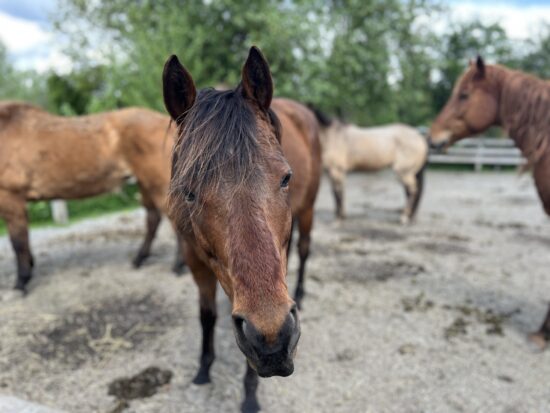 Seeing them at SAFE was like seeing them with the lights clicked on for the first time. It was clear they were in need of some TLC, but out of the mud and muck, it became obvious just how much. Their feet were overgrown, slippered in some cases. The four mares had a line of what appeared to be rotten hair halfway up their legs, likely a result of standing in a high layer of wet ground. The mother and daughter stank, a smell like rotting, and while there was nothing visibly deceased on the property, it felt very much like a place where death lived. All of them, when confronted with clean water troughs, drank long and deep.
It was clear from the moment we set eyes on the horses that they would take some work to rehab and retrain. Even the mares who let us halter them were not keen on being touched much beyond that. We certainly had our work cut out for us. But this was not the first time that challenging horses had come through our gates, and it will not be the last. The road ahead might be long, but the most important thing is that these horses are safe now, and that is all that matters.

Harissa's Friends:
1. Jennifer S.
2. ____________________
3. ____________________
4. ____________________
5. ____________________
6. ____________________
7. ____________________
8. ____________________
9. ____________________
10._____________________
Every horse deserves at least ten friends! Even a small monthly donation can make a difference. Plus, SAFE horse sponsors receive discounts at local businesses through the SAFEkeepers program!