Hazel
1992 black and white Paint mare
Type of Rescue: Owner Surrender
Intake Date: 10/28/20
Adoption Date: 1/28/21
Length of Time with SAFE: 3 months
ADOPTED by Hooved Animal Rescue of Thurston County!
Hazel was surrendered to SAFE after her 70 yr old owner passed away, leaving his 90 yr old mother to handle his estate. Hazel lived out on 20 acres and could not be caught. No dental or farrier care for some time, no vaccination records. Hazel is gentle but a little shy. She has fibrotic myopathy in her right hind that causes a little hitch in her movement. It is just mechanical and not painful.
Hazel Today!
Hazel now lives in foster care through Hooved Animal Rescue of Thurston County. She took to her new home like a champ and has many new friends to live out her retirement years with.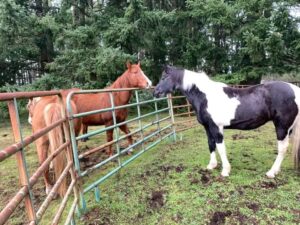 Terry recently dropped off Hazel at her new home. Here is what Terry had to say:
"Jackie and I were so blessed to be there the day Hazel was picked up and today we got to help settle her in to her new home at Hooved Animal Rescue of Thurston County. She truly has come full circle from a scared trembling mare to a healthy, balanced, trusting friend. It was beautiful to watch her meet her new friends and come check in with us. As if to say thank you for all that SAFE did to make her life better.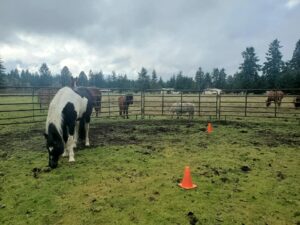 There was absolutely ZERO fuss along the fence meeting the new herd. She is an emotionally healthy mare after coming through the SAFE program and the new friends could tell. Their herd leader Spirit took right to Hazel. He groomed her neck and even licked her! His owner is the property owner Bev, and she said he never is that nice right away. Generally he protects his herd from the new horses that arrive from HARTC. All good signs for a very happy and safe group of horses to call her family."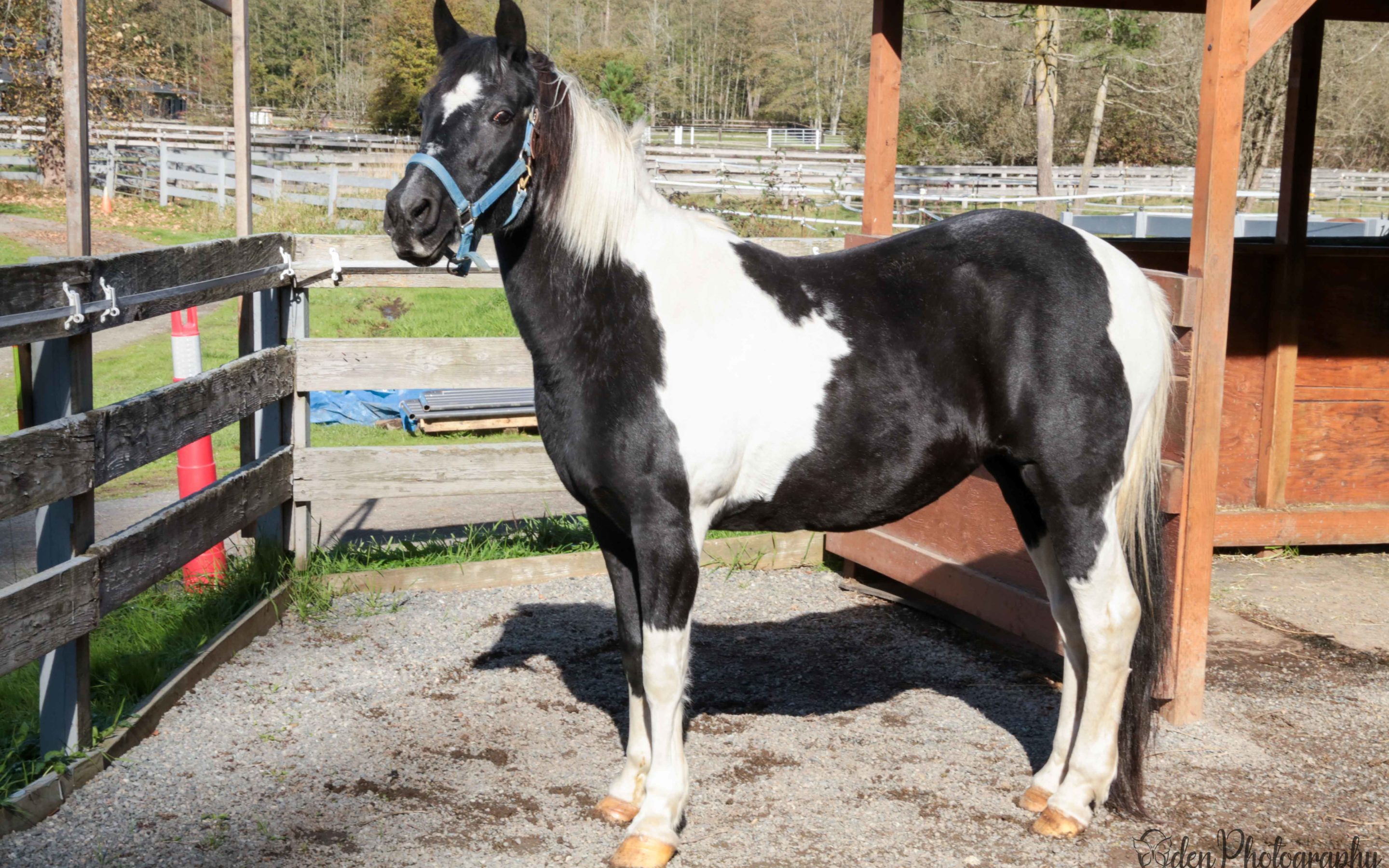 We were asked to help with Hazel just a day or so before we lost Callista, so she is part of the SAFE herd in Callista's memory. Hazel's 70 year old owner passed away, leaving his 90 year old mother responsible for his estate and his horse. She lived on 20 acres, and was nearly impossible to catch, so she didn't receive any vet or farrier care for a long time.
Hazel is a big-bodied black and white paint type mare, and only the gray hairs on her muzzle reveal her true age, which is more than 30. She's gentle, but extremely timid. She's also been less than enthusiastic about her hay rations, but we're happy to report that she's finally cleaning her plate and eating all her timothy.