Kayla
SEX:
Mare
BREED:
Thoroughbred
REGISTERED NAME:

INTAKE DATE:
1/28/21
COLOR: Bay
MARKINGS: Stripe

For Intermediate Rider



YOB: 2010
AGE: 11
HEIGHT: 15.2 HH
WEIGHT: 1100
LOCATION: Adopted
ADOPTION FEE: $3,000
Kayla is an 11 year old Thoroughbred who came to us from Hooved Animal Rescue of Thurston County. She was started under saddle in her previous foster.
All SAFE horses are adopted with a no-breeding clause, no exceptions.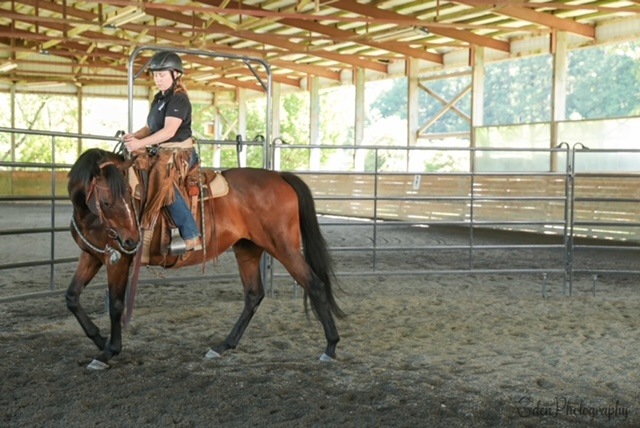 Kayla is ready to find her perfect match. We are looking for an intermediate rider who can support her as she continues to develop her riding skills. Please check out our most recent video of Terry riding her.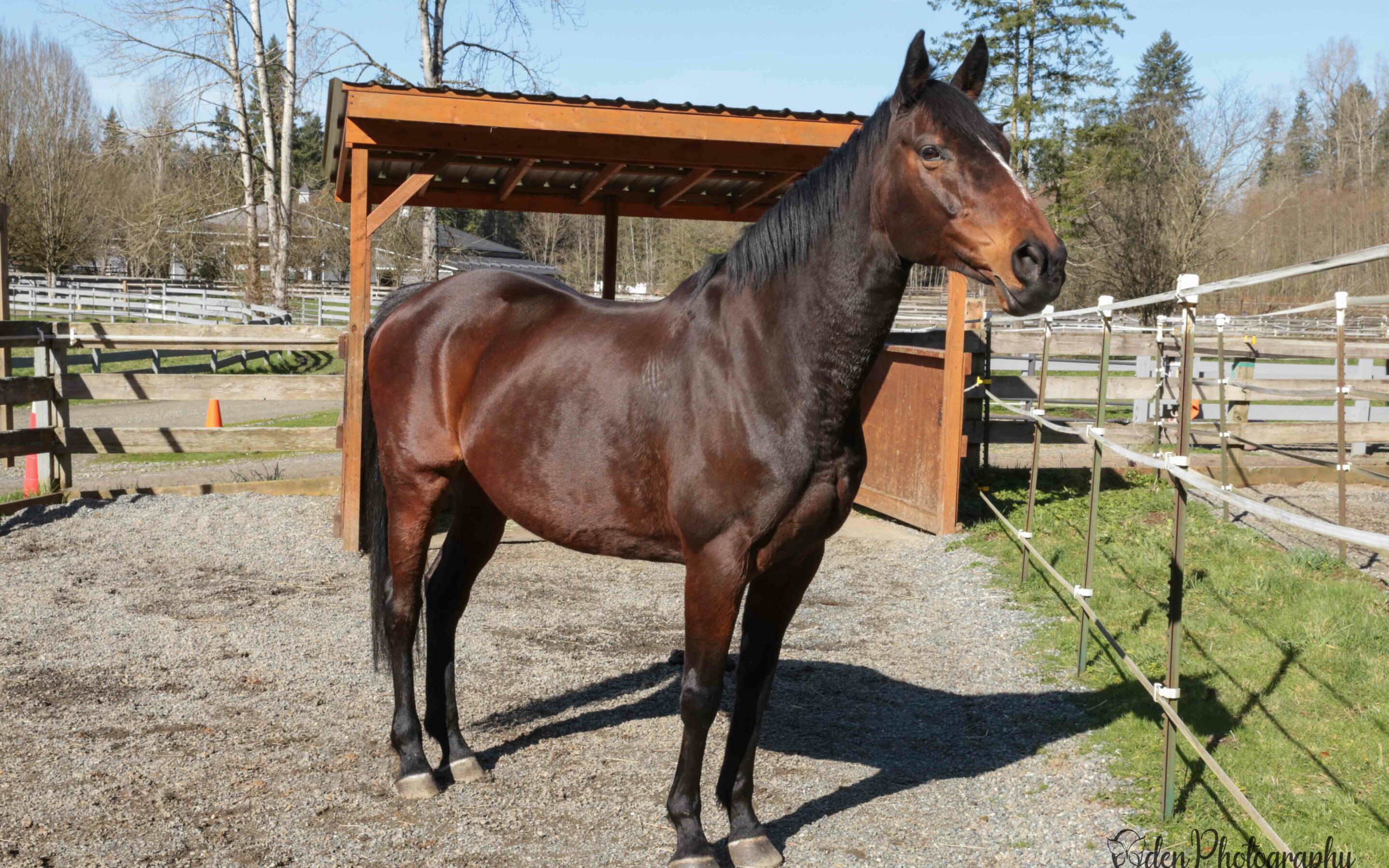 Here is what Terry recently had to say about Kayla:
"Kayla has been a lovely mare to get to know. She came to us with a great foundation and was ready to get to work right away. Our first goal has been to strengthen her for riding since she had a few months off prior to coming to us. Her balance and strength, especially at the canter, does need some work. She is a forward and sensitive mare, so her ideal adopter should have enough riding experience to help support her while helping her stay connected and finding balance. She needs to develop her topline and comfort, especially in the canter, without a heavy hand or forcing her into a frame. You can see in this video we are restarting her just in a halter so she can find relaxation and comfort without a rider pulling on her. She relaxed very well in this first ride and at the end of the video you can hear her blowing and stretching her neck, feeling that she can comfortably have her head without constriction.
This mare has an absolute TON of try and heart. She is a joy to be around, smart, willing and thoughtful. We are excited to prepare her for adoption and to help her successfully find her forever home."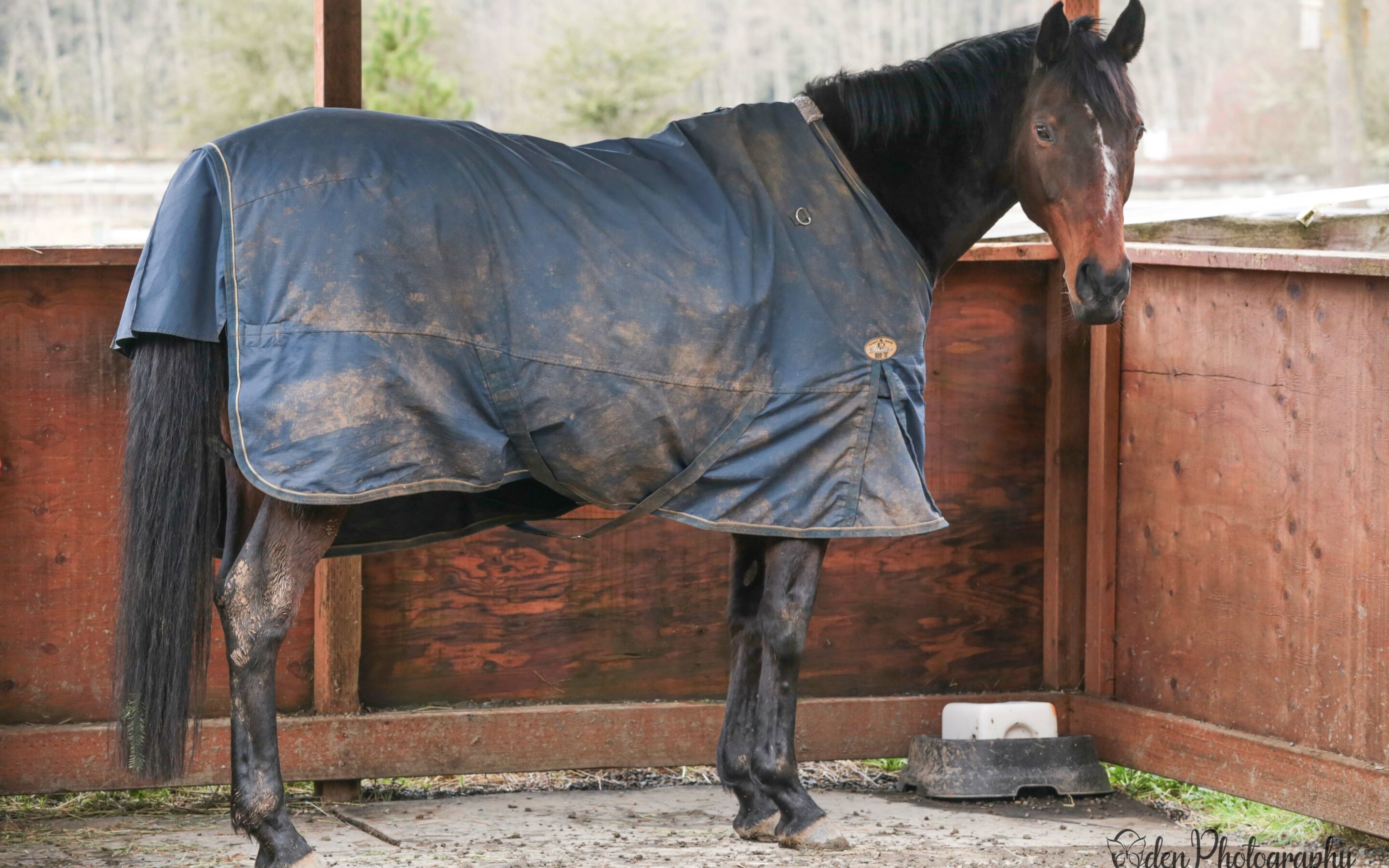 Hooved Animal Rescue of Thurston County reached out to SAFE about a mare they had who needed our help. All of their horses live in foster homes and this particular mare, Kayla, was living and training with a foster who could work with her on ground manners and train her to become a riding horse. Unfortunately, this volunteer passed away, leaving Kayla without a trainer.
She is an athletic mare that needs consistency in her life in order to feel supported and balanced. Without these boundaries, she becomes high energy and can intimidate people with that extra life. After talking to them, we agreed that SAFE's training program would suit Kayla well and with SAFE she would have more opportunities to find an adoptive home with steady work and handling. In return, they offered to give one of our companion horses a home.
After arriving at SAFE, Kayla quickly relaxed into her stall and was very manageable for being in a brand new space. We have been told she can get anxious, so the staff will be working with her as she settles in making sure she and her handlers are safe. Kayla has such kind eyes and we are already in love!

Kayla's Friends:
1. Sandy G.
2. Virginia M.
3. Chelsea C.
4. Karla P.
5. Judy C.
6. Debra F.
7. Carol I.
8. Renee W.
9. Michele L.
10. Carrie S.
Every horse deserves at least ten friends! Even a small monthly donation can make a difference. Plus, SAFE horse sponsors receive discounts at local businesses through the SAFEkeepers program!