Hazel
| | | | |
| --- | --- | --- | --- |
| SEX: Mare | BREED: Paint Type | REGISTERED NAME: |   |
| COLOR: Black and White Pinto | MARKINGS: |   |   |
| YOB: 1992 | AGE: 28 | HEIGHT: 14.3 | WEIGHT: 1,250 lbs |
| LOCATION: Redmond | ADOPTION FEE: $300 | Online Adoption Application |   |
Hazel was surrendered to SAFE after her 70 yr old owner passed away, leaving his 90 yr old mother to handle his estate. Hazel lived out on 20 acres and could not be caught. No dental or farrier care for some time, no vaccination records. Hazel is gentle but a little shy. She has fibrotic myopathy in her right hind that causes a little hitch in her movement. It is just mechanical and not painful. All SAFE horses are adopted with a no-breeding clause, no exceptions.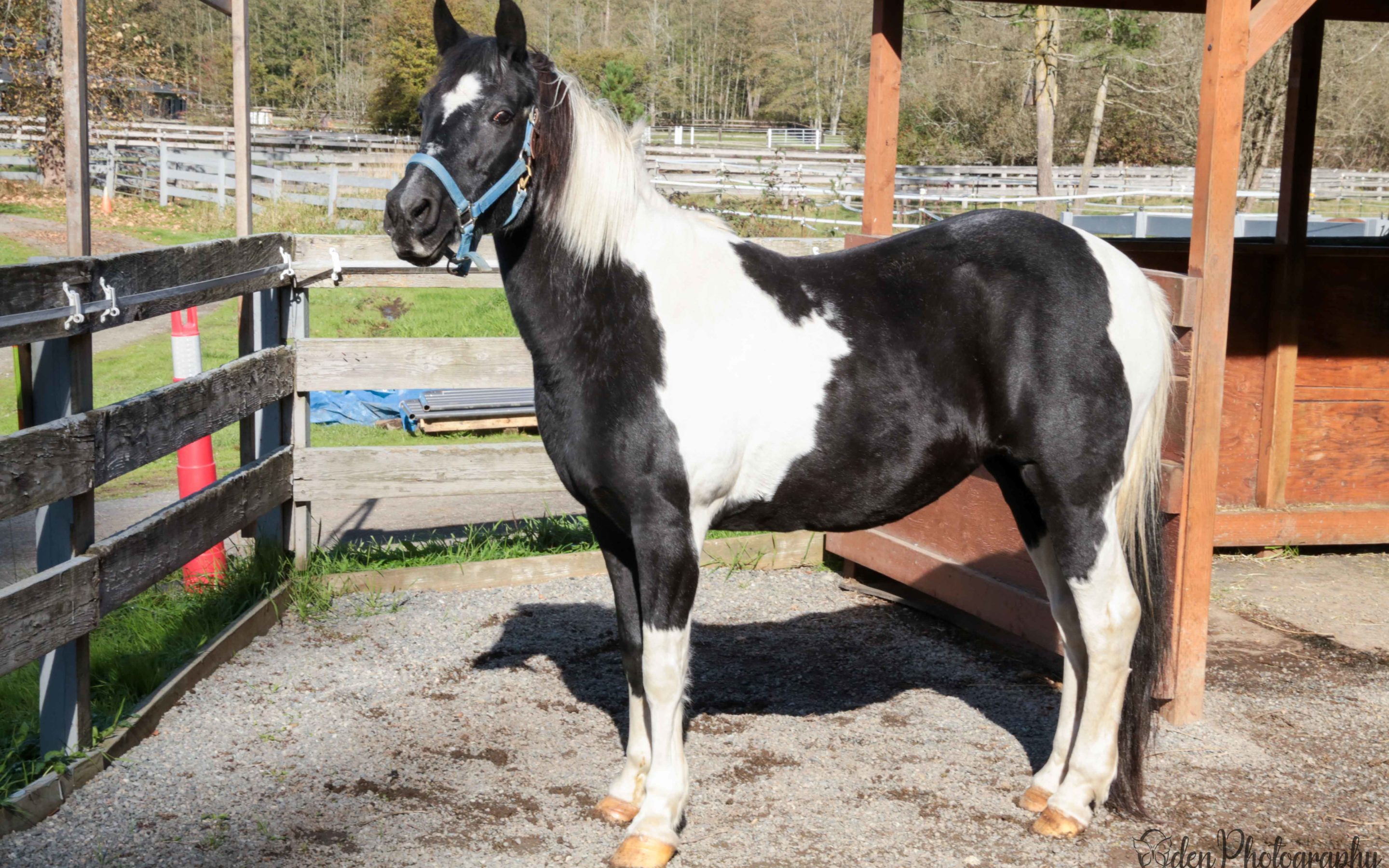 We were asked to help with Hazel just a day or so before we lost Callista, so she is part of the SAFE herd in Callista's memory. Hazel's 70 year old owner passed away, leaving his 90 year old mother responsible for his estate and his horse. She lived on 20 acres, and was nearly impossible to catch, so she didn't receive any vet or farrier care for a long time.
Hazel is a big-bodied black and white paint type mare, and only the gray hairs on her muzzle reveal her true age, which is more than 30. She's gentle, but extremely timid. She's also been less than enthusiastic about her hay rations, but we're happy to report that she's finally cleaning her plate and eating all her timothy.

Hazel's Friends:
1. Julie B.
2. Nancy P.
3. Christina W.
4. Debra F.
5. Judy C.
6. Debi S.
7. Pam L.
8. Dwight & JoAnne L.
9. Nancy S.
10. Amelia S.
11. Lauren and Brian E.
Every horse deserves at least ten friends! Even a small monthly donation can make a difference. Plus, SAFE horse sponsors receive discounts at local businesses through the SAFEkeepers program!