Inula
Quarter Horse Mare

Suitability: TBD
Color: chestnut
Markings: thin blaze
Height: 13.3h
Weight: 724lbs
Adoption Fee: TBD
Inula came to SAFE in May of 2023 as part of a 7 horse owner surrender situation in the Gig Harbor area. She, along with her 6 herd mates, were living in poor conditions, surrounded by broken panels, standing in deep mud, without clean water.
Inula is the youngest of the group, likely only around 4 years old. This little mare is curious and sweet, with a ton of try and willingness to learn. She is a fast learner, and a horse who does not have many negative experiences to draw on, leaving her a relatively blank canvas.
When she is not working on preparing to be saddled, she spends her time sun bathing alongside her mom, Ciara, and running around as young horses are want to do.
All SAFE horses are adopted with a no-breeding clause, no exceptions.
Inula was the youngest of the Gig Harbor horses, and despite not being a literal baby, she still had a youthful element about her that we made note of from our first meeting. A subsequent dental put her in her 4th year this year, but when you compare her to a horse like Addie, who was newly 5 when she came under our care, Inula felt so much younger. I don't mean to make this out to be a bad thing — her youth just meant she hadn't had a lot of experiences of any kind, and it was clear that she was very open to exploring the world with her whole heart open to it.
She and her mother, Ciara, were kept separate from the rest of the mare herd on the property from which they came. They both wore ratty coats that we couldn't wait to get our hands on, knowing the lackluster tufts of hair that hung off their bodies would come away easily under a brush. They also stank, but a different smell altogether from just 'dirty horse' (which, in the right circles, might do well on the fragrance market). They smelled, as someone remarked from a good distance away, like death.
But it was just a product of their environment, and nothing to do with them internally. Unloading off the trailer onto the first solid ground they'd felt in who knows how long, they were curious and sweet — mostly baby Inula, who stayed close to mom while still making her own explorations of the world. Their feet were long, cracked and slipper-toed, and while we had a bit to do before they'd be ready for the professional rasp, we knew that the gravel they now called home would do a good deal in helping the mares self trim.
Those first few days in the round pen, we worked on getting a routine down to separate Inula from her mom, and vice versa. Our solution came as running them both into the pen, and then herding one out to sit and eat alfalfa in the attached chute. All of the horses were quite herd bound to one another, Inula and Ciara no exception to this, and in the interest of working on one thing at a time, we kept them within close range during those initial days.
Inula's lack of handling came across to us immediately, but perhaps not in the way you might thing. True, she didn't have a great understanding of what pressure meant at first, and was naturally a little wigged out by things touching her, but her foundation was built on a willingness to try. You could almost see the little gears working away in her head as she puzzled out what was being asked of her, and how she could achieve it. Because of prior handling, many horses come to us feeling like they already know the answer to the question they are being asked, but in Inula's case, she was the one asking the questions.
She is also just tremendously sweet. She has within her an inherent kindness, an energy that radiates out from her and is easy to feel, I'd argue, even for non-horse people. As someone who loves all horses, it likely doesn't sound like much coming from me, but Inula is one of the nicest horses to simply be around. She is truly a pleasure to have in class.
During her time at SAFE, she has hit many milestones, including having her teeth floated (she was a very brave little lady, walking into the barn, and standing as a nice support beside her mother while she went under the drill), getting her necessary vaccines (hardly blinking at the needle), having her feet trimmed twice (where she stood like a total pro), and separating from Ciara to join another herd (more on that particular story later). Even as the darker months loom, Inula's future remains bright.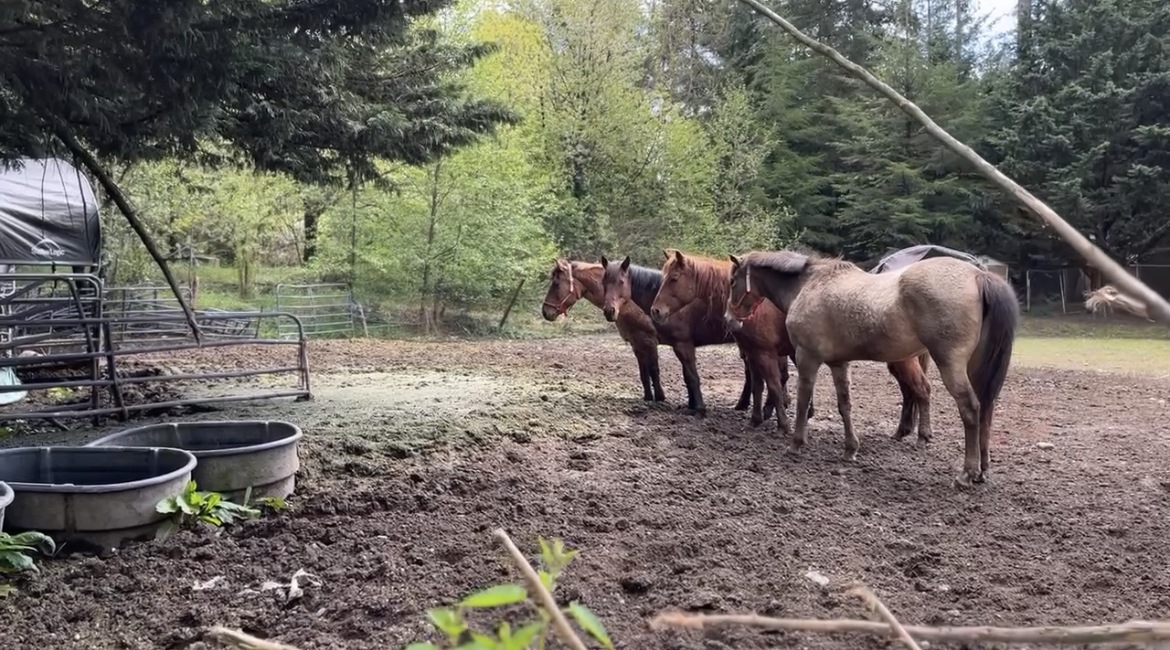 The majority of the horses who come to SAFE come as singles or in pairs. One here, one there, typically with some space in between arrivals. But on occasion, we are called to assist with a larger seizure. It hasn't been all that long since the Fall City 40, and an even shorter period since we took in the Graham 27. Now, we were once again called to help with a multi-horse intake. Seven horses in the Gig Harbor area needed our help, the owner needing to quickly re-home horses that were not easily re-homeable. On the heels of the Graham horses, we felt a bit more prepared for a larger intake, but unlike the Graham horses, these horses had not had regular (or any) handling in some time.
So on a Saturday morning, we loaded up our trailers with panels, and set out with a robust team of people and a brigade of trailers and a plan to pull seven horses out of the mud.
Thanks to a ton of planning, a great deal of manpower, and an earlier scope of the property, we were able to successfully remove all the horses from the property over the course of just a few hours. We ran chutes from the pens, some quite winding and intricate, but everyone left unscathed, and arrived at SAFE in one piece.
Lancelot, the stallion, was the first to pull through the gates.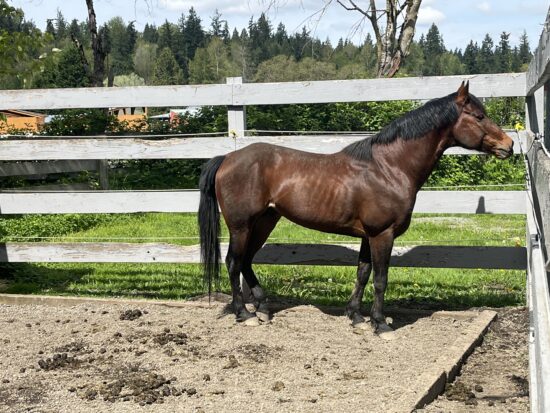 Next were mother and daughter, Ciara and Inula,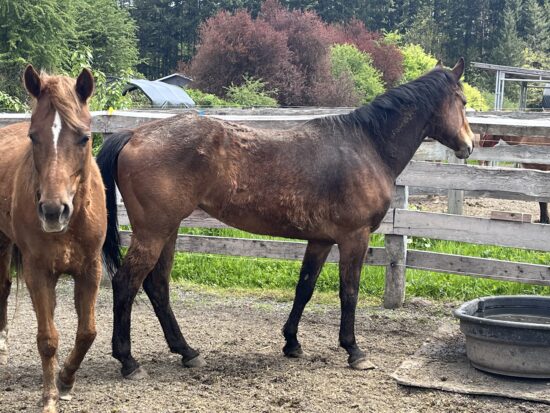 followed by the small herd of mares: Meadow and Mirana, the elders of the group, (and the only ones who allowed us to halter them), and Wren and Harissa.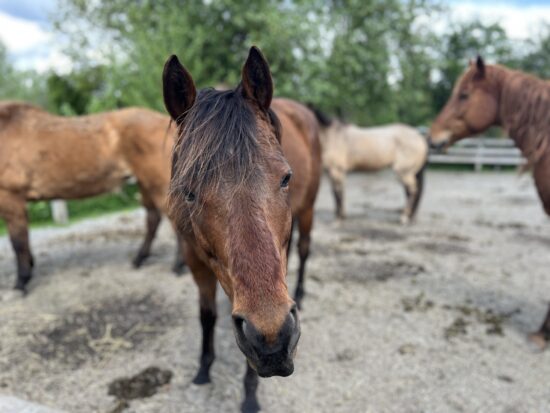 Seeing them at SAFE was like seeing them with the lights clicked on for the first time. It was clear they were in need of some TLC, but out of the mud and muck, it became obvious just how much. Their feet were overgrown, slippered in some cases. The four mares had a line of what appeared to be rotten hair halfway up their legs, likely a result of standing in a high layer of wet ground. The mother and daughter stank, a smell like rotting, and while there was nothing visibly deceased on the property, it felt very much like a place where death lived. All of them, when confronted with clean water troughs, drank long and deep.
It was clear from the moment we set eyes on the horses that they would take some work to rehab and retrain. Even the mares who let us halter them were not keen on being touched much beyond that. We certainly had our work cut out for us. But this was not the first time that challenging horses had come through our gates, and it will not be the last. The road ahead might be long, but the most important thing is that these horses are safe now, and that is all that matters.

Inula's Friends:
1. ____________________
2. ____________________
3. ____________________
4. ____________________
5. ____________________
6. ____________________
7. ____________________
8. ____________________
9. ____________________
10._____________________
Every horse deserves at least ten friends! Even a small monthly donation can make a difference. Plus, SAFE horse sponsors receive discounts at local businesses through the SAFEkeepers program!