Jazzy and Joker
description: black & white Miniature Horses
type of rescue: Pierce County Animal Control seizure
intake date: 9/24/2011
adoption date: 12/12/2011
length of time with SAFE: 2 months
ADOPTED by the Hartness family of Auburn WA
Jazzy and Joker came to SAFE as part of a group of horses seized by Pierce County Animal Control. They were placed with a loving family who still occasionally allows us to borrow them for photo opportunities!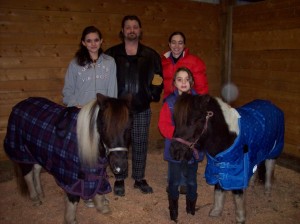 CONGRATULATIONS to the Hartness-Hollis family on their adoption of Jazzy and Joker! Their daughter is in pony club and will ride them while she is still small enough to, and they also have plans to train them for driving! Don't they look adorable in their new blankets?
New photos of our little mini pair, Jazzy and Joker! We had one of our younger volunteers take them for a little spin this weekend (yes, I know she's a little too big for them, we were just testing them out). They are indeed broke to ride, and so very cute! Now available for adoption! They are very cute, and we'd prefer to see them go to a home that will give them a job!
Please bear with me, as this post will be long.
Recently, SAFE was contacted by Pierce County Auditor Julie Anderson to request assistance with several horses that have been seized or surrendered to their Animal Control agency that they have been unable to place into homes. Over the past several years, PCAC has taken several steps to try to alleviate the "horse problem" in their county through several open summits. They put out an RFP for agencies and individuals to help them in providing temporary foster homes for horses that they took in. They now have several contracts with local farms for temporary placement, and that part of their program has worked fairly well. However, where their programs have fallen short is in finding a long-term solution for these horses, once they have been surrendered to the county and can be released for adoption. They have tried, with limited success, to find homes for these horses themselves, and have even worked with rescue agencies to help them do site checks and screen potential applicants. But it was not enough, and the the number of horses in their care continued to rise. It is important to understand that unlike King County, Pierce County does not operate a small animal shelter. They contract with the Humane Society for that service, and pay a flat fee per animal that the Humane Society takes in for them to provide vaccinations, spay/neuter, etc. Their expertise is in animal control and there was no budget to care for all these horses nor experience in providing adoption services. In desperation, last summer the county ran two horses from the Eatonville case (where Zanadu, Calamity, and Nadia came from) through the Enumclaw Sales Pavilion, with disastrous results — both ended up in the kill pen slated for slaughter. Both horses were rescued, with the county even paying the $300 "bail" to re-rescue Nadia on the condition that SAFE take her. We did, and she was later put into training and then adopted into a home. There was a lot of public outcry towards the county for this, and they have learned from their mistake and will no longer run horses through the sale. But that still leaves the county with a significant dilemma, what to do with all these horses? read more…