Kayla
YOB color Breed mare gelding
Type of Rescue: Trade with another rescue
Intake Date: 1/28/21
Adoption Date: 9/1/21
Length of Time with SAFE: 7 months
ADOPTED!! by Sam
Kayla is an 11 year old Thoroughbred who came to us from Hooved Animal Rescue of Thurston County. She was started under saddle in her previous foster and we continued her training. Kayla was adopted by Sam and has a turn out buddy, Gilby, who is her new best friend.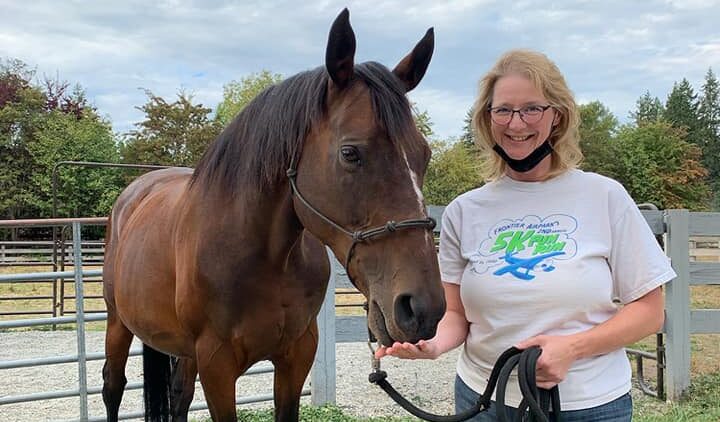 Kayla wasn't at SAFE long before she had interested adopters coming to meet her. After only a few months in our training program, we were looking for a skilled rider who could support her and continue a lifelong journey. Kayla came to SAFE as a trade with Hooved Animal Rescue of Thurston County. She had been in foster with a trainer when sadly they suddenly passed away. The rescue didn't have another foster for Kayla as she took an advanced rider. Since we were at full capacity, we worked out a trade and they found a home for one of our companions, Hazel. We knew we could offer the training program Kayla needed to find a forever home.
Fast forward a hand full of months later and Sam ended up being the perfect match. Once at home, Sam told us she settled in right away, enjoying some grass turnout, a little grooming session and some ground work. Now she even has taken a shining to another horse, Gilby. They get to be turn out buddies and love each other. We are so happy Sam came to SAFE and decided to adopt our beautiful Kayla.