Lancelot
Quarter Horse gelding

Suitability: TBD
Color: bay
Markings: crescent, snip
Height: 14.1h
Weight: 770lbs
Adoption Fee: TBD
Lancelot (known colloquially around here as 'Lance') came to SAFE in May of 2023 as part of a 7 horse owner surrender situation in the Gig Harbor area. He, along with his 6 herd mates, were living in poor conditions, surrounded by broken panels, standing in deep mud, without clean water.
Lance arrived at SAFE a stallion, with cheeks you could land a plane on. Despite his ribbyness, he had a muscular physique, thanks to his hormones, and we could see what an attractive gelding he would make. We didn't know it then, but he had brain to match his brawn – even as a stallion with minimal handling, Lance was reasonable, curious, and kind.
These days, Lance is now a gelding, and is progressing well with the building blocks of training. He is an intelligent guy with a lot of try, and we hope to see him under saddle in the not too distant future.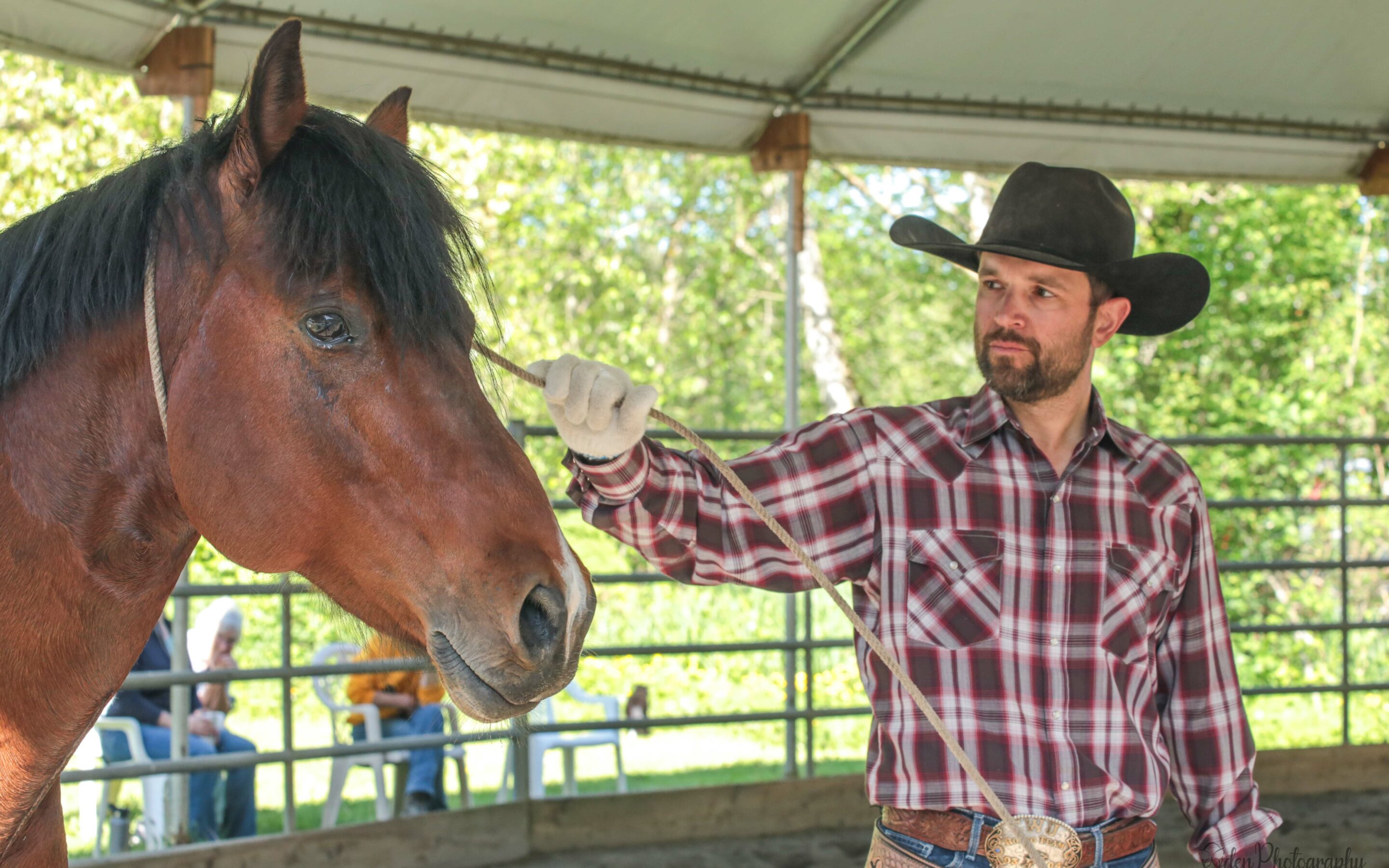 Maybe it had been different at one point, but the Lancelot that arrived at SAFE was not able to be haltered. He was curious, but unwilling to be approached, and very reluctant to be touched. The first step for horses like Lance, those who need to be halter-started (or re-started), is to rope them.
Lance had a severe misunderstanding of pressure, and so his initial reaction to it was not to give, but rather the opposite — to pull back, to fight against it. When asked to turn and face the person at the end of the rope, his initial inclination was to do anything but that, including a hind-towards-you spin maneuver that could be dangerous in close range (another reason why roping is such a good idea, it allows us to keep a safe distance).
But Lance was a fast learner. His previous experiences with people were not so terribly destructive that he was set in his ways (and anyway, horses have a remarkable capacity for change, so nothing is truly ever calcified), and so it was within the first two days of working with him that Joel was able to get those first touches, and put a halter on him.
First touches with horses who may have never been touched (or most likely in this case, gone a long while without) typically include using the rope as an initial point of contact. The horse is usually a bit more accepting of an inanimate object touching them before all the energy that can accompany a hand. First pets can also involve some pantomime touches, the motion of a pet preceding the pet itself. Joel used both of these techniques with Lance.
Hindquarters is king. Teaching a horse like Lance, who is not yet halter-broke, how to un-track his hind, is crucial to his balance and future success. In between drawing him in and teaching him how to face up, the majority of the time was spend on the basics of hindquarters, frontquarters, and forward — the very basics.
Lance struggled with being driven forward, and also had a difficult time changing eyes. He wanted to keep you on his left side, and would do all manner of maneuvers in order to keep you out of his right eye. It was important to gently remind him to stay going the direction in which he was sent to prevent bad habits from happening in the future. A horse who learns he can get away with tracking in only one direction will make going that way his way of life, if allowed to do so.
In working with horses, you hope to be able to leave them at a point where they can pick back up the next day a little further along than where you started the day before. This looks different for every horse, of course. For Lance, we ended the first day with putting a halter on him, and were able to reach that same point on the second day about halfway through the session. While he wasn't exactly falling into our arms, by the end of the second day he was a lot more willing to accept pets. Wary still, yes, but a little more understanding.
Despite being able to halter him with more ease, it was still important to keep him on the longer rope line for a while longer as he continued to learn. It was still easy for him to feel trapped in close quarters, and to prevent him from hurting someone, it was to everyone's benefit to improve his understanding from further away before moving in.
Lance made huge changes over the course of those first two days, and thanks to a strong foundation, he has continued to make great progress. Expect to see more soon from this smart guy!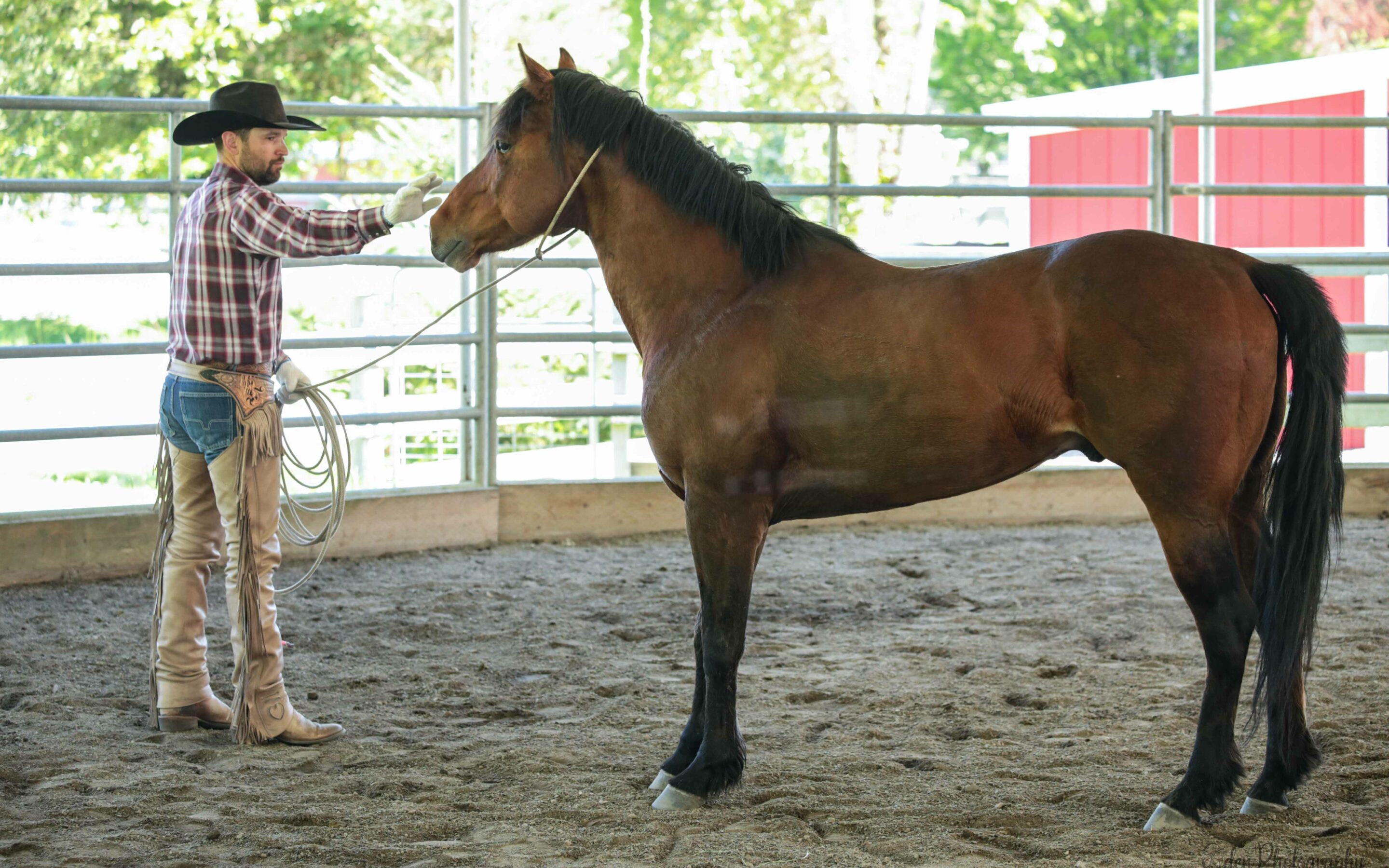 Lancelot, along with his 6 other cohorts, were living in squalor in the area outside of Gig Harbor when we picked them up this past May. Lance's paddock was a mud pit surrounded by broken and bent panels. His only source of water was from a dirty trough, and the ribs protruding from beneath his coat showed that he was not getting all the calories he needed. Lance was a stallion when we got him, and while we are always rather wary about untouched stallions, he quickly proved himself to be on the sweeter end of the spectrum.
That is not to say that we did not have our challenges, or plenty of work to do before Lance could really be called gentle. The first step would be getting to the point where we could touch him, let alone halter him. There may have been a time in his life when he had been caught before, but it had clearly been a while, and he was wary of being approached. Over the course of two days Joel was here, he was able to rope Lance and work on those initial halter starting steps — mostly just working on Lance learning how to give to pressure and moving his hind.
It was clear that Lance had a poor understanding of what pressure meant. Instead of giving to it, his first reaction was to scramble backwards, or pull against it. But he is a smart fellow, and by the end of the second day, he had a much better understanding of what it meant. By the end of the second day, too, we were able to get a halter on Lance, and began some work at the end of the halter rope. We also worked towards helping Lance understand that a pet was a good thing, and he soon stopped shying away from our hands as much as he once did, and actually began to enjoy a stroke on the forehead.
From there, it was daily work on hindquarters, frontquarters, forward, as well as preparation to see the vet and the farrier. Lance was a nice stallion, but he would make an even nicer gelding, but in order to make that happen for him he had to be gentle enough to sedate. His feet were also in need of a trim, so we began work on getting him to lift his feet and hold them for longer and longer periods.
When it finally happened, Lance's gelding went relatively smoothly (but that story for a different post), and over the course of one morning, Lance made the transformation into gelding. As he came out of sedation, we reassured him what a good thing this was, that he would soon be able to meet friends, and that his life was really only just beginning.
He saw the farrier, who complimented him on his bravery and softness despite it likely having been multiple years since he'd last had a trim. He began to let other people than his most inner circle catch him, and during his post-gelding cold hoses stood like a champ for the hose's spray. He has ventured out on (supervised) walks outside of his living quarters, has come into the big indoor arena to work, and has walked into the barn for the first time with hardly a snort. He has had his teeth floated and has come into a stall, and he has grown accustomed to being brushed all over his body.
Lance's journey at SAFE has really just begun, but he has already learned so much and come so far. We are very excited to continue on this journey with him.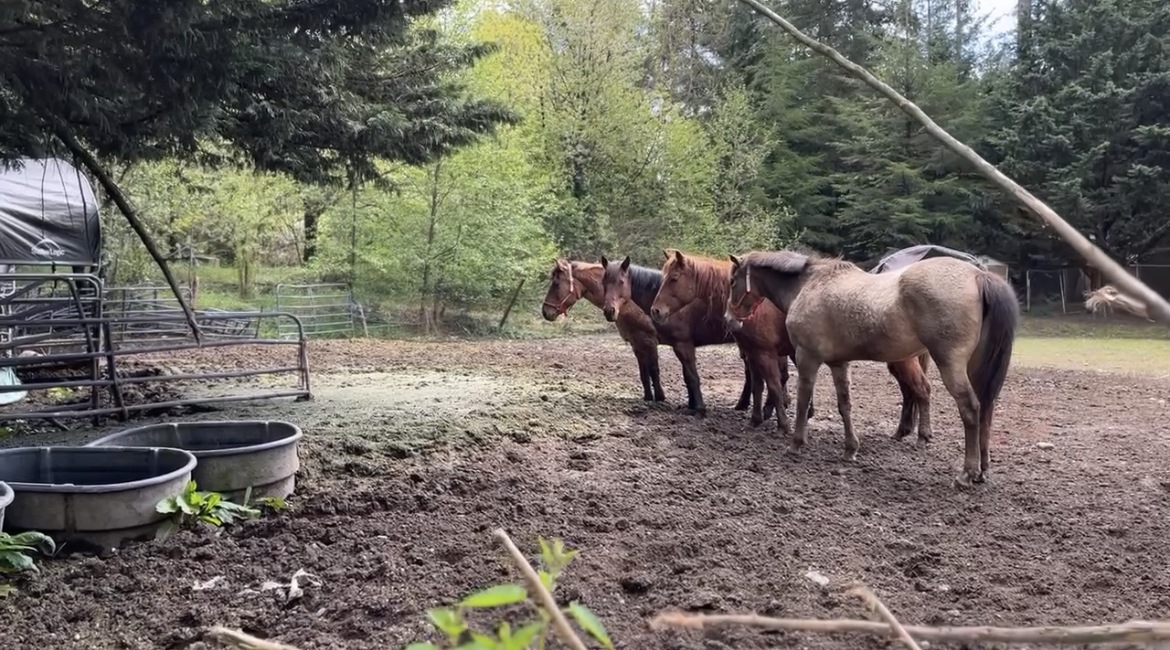 The majority of the horses who come to SAFE come as singles or in pairs. One here, one there, typically with some space in between arrivals. But on occasion, we are called to assist with a larger seizure. It hasn't been all that long since the Fall City 40, and an even shorter period since we took in the Graham 27. Now, we were once again called to help with a multi-horse intake. Seven horses in the Gig Harbor area needed our help, the owner needing to quickly re-home horses that were not easily re-homeable. On the heels of the Graham horses, we felt a bit more prepared for a larger intake, but unlike the Graham horses, these horses had not had regular (or any) handling in some time.
So on a Saturday morning, we loaded up our trailers with panels, and set out with a robust team of people and a brigade of trailers and a plan to pull seven horses out of the mud.
Thanks to a ton of planning, a great deal of manpower, and an earlier scope of the property, we were able to successfully remove all the horses from the property over the course of just a few hours. We ran chutes from the pens, some quite winding and intricate, but everyone left unscathed, and arrived at SAFE in one piece.
Lancelot, the stallion, was the first to pull through the gates.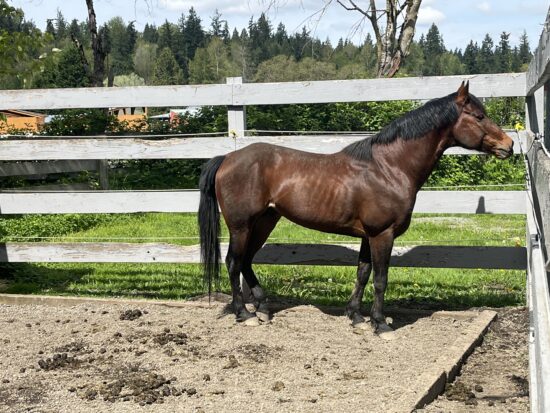 Next were mother and daughter, Ciara and Inula,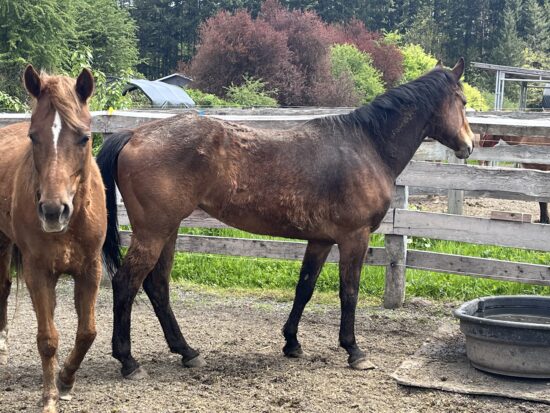 followed by the small herd of mares: Meadow and Mirana, the elders of the group, (and the only ones who allowed us to halter them), and Wren and Harissa.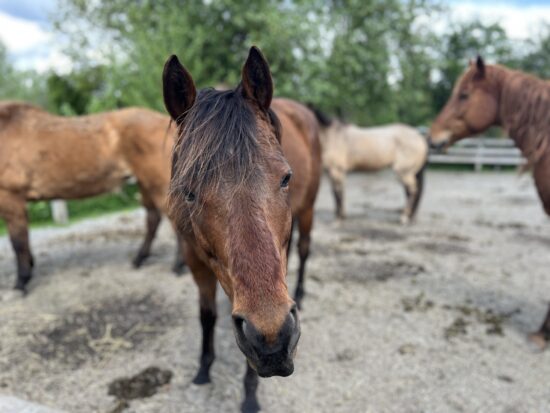 Seeing them at SAFE was like seeing them with the lights clicked on for the first time. It was clear they were in need of some TLC, but out of the mud and muck, it became obvious just how much. Their feet were overgrown, slippered in some cases. The four mares had a line of what appeared to be rotten hair halfway up their legs, likely a result of standing in a high layer of wet ground. The mother and daughter stank, a smell like rotting, and while there was nothing visibly deceased on the property, it felt very much like a place where death lived. All of them, when confronted with clean water troughs, drank long and deep.
It was clear from the moment we set eyes on the horses that they would take some work to rehab and retrain. Even the mares who let us halter them were not keen on being touched much beyond that. We certainly had our work cut out for us. But this was not the first time that challenging horses had come through our gates, and it will not be the last. The road ahead might be long, but the most important thing is that these horses are safe now, and that is all that matters.

Lancelot's Friends:
1. Jean H.
2. ____________________
3. ____________________
4. ____________________
5. ____________________
6. ____________________
7. ____________________
8. ____________________
9. ____________________
10._____________________
Every horse deserves at least ten friends! Even a small monthly donation can make a difference. Plus, SAFE horse sponsors receive discounts at local businesses through the SAFEkeepers program!