Luna
| | | | |
| --- | --- | --- | --- |
| SEX: Mare | BREED: Warmblood x | REGISTERED NAME: none |   |
| COLOR: Dark Bay | MARKINGS: none |   |   |
| YOB: 2013 | AGE: 6 | HEIGHT: 15.3 hh | WEIGHT: |
| LOCATION: Training | ADOPTION FEE: TBD | Online Adoption Application |   |
Luna is a lovely big bodied mare who was surrendered to SAFE by her owner who could not care for her. Luna came to SAFE pregnant and gave birth to a healthy filly foal on November 3, 2018. Luna did not have a great deal of handling prior to being at SAFE, so we've had to work with her to help her learn good manners. After her filly was weaned, Luna was sent to Nick Donohue to be started under saddle.
All SAFE horses are adopted with a no-breeding clause, no exceptions.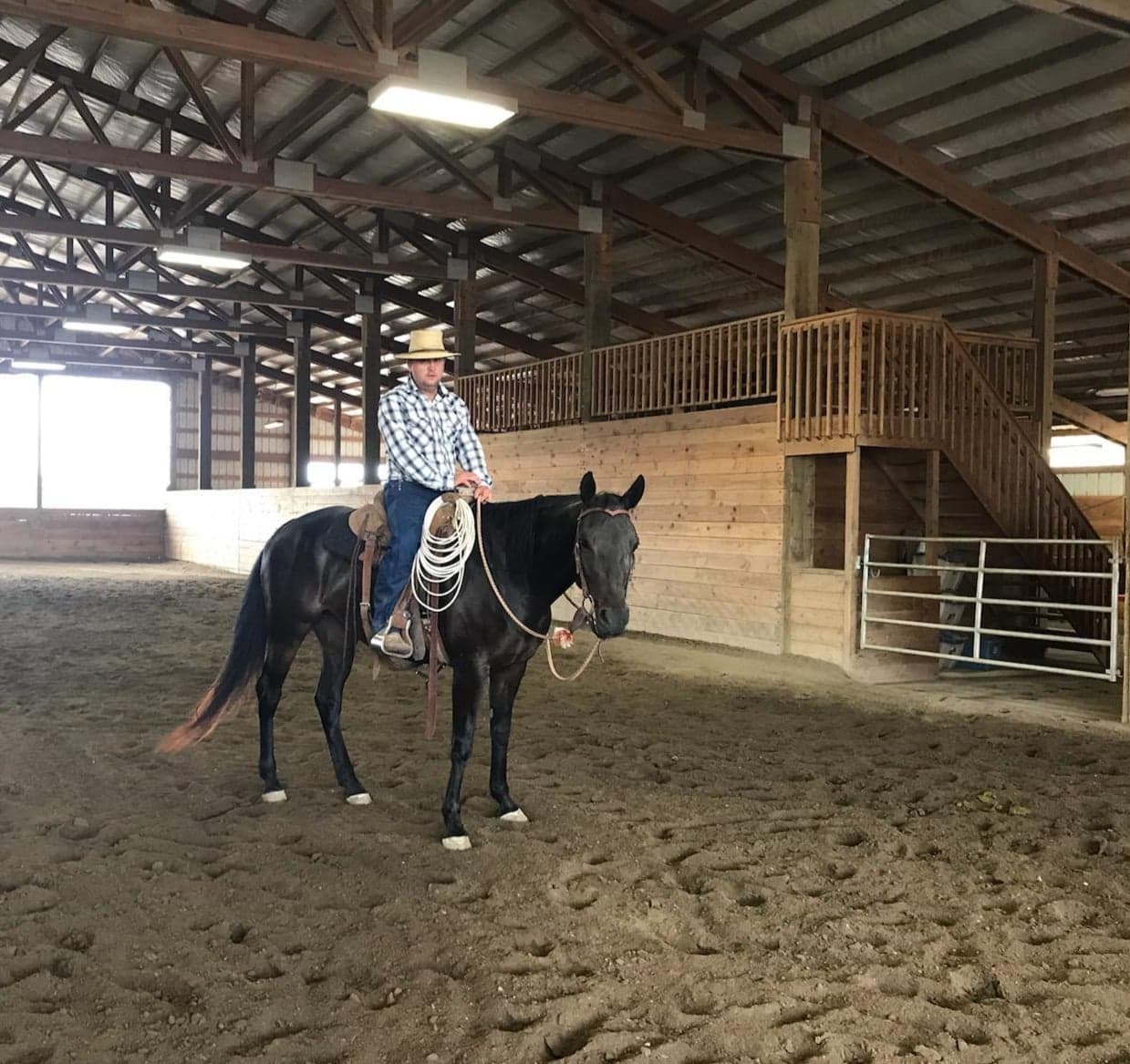 Luna has done very well in training with Nick Donohue. She didn't have too much trouble with saddling but required a bit of groundwork before riding. Once she accepted the new tack and a rider, things progressed nicely. She has three nice gaits and is maturing to be a steady partner. At times, she will become distracted by something outside of the arena but she quickly comes back to the rider without issue. As a green horse, Nick is working on getting her to line out and have more straightness but all and all everything has been pretty uneventful.
Luna is a dominant mare, probably because she spent a lot of her life in a big herd with many stallions. Because of this, Nick has chosen not to turn her out with his herd of horses. Understandably it would take her some time to get used to them all and unfortunately, she sometimes thinks more with her back feet when meeting new horses. That said, given time she would be able to be in a herd setting, especially if there is no competition over food.
Luna will be finishing her training with Nick in the next few weeks and coming back to Safe Harbor Stable to continue her education. Hopefully she will find a great forever home soon. This mare is ready for a wonderful happy life!

Luna's Friends:
1. Wendy T.
2. Diana G.
3. Marie J.
4. Michelle B.
5. Ann D.
6. Alicia F.
7. Nancy K.
8. Anastacio R.
9. Kai, Ani, and Timmy
10._____________________
Every horse deserves at least ten friends! Even a small monthly donation can make a difference. Plus, SAFE horse sponsors receive discounts at local businesses through the SAFEkeepers program!