Luna
2013 dark bay Warmblood cross mare
Type of Rescue: Mayday herd dispersal
Intake Date: 4/4/2018
Adoption Date: 11/29/2019
Time at SAFE: 1 year, 7 months
Adopted!
Luna is a lovely big bodied mare who was surrendered to SAFE by her owner who could not care for her. Luna came to SAFE pregnant and gave birth to a healthy filly foal on November 3, 2018. Luna did not have a great deal of handling prior to being at SAFE, so we've had to work with her to help her learn good manners. After her filly was weaned, Luna was sent to Nick Donohue to be started under saddle.
Luna was adopted straight from training and is living a lovely life in Southern Oregon where her training is being continued by Noah Cornish.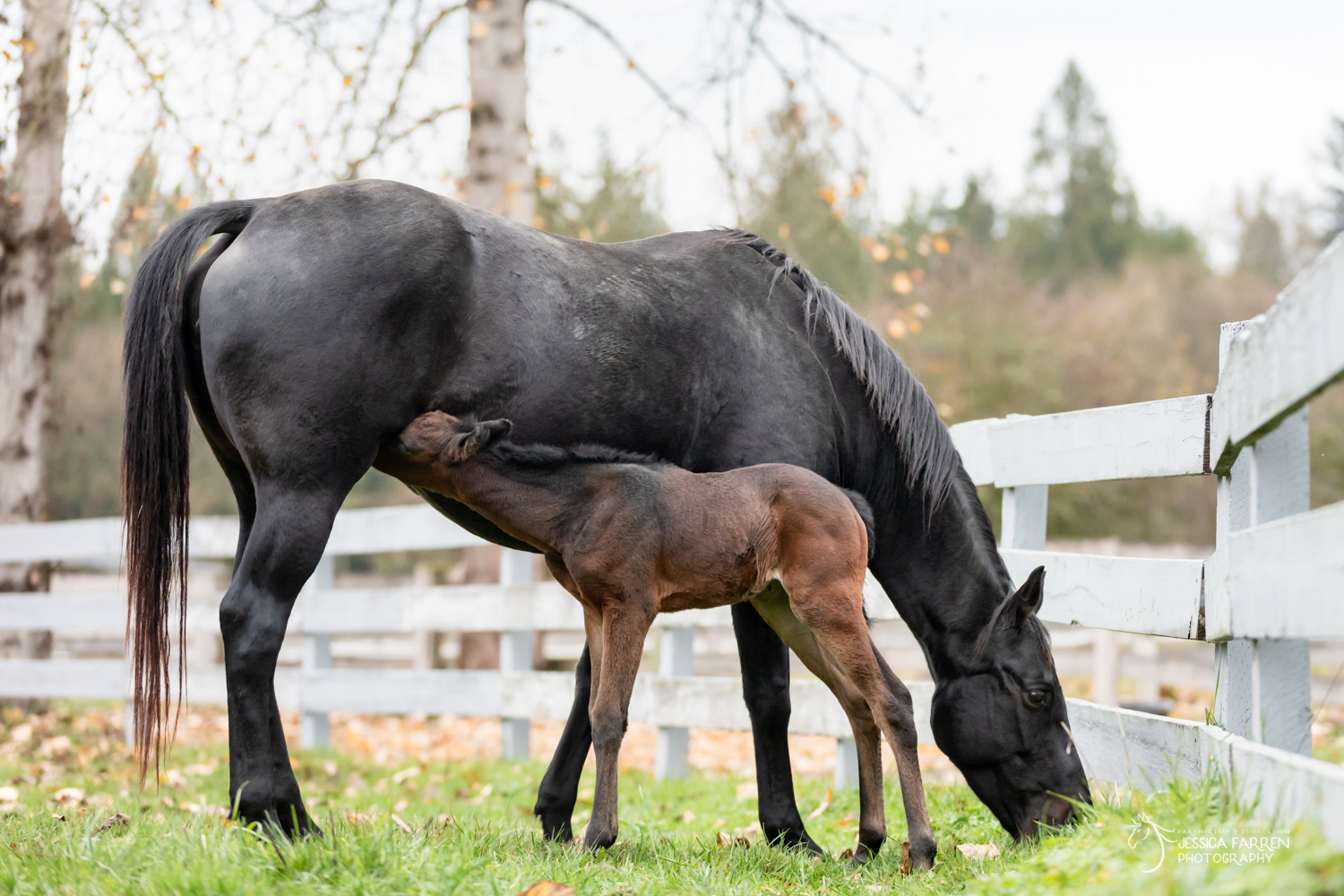 Why are there foals at SAFE right now? Because this year, we rescued three mares who were pregnant. We have not changed our stance against breeding, nor did we have anything whatsoever to do with the breeding of these mares.
One of the three mares, Asha, came from an Animal Control seizure in which she and another mare were removed from a situation of neglect and starvation. Her foal was born Sept 1, so she was likely bred in October 2017. This mare was seized by Animal Control on Jan 30, 2018 and was signed over to SAFE on April 15, 2018.
The other two mares, Luna and Mina, came from a large band of 21 horses (including 9 stallions) who were roaming free on a property that was foreclosed upon and resold. These mares gave birth on Nov 1 and Nov 3, which means they were bred in December 2017. We were brought in by Animal Control to help disperse this herd in April 2018. Because they were exposed to stallions, we had to assume that all the mares in the herd were pregnant when we took them, and this was confirmed by veterinarians after they were rescued.
Furthermore, whenever we intake a colt or stallion, that animal is gelded as soon as it is physically possible to do so, and usually before the horse even comes to our farm. The only intact stallion to ever set foot on our farm in Redmond was Valor. He was gelded on August 9, 2017.
So, to recap:
1) SAFE does not breed horses
2) SAFE does not keep intact colts or stallions
3) SAFE does, however, rescue pregnant mares
If you or anyone you know has questions about SAFE and the work we are doing, please ASK. We operate 100% in the public eye, so if there's something you're curious or concerned about, just ask. It's that simple.
Now let's get back to enjoying those beautiful babies!