Luna
| | | | |
| --- | --- | --- | --- |
| SEX: Mare | BREED: WB x | REGISTERED NAME: none | |
| COLOR: Dark Bay | MARKINGS: none | | |
| YOB: 2013 | AGE: 5 | HEIGHT: 15.3 HH | WEIGHT: |
| LOCATION: Foster | ADOPTION FEE: On Hold | Online Adoption Application | |
Luna is a lovely big bodied mare who was surrendered to SAFE by her owner who could not care for her. Luna is pregnant and we estimate that she is due to foal in October or November 2018. She's not had a great deal of handling, so we'll be working with her to help her learn good manners and prepare for a new life after she has concluded with motherhood.
All SAFE horses are adopted with a no-breeding clause, no exceptions.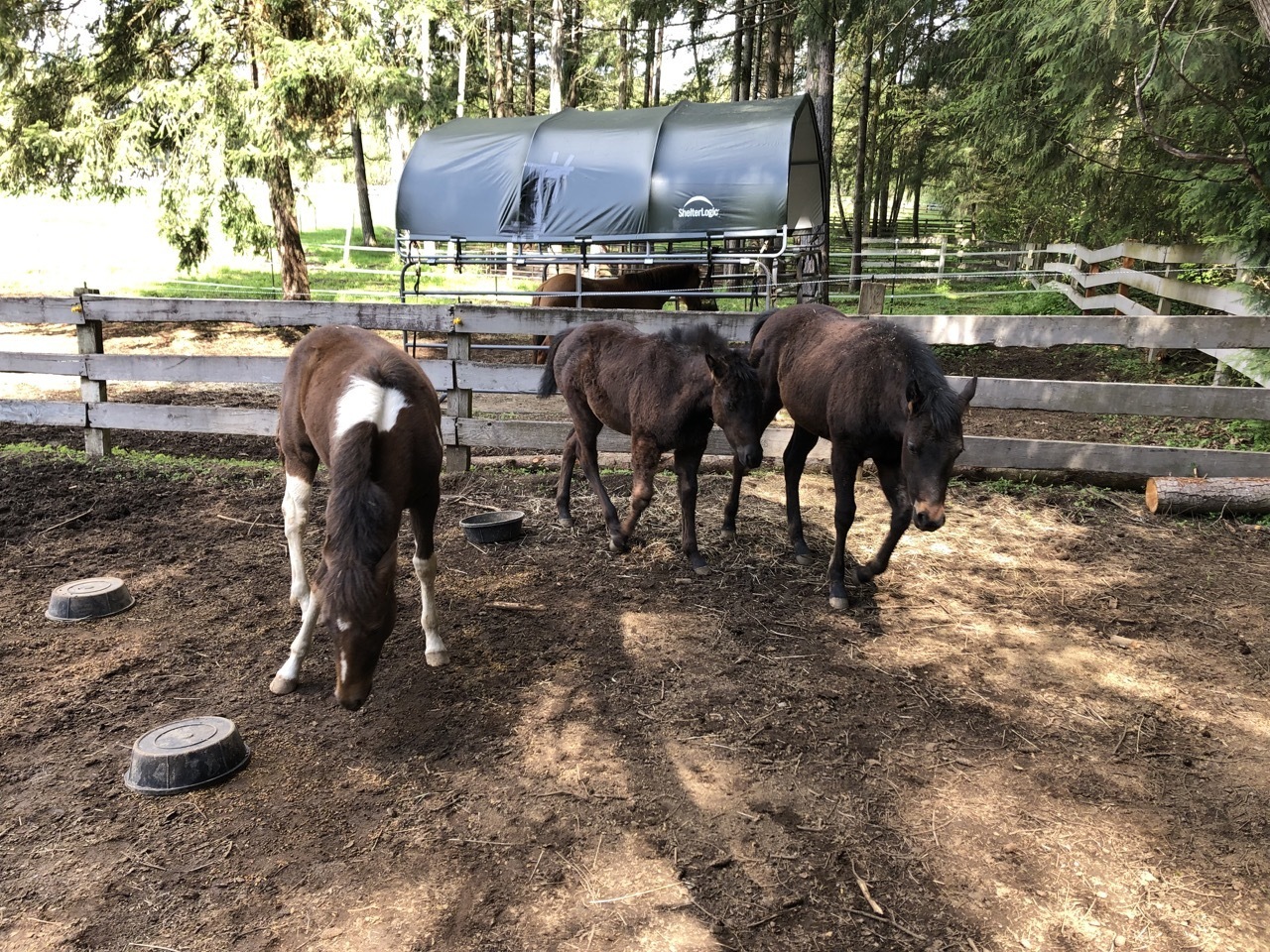 It took some work and a fair amount of brainstorming, but we weaned all three babies over the course of about a week and a half. First Nova, then Rae, and finally Pippi. Even though Pippi is two months older than Nova and Rae, we opted to wean her last based on herd dynamics, the personalities of all the mares involved, and space available. Each of the weanings was relatively uneventful, and the little amount of drama that accompanied each one was over within an hour or two (with Nova's weaning there wasn't much fuss at all). Pippi seemed to take it the hardest, but having her new buddies Rae and Nova there for comfort made a big difference. Nova seemed more upset about losing her aunt Mina than she was about being separate from her own mother.
The three fillies are now hanging out with matriarchs Angel and Renee. They'll be learning lessons about how to be a horse from these ladies who have been there and done that. At some point in the near future we'll send them to foster where they'll be able to grow up in a quiet place with room to romp, and we'll bring them back when they're 2-year olds to start introducing them to groundwork in preparation for becoming riding horses. For now, though, we are happy to have them right where they're at because they're a constant source of amusement. No doubt about it, though, raising babies is a lot of work!

Luna's Friends:
1. Wendy T.
2. Diana G.
3. Marie J.
4. Michelle B.
5. Ann D.
6. Alicia F.
7. Nancy K.
8. Anastacio R.
9. Kai, Ani, and Timmy
10._____________________
Every horse deserves at least ten friends! Even a small monthly donation can make a difference. Plus, SAFE horse sponsors receive discounts at local businesses through the SAFEkeepers program!