Nico
SEX:
gelding
BREED:
BLM Mustang
REGISTERED NAME:
none
INTAKE DATE:
3/8/22
COLOR: buckskin
MARKINGS:
YOB: 1997
AGE: 25 yrs old
HEIGHT: 14.2 HH
WEIGHT: 915 lbs
LOCATION: Redmond, WA
ADOPTION FEE: TBD
Online Adoption Application
We are guessing Nico is in his mid 20's and could be a BLM Mustang. Right now it's hard to see if there is a brand under his thick coat, but we are looking forward to learning more about this boy after he is healthy. Originally we went to to rescue a mare, Tanis, whose owner was in her 80s and had passed away leaving 14 dogs, the mare, a friendly cat and several feral cats. When we arrived and saw the mare with Nico, both coughing, and covered with rain rot and lice, we asked the current resident if we could take Nico as well. He had a lot of nasal discharge, so we stopped at our vet on the way home to get a nasal swab so we could figure out what was wrong. He has a good appetite and hopefully, with some much-needed TLC, he will feel 100% better in the weeks to come.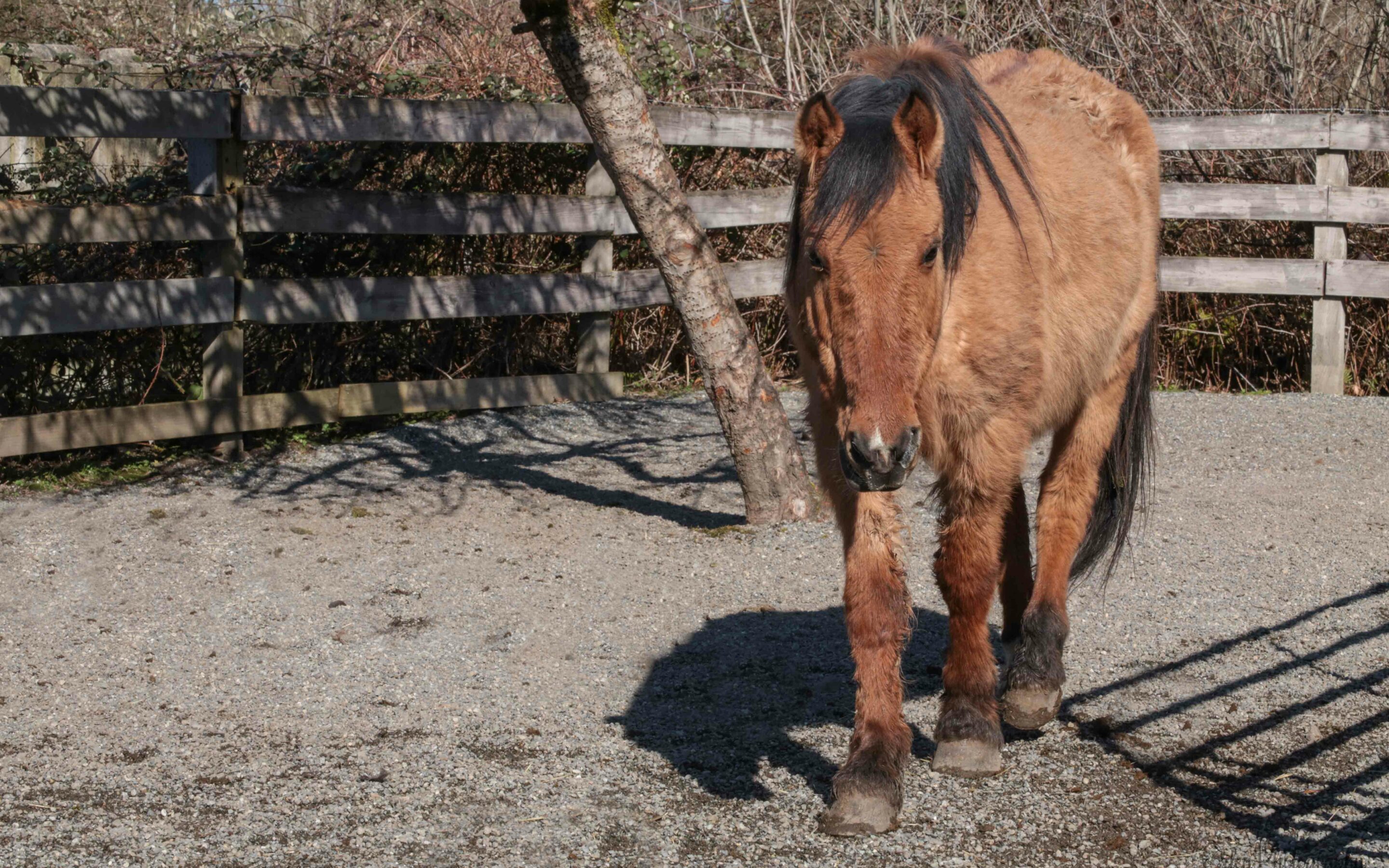 On the day we picked up Tanis, we really only intended to rescue one horse. But she had a friend by her side that needed even more help than she did. Often when you make the decision to intake a horse, you can't predict what type of assistance you'll be providing, or even how long you'll be together. In Nico's case, he wasn't with us for very long, but we are so grateful for the time we had with him. And so thankful that when the end came for him, he was here with us.
Nico arrived at SAFE in very rough shape. He appeared to be sick, but our vet quickly determined that he did not have strangles. We set him up in a quarantine paddock with his friend Tanis, and got to work on his recovery. At first, he seemed surprised and delighted by the availability of hay and clean water, but after four or five days, Nico started to go off his feed. Then he quit eating entirely. We gave him Banamine and hand walked him every hour. After seeing no bowel movement for an entire day, Dr. Renner was called out to take a look at him.
A rectal exam revealed manure with mucus sitting in his colon, but everything else seemed fairly normal. We proceeded with an ultrasound, and found low motility in the lower intestine but no inflammation. Nico appeared to be colicing. Dr. Renner told us that based on his condition, Nico had a 50% chance to pull through. We put up cameras in his paddock and kept watch on him throughout night. Sadly, we saw no sign of improvement.
Dr. Renner called in the morning with devastating news: blood work showed that Nico was suffering from severe liver failure. It was something that he'd been dealing with for a long time, probably due to the poor quality of feed he'd been getting prior to his rescue. Nico was also developing neurological symptoms, most likely a direct result of toxin build up due to his loss of liver function, and we were seriously concerned that he might fall. There was nothing that could be done but to put a stop to his pain and discomfort.
Nico was surrounded by many who loved him and laid to rest with peace and dignity. His friend Tanis was by his side and was able to say her goodbyes. We are so thankful he received the medical care he needed instead of suffering alone in a muddy field. He was respected and treated with love just like a member of our family. We are comforted knowing he is no longer suffering and thankful for the support that allowed him to not be forgotten. Nico was not a horse that we set out to rescue, but in the end, we are so grateful that we got the chance to help him.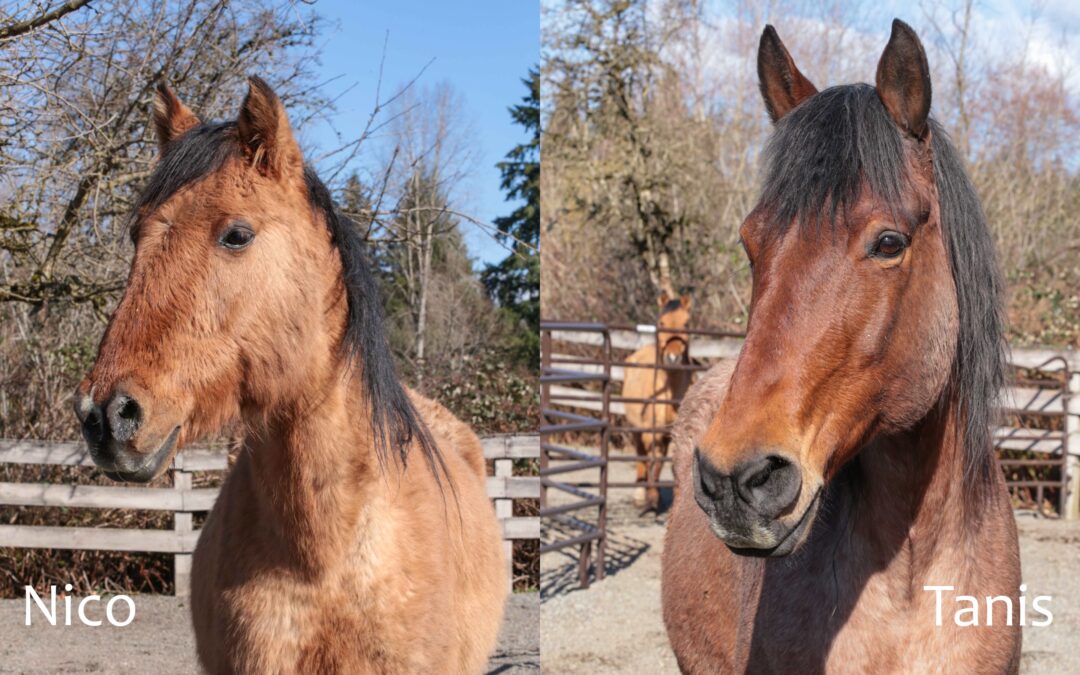 Introducing our newest herd members, Tanis and Nico. Recently, a woman in her 80s passed away leaving 14 dogs, a horse, a friendly cat, and several fixed feral cats. SAFE was contacted to help with the horse. Working with a local small animal rescue,
JustCare Animal Rescue and Sanctuary
, who has been working tirelessly to help all of these animals, we made a plan and set out to pick the horse up. When we arrived she was in a pasture with a gelding who had a lot of nasal discharge and both horses were coughing. Both are covered in rain rot and full of lice. We asked if the current resident would let us also load the gelding, and that's how we brought home a bonus horse!
Tanis is a mid-teen roan BLM Mustang from the Hog Creek Herd in Eastern Oregon. Her adopter bought her for her granddaughter and she lived on a property for the past 12 years with little to no handling. We suspect the rope around her neck is the BLM tag rope put on her at the time of her round-up, but that is not confirmed. It was a very strong rope to cut off, but Tanis was kind enough to let us do so shortly after her arrival at SAFE. At some point, we will try and shave her brand to see if we can read it and gather more information about her age and year of round-up. She is pushy and knows what treats are, but only goes where she wants to and does what she wants.
Nico is a sweet Buckskin gelding in his senior years. He may also be BLM with some signs of a freeze brand under all that long hair. He is very sick with lots of nasal discharge, so we stopped on our way home to Rainland and were able to get a nasal swab to send out for testing. He has a good appetite and hopefully, with some much-needed TLC, he will feel 100% better in the weeks to come.

Nico's Friends:
1. _____________________
2. _____________________
3. _____________________
4. _____________________
5. _____________________
6. _____________________
7. _____________________
8. _____________________
9. _____________________
10._____________________
Every horse deserves at least ten friends! Even a small monthly donation can make a difference. Plus, SAFE horse sponsors receive discounts at local businesses through the SAFEkeepers program!