Tanis
2003 BLM Mustang mare
Suitability: Companion, For Intermediate Handler
Color: roan
Markings:
Height: 15.2 hh
Weight: 1150 lbs
Adoption Fee: $300Online Adoption Application
Tanis is a roan, 20 year old BLM Mustang mare who originally came from the Hog Creek Herd in Eastern Oregon. Her adopter bought her for her granddaughter, and before coming to SAFE, she lived on a property for 12 years with little to no handling. When we arrived to pick her up, we found Tanis turned out with a gelding who had a lot of nasal discharge. Both horses were coughing, and were covered in rain rot and lice. We had only planned to be bringing one horse home that day, but we asked the current resident if the gelding could come too and that's how we ended up with two horses instead of one.
Tanis has turned into a big sweetheart, who has participated in several Joel Conner clinics, learning and perfecting her groundwork. She has overcome her initial nerves, and is now a confident, gentle mare who will make a great companion for someone special.
All SAFE horses are adopted with a no-breeding clause, no exceptions.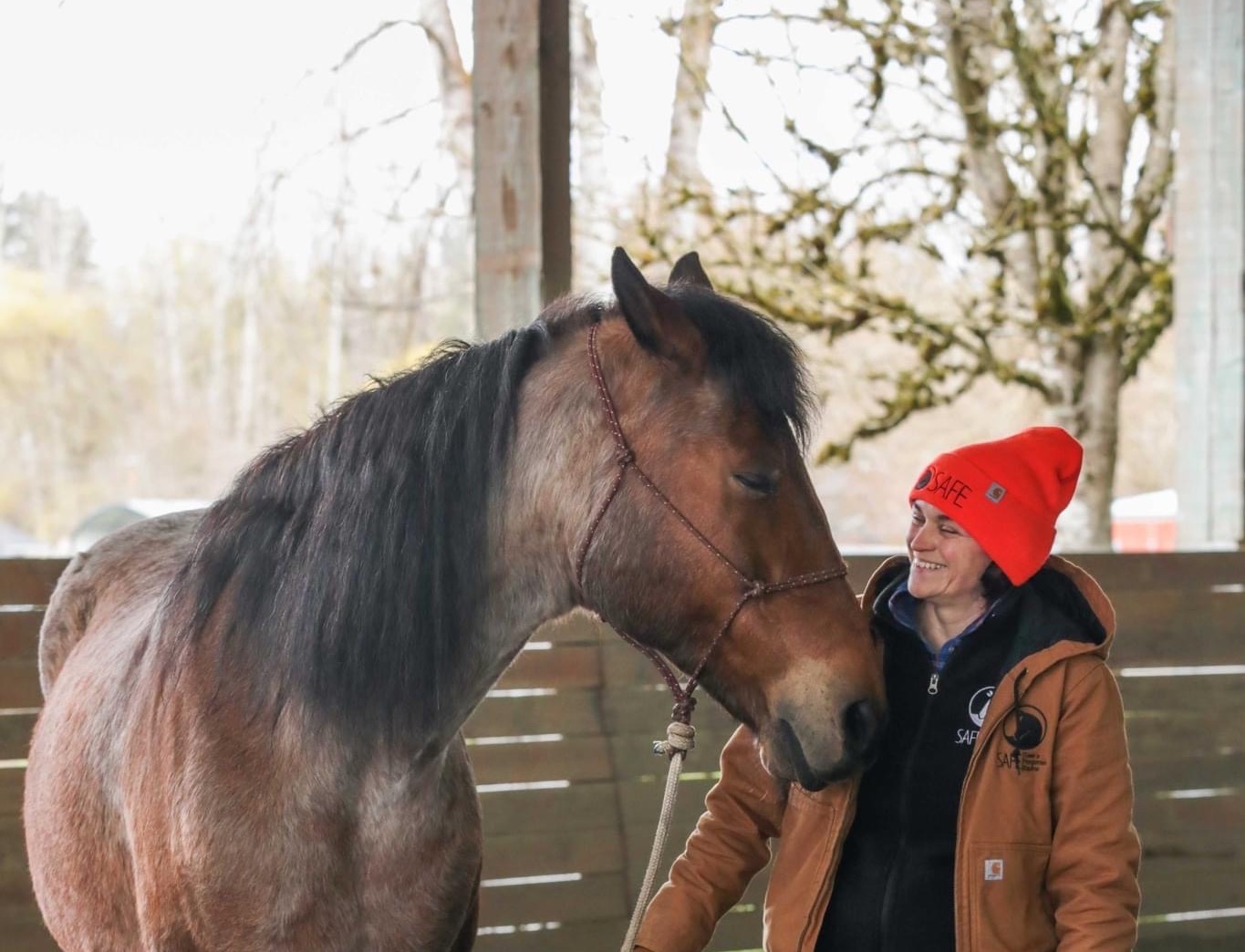 Volunteer Meghan N has been spending most of her weekday afternoons with Tanis for almost a year now, and took the time to write a bit about their partnership over the last months:
"Yet again, Tanis impresses us with the huge amount of try she has!
This mare has really come so far since her intake in spring of 2022. Over the winter, we worked hard on everything from hindquarters/front quarters, backing up, changing eyes, and truly feeling of the person she is with. One thing Tanis asks of her person, is that they are gentle and calm, while also having good boundaries and confidence in their ask. She wants to really know that she is safe with you, that you mean what you say; so she can relax and just be a horse.
As Tanis's hindquarters started improving, almost everything else began to fall a little more in place; and a shift in her confidence, trust and connection with people occurred. Tanis became more curious of other volunteers around the farm (not just those who worked with her). From barn assists fixing her hay box, to folks stopping by the round pen while she was being groomed, her curiosity grew. Then one day, she started accepting face pets from new people who she may have previously shied away from! This was such a turning point for this sweet mare, as she found the confidence in herself to trust more than just a handful of people.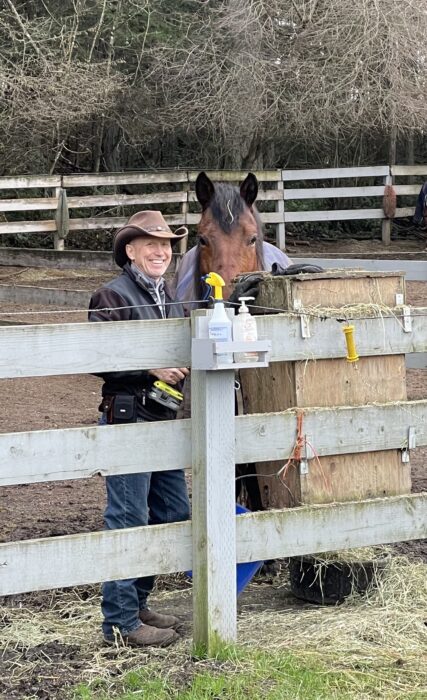 Winter also brought new horse friends into Tanis's life, as she joined a herd of mares for the first time since coming to SAFE. Currently, there are 5 mares that make up the herd, and Tanis falls somewhere in the middle. She prefers to defer to a lead mare, though making sure she isn't on the bottom of the pecking order. As Tanis's skills continue to improve, she has become more and more confident in herself. This has shown in her friendliness when you enter the paddock. Many times she stops and waits for you to halter her, or gently walks up to you to say hello (even if you are coming in for a different horse). Tanis is very food motivated, and sometimes just can't wait to get back to her friends, so walks to/from her paddock are sometimes slower than usual, as we work on not rushing and staying with me; consistency, time and patience are key here.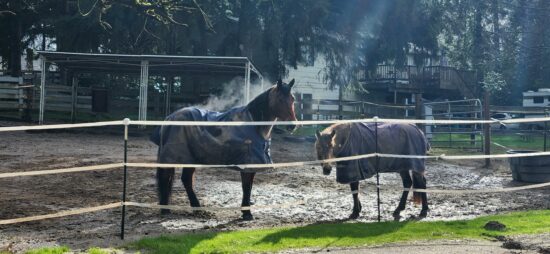 As winter ended and spring emerged, Tanis took part in her 4th Joel Conner Clinic. At the start of the clinic, she was a bit concerned about not being with her herd (mainly the lead mare, Esme). But with the help of Joel, we were able to work together and help Tanis to find her focus on the task at hand. This clinic saw huge changes in Tanis, that really showed in her softer movements, attentiveness, and her calm confident steps. It seemed as though she truly started to feel free in her feet, and everything just became easier (for us both).

Since the clinic, Tanis continues to fine tune her hindquarters. As well, we have been doing some rope work to continue her growth and confidence with changing eyes and to give to pressure. With the warmer weather she has enjoyed dandelion flowers as a special treat, and of course sweet water buckets! Life is pretty good for this amazing mare. Though there is one thing Tanis is still searching for…and that's a person/family of her very own; to love and care for her, giving her tons of face pets and helping her to live her best life! She's definitely ready and waiting for you to come meet her and fall in love!"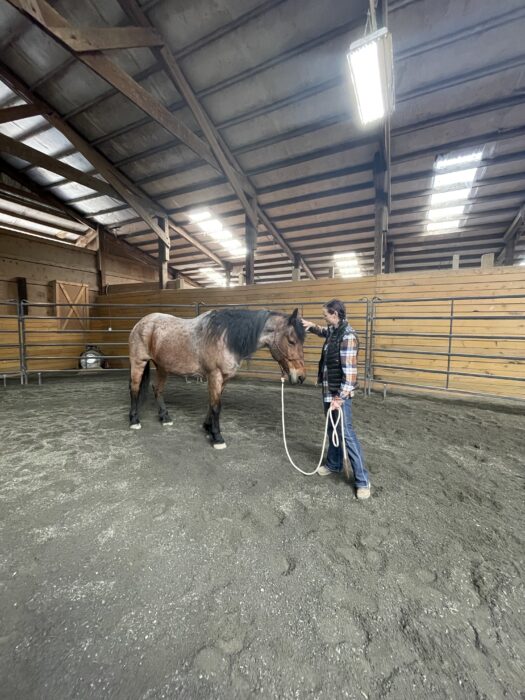 Tanis's Friends:
1. Kate L.
2. Amy Q.
3. Stefan H.
4. Christina W.
5. Judy C.
6. Tori L.
7. Pauline M.
8. Ellen H.
9. _____________________
10._____________________
Every horse deserves at least ten friends! Even a small monthly donation can make a difference. Plus, SAFE horse sponsors receive discounts at local businesses through the SAFEkeepers program!