Zelly
2004 Leopard Appaloosa mare
Suitability: For Novice Handler

Color: appaloosa
Markings: Thin blaze; socks LF, RH, LH
Height: 14.3 hh
Weight: 970 lbs
Adoption Fee: $300

Online Adoption Application
Zelly came to SAFE in November of 2022 as part of a seizure of 27 horses from Pierce County (who we called The Graham 27).
This smart, sweet mare has made some great progress since arriving at SAFE. The sinus infection she arrived with was cleared by a course of antibiotics, and she has had a clean bill of health since. At 20, Zelly presents as a much younger horse. We restarted Zelly under saddle after her quarantine period was over, but with consistent work found her to have some lameness. After having her checked out by our vets, we have decided the best path for Zelly's comfort going forward will be as a companion horse — she is a sweet and gentle mare on the ground, and has been out with both mares and geldings with great success.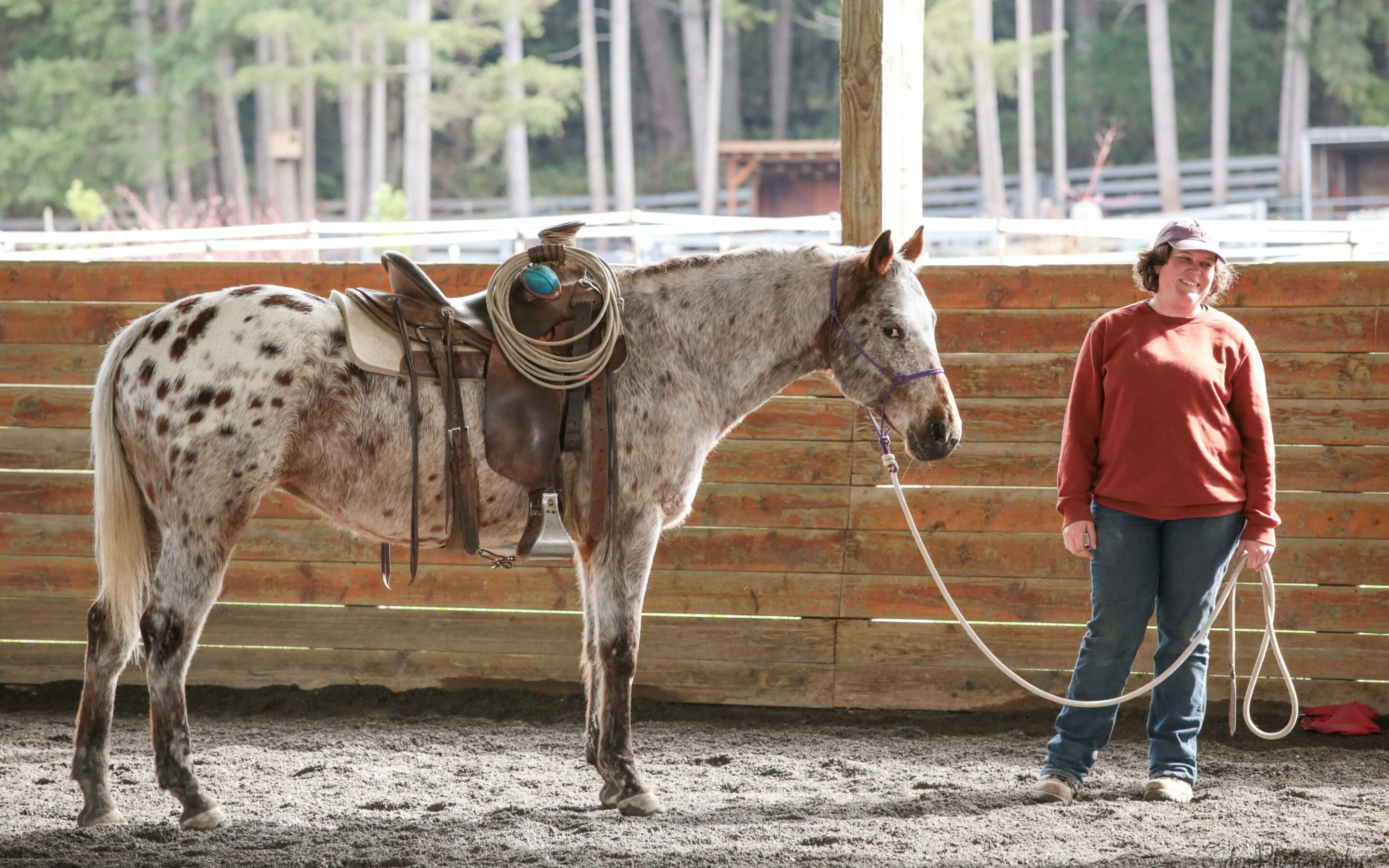 Kaya M brought Zelly into the groundwork portion of the March Joel Conner clinic, and had the following to say about her experience there as well as her observations of Zelly under saddle:
"They say that being around smart people makes you smarter and I think that must also apply to horses. This horse is so smart! Just being around her shows me how I need to be a better horseman and I learned so much from how quickly she learned during the March clinic. Zelly really tested (and continues to test) my abilities to be consistent and efficient because she picks things up so quickly. Occasionally she'll get a grouchy attitude at my ineptitude to communicate effectively with her, but as I get better, her expression does too.
Zelly has a pretty big brace in her front quarters. So much so, that when we started riding her, she would almost rear when asked to reach her front foot out and back. She was so stuck, she felt it was impossible to unweight her front end. On Saturday of the clinic, Joel rode her in the afternoon and worked on this move specifically. In a matter of half an hour, Zelly was reaching and coming across better than some of the horses in the riding class! This change happened so quickly it make me completely reconsider what I'd previously thought about a horses ability to change. I'm so impressed by this mare, I can't wait to keep growing and learning from her. It seems to me that Zelly has been waiting her whole life for someone to understand how brilliant and capable she really is and she seems to really want to work when given the credit she deserves. I'm honored and humbled to get the opportunity to empower this horse to be what she's always wanted to be."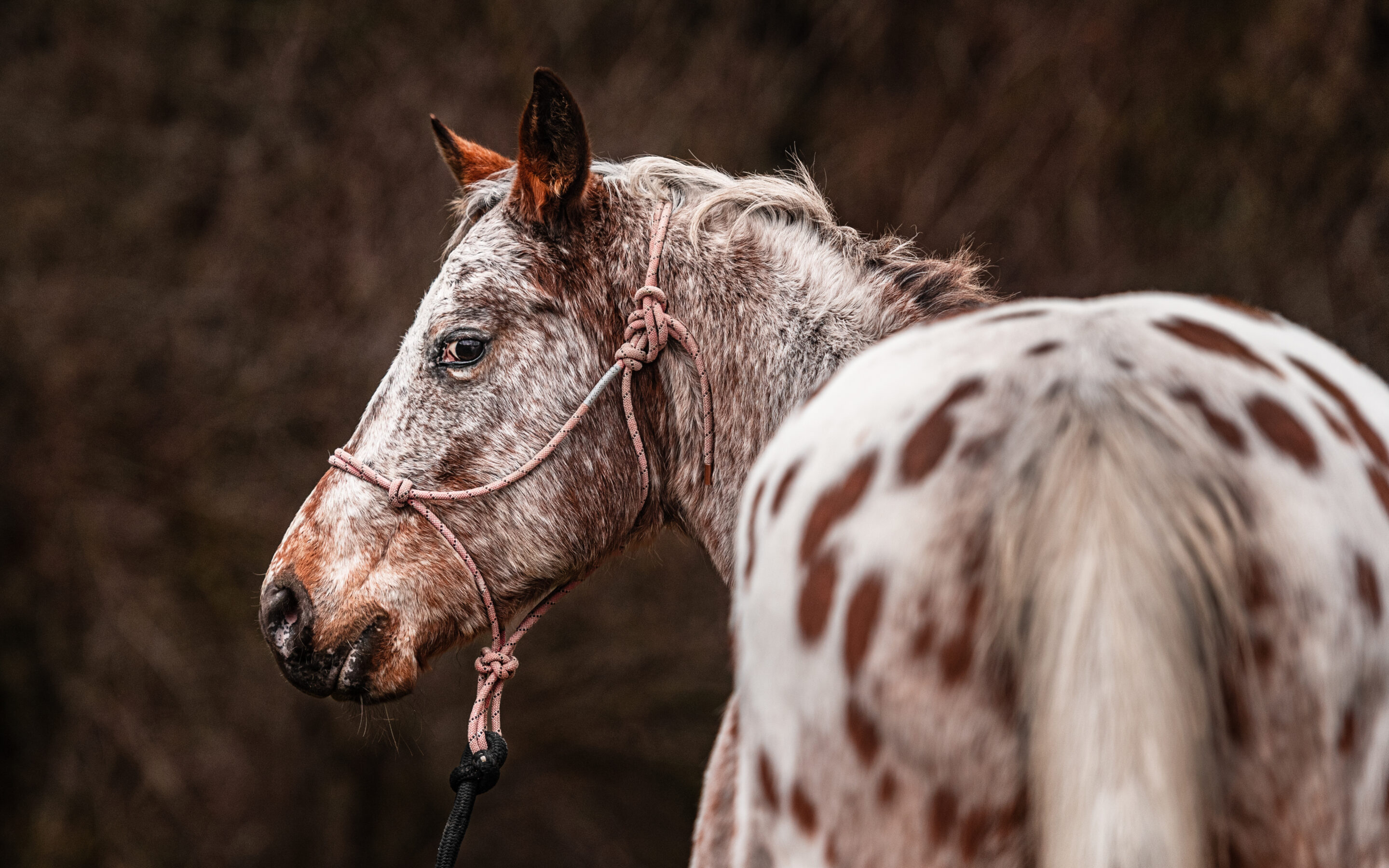 Zelly is the very definition of 'looks good for her age.' At 20, she is no spring chicken, but her physical condition and her mental acuity show a horse who still has a lot left in the tank.
When first assessing Zelly on the ground, we met a horse who was clearly very used to going through the motions. She had a kind of robotic way about the way she would respond to what was being asked of her, as if she was flipping through a rolodex of potential responses instead of really thinking and feeling it through. There was a lot of anxiety associated with this as well – when asked to walk out on a circle, she felt that she had to trot. She was nervous about the flag, and pushy about asking for breaks, coming in with an anxious energy instead of looking for peace. It was clear to us that the majority of her previous interactions with people had been purely operational, not based off of feel.
But Zelly is an incredibly smart horse with a lot of try, and if there's one thing we are confident of, it's in a horse's ability to make a change.
Under saddle, the time Zelly spent as a kid's horse made itself known. All the Graham horses were reluctant to move out, and Zelly was no exception. It was clear that she had called a lot of the shots in her time, because her expression turned sour as soon as she was asked for more than a walk. Going up into the canter, she expressed her displeasure by kicking out – which would certainly have been enough to deter kids from asking in the past. We are not as easily intimidated. But we also wanted to show Zelly that she would be rewarded for her lope. Once she entered the gait, her rider would release, showing her that she was doing the right thing. It was important for us not to nag her once she was loping, so she learned that all she had to do was lope up to get a release.
She also struggled with bending. At first, even the slightest ask to bend either direction resulted in her yanking her head away. If the only thing you wanted to do was walk a line that she put you on, Zelly was over qualified for the position. But it was clear that a different tactic was required to help her understanding. So we backtracked a bit, taking her out of the snaffle and back into the halter, working on gradual increases to the amount of bend we asked for, and waiting patiently until she stopped pushing against the pressure and turned loose to it. This is one smart mare, and it didn't take long at all before she had a better understanding of what we were asking for.
It's been a real pleasure watching this mare learn and grow, and while she still has a bit of work to do, we are confident that she's going to be a great match for someone one day soon.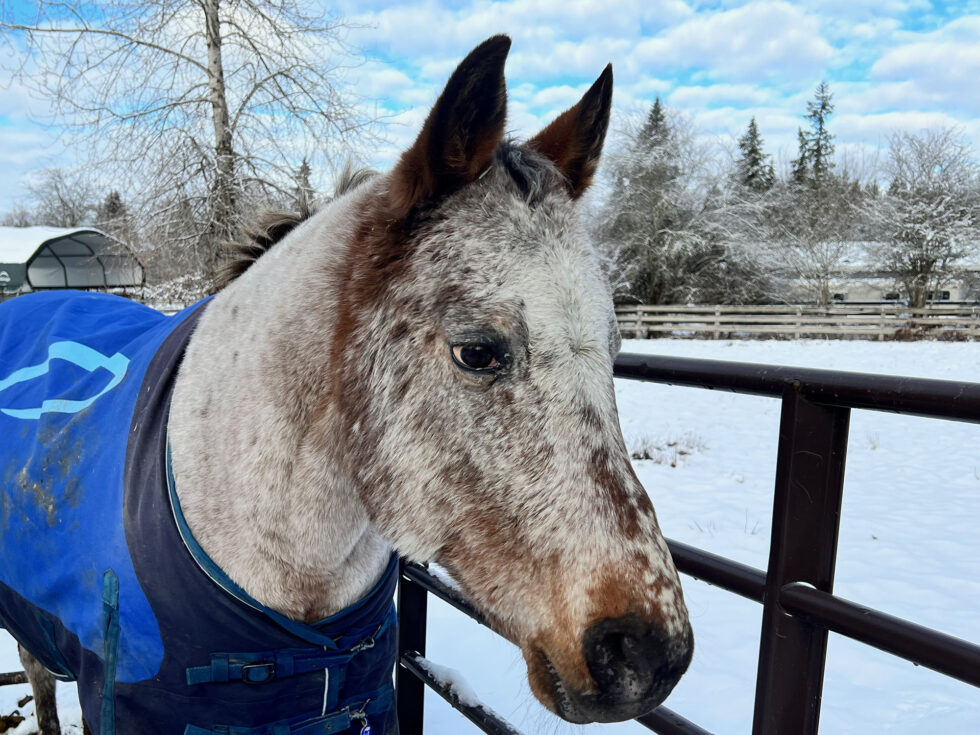 Zelly arrived at SAFE with a snotty nose (no other symptoms, like fever or lethargy) that did not resolve with time. When our vet first checked her out, she said she would want to take X‑rays if the snot remained, as the snot was not bilateral, and was likely a sinus related issue.
Sure enough, X‑rays revealed that her right sinus was filled with fluid. We immediately started her on a course of antibiotics with a recheck set for several weeks out.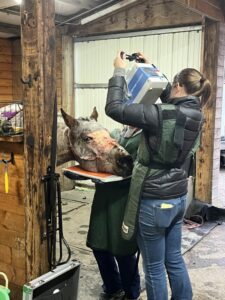 The antibiotics almost immediately cleared up the (visible) snot, and an X‑ray at the 4 week mark showed marked improvement, though she was still not at 100% clarity. She will continue her antibiotics for several more weeks with the hope that they will clear out the residual gunk sitting in her sinus, and keep it out. There is a chance that when the antibiotics stop, the fluid will return, which will require the sinus to be drained, but we will keep our fingers crossed for full healing.
She also has a tooth that looks to be compromised and might need removal, but we await further feedback from our vets.
Zelly is a sweet girl. Her appaloosa-ness means she's prone to looking at you sideways, but she is gentle to handle, and has been an absolute saint for her twice daily metronidazole, which we administer rectally. She gets arena turnout with her appaloosa counterpart, Evie, and Arab gelding Henry. The trio are quite herd bound, so we will work on helping them be more comfortable apart.
Zelly is up to date on vet and farrier care. She has had her teeth floated, her teats cleaned, and is up to date on her vaccines. She was also dewormed upon arrival, as she arrived with a positive worm load. She is gentle for grooming and she has been trimmed twice since arriving at SAFE, with a 6 week trim schedule set going forward. She gets daily thrush treatments to help combat the thrush all the Graham horses arrived with. Our vets estimate that she is 20.
Zelly is nervous about the flag, and as we spend more time with her in the round pen, we will run through the usual checks before saddling her at SAFE for the first time. She is quite stuck going backward, and is very heavy on her front end, creeping forward at every opportunity. We will work with helping Zelly find more balance in her feet and give to pressure a bit more readily than she does currently.

Zelly's Friends:
1. Lara W.
2. Jane M.
3. Susan C.
4. ____________________
5. ____________________
6. ____________________
7. ____________________
8. ____________________
9. ____________________
10._____________________
Every horse deserves at least ten friends! Even a small monthly donation can make a difference. Plus, SAFE horse sponsors receive discounts at local businesses through the SAFEkeepers program!