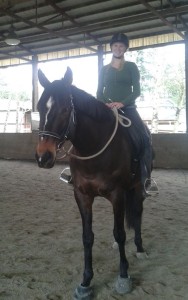 Please join us in celebrating April's Volunteer of the Month, Stephanie W!
Stephanie has been volunteering with SAFE for about a year and what a year it has been. An excellent rider and horsewoman, Stephanie quickly became one of Terry's most valued assistants around the barn. Her work with high strung horses like Kai and Ben has contributed so much to our efforts to find them both new homes. As a Volunteer Rider and a member of the Adoption Committee, Stephanie has personally worked very hard to get our horses retrained and ready for adoption. She's been volunteering at least 3 days a week at the barn, doing ground work, riding, and anything else that's asked of her. Her enthusiasm and love for the horses is always so clear, and an inspiration to all of us.
Stephanie is from Germany and although it was her love of travel and adventure that led her to Washington state, it's also why we're having to say goodbye to her too soon. She is going back to Germany with her husband and then the two of them will be traveling the world for a good long while. There will be a hole at the barn when she leaves that will be hard to fill. The horses, staff, and volunteers will miss her tremendously and we hope she visits whenever she is stateside.
Here is more about Stephanie in her own words…
I first heard of SAFE in September 2013 and went to one of the Open Houses. Just a few weeks later I started volunteering twice a week as a morning chores person. After a couple of months I had to go back to Germany for a while and once I returned in February 2014 I started as a volunteer rider at SAFE.
I have been riding horses since I was 6 years old and own a beautiful Haflinger back home in Germany. When I first moved to Washington I did not think I can afford to ride and work with horses over here since I am a full time student. SAFE gave me so much more than just the opportunity to make new friends and play with ponies. It is such a great organization with a wonderful team of volunteers. Trainer Terry Phelps is one of the most horse passionate people I have ever met and Heather makes life at the barn so easy and wonderful for all of us. I am so grateful and proud to be part of the team and am very sad to be leaving soon.
Due to SAFE I have been introduced to the work of Buck Brannaman and have learned tons of new groundwork and riding skills. I attended 2 Michael Sparling clinics with different SAFE horses and have learned a lot. I really hope I can find a way to keep working on my new knowledge of horsemanship while back home in Germany.
It is amazing to see the horses go through the transformation from the day of intake to the day they are ready for adoption. They come to SAFE scared, neglected and sometimes even starved and leave with a second chance at life.
Every single one of the horses has a special place in my heart and I really hope that all of the current SAFE residents will have found their forever home by the time I come back to visit next year (not Sunny D and Shasta of course). I don't have a favorite but I think Ben used to think of me as his girlfriend and working with the silly thoroughbreds always made me laugh.
Bon voyage, Stephanie, and thank you so much for everything you did for the SAFE horses while you were here!