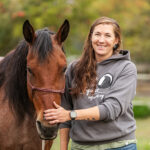 Sara has loved animals of all shapes and sizes for as long as she can remember, ranging from birds, reptiles, and pocket pets to cats, dogs, cows, and horses. She first discovered her love of horses at age 7 when she began trading chores for riding privileges among her neighbors, continuing lessons in Western style throughout her teen years.
Graduating from PIMA Medical Institute in 2010, she worked as a LVT for 4.5 years and worked with cats and dogs, as well as a variety of farm animals. After discovering SAFE, she started as a chore shift volunteer in July 2019 and quickly began coming to the barn as often as she could to absorb all there was to learn. She now lends her technical skills to SAFE by performing our herd health parasite screenings multiple times per year.
Sara spends her time away from the barn by camping and hiking around WA with her 100lb lapdog Riot, working on DIY projects, spending time with friends and family, and learning as much as she can about all things science.