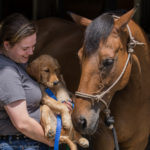 From a young age, Lexee has been involved with horses and has no plans to stop anytime soon. Beginning with taking lessons and working as horse camp counselor to now running horse shows and volunteering at SAFE, horses have been her go to hobby. With her own horses she goes on frequent trail rides, joins a parade annually, competes at casual horse shows during the summer and participates in clinics at SAFE when able.
As of 2020 she finished graduate school and now works full time as a structural engineer. She loves to offer advice on structural questions for SAFE facility projects and then put in the work to help on those projects, too. She also assists with the adoption process by leading a small team of volunteers who complete site and reference checks for our horses future forever homes.
When Lexee isn't at SAFE, she's working towards her bachelor's degree in Civil and Environmental Engineering. After she graduates in 2019, her plan is to continue to get a Master's in Structural Engineering. Lexee also volunteers with a local riding club where she runs horse shows and works on the facilities team where she spends a great deal of time on a big green tractor. Lexee loves the outdoors; she enjoys camping, hiking, running, and exploring local trails with her horses and dogs.