Alder
| | | | |
| --- | --- | --- | --- |
| SEX: gelding | BREED: Morgan/Arabian cross | REGISTERED NAME: none | INTAKE DATE: 12/5/2019 |
| COLOR: Bay | MARKINGS: Large snip | | |
| YOB: 2009 | AGE: 11 | HEIGHT: 15.0 | WEIGHT: 1137 lbs |
| LOCATION: Redmond | ADOPTION FEE: $2,500 | Online Adoption Application | |
Alder and Pearl were rescued from a neglectful situation as yearlings. Their rescuer did her best to care for them, but physical limitations led her to seek a new home for them. He remained until spring 2020 when he entered our Horsemanship program at SAFE.
Alder is a well-built, pretty mover with a great attitude. Our Horsemanship volunteers have found him fun to work with–he's so smart and has a lot of try, so he's a fast learner. And with just a few months under saddle, Alder's proving that he is a very capable riding horse! Since he's still so green, he is best suited for an advanced rider working with a trainer or who is experienced bringing horses along. Alder has a great foundation and is ready to find his person!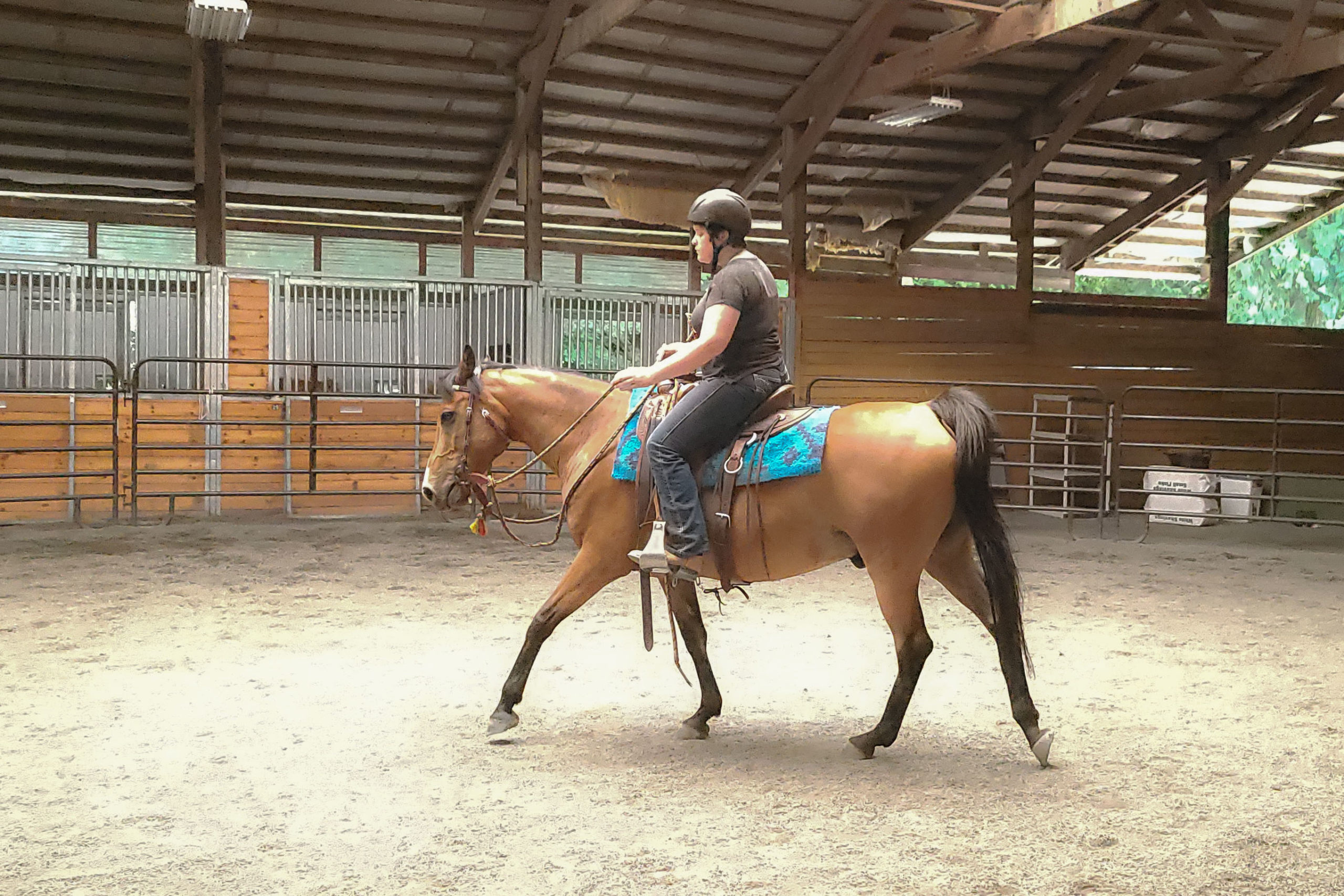 Clinic report from Kaya M:
Alder, yet again, was an all-star in the clinic! Joel started out the weekend riding him as he had some time off right after training due to sickness. By the end of the weekend, five different people had ridden him, being flagged around the round pen. Alder is the greenest horse I've ever ridden at SAFE, so I had a lot to learn about how to help him figure things out. I'm so grateful for the opportunity to learn on such a thoughtful and patient guy. We still need to work on getting a balanced trot without trying to break into the canter and his front quarters need some more work. Bridling is also going to take some time and patience on my part since he has a hard time taking the bit, but I'm confident that we'll figure these things out! I'm looking forward to working with Alder for as much time as we have together.

Alder's Friends:
1. Jane M.
2. Linda V.
3. Bob G.
4. Candice R.
5. Julie B.
6. Marcella H.
7. _____________________
8. _____________________
9. _____________________
10._____________________
Every horse deserves at least ten friends! Even a small monthly donation can make a difference. Plus, SAFE horse sponsors receive discounts at local businesses through the SAFEkeepers program!