Alder
| | | | |
| --- | --- | --- | --- |
| SEX: gelding | BREED: Morgan/Arabian cross | REGISTERED NAME: none | INTAKE DATE: 12/5/2019 |
| COLOR: Bay | MARKINGS: Large snip |   |   |
| YOB: 2009 | AGE: 11 | HEIGHT: 15.0 | WEIGHT: 1137 lbs |
| LOCATION: Redmond | CURRENTLY PENDING ADOPTION |   |   |
Alder and Pearl were rescued from a neglectful situation as yearlings. Their rescuer did her best to care for them, but physical limitations led her to seek a new home for them. He remained until spring 2020 when he entered our Horsemanship program at SAFE.
Alder is a well-built, pretty mover with a great attitude. Our Horsemanship volunteers have found him fun to work with–he's so smart and has a lot of try, so he's a fast learner. And with just a few months under saddle, Alder's proving that he is a very capable riding horse! Since he's still so green, he is best suited for an advanced rider working with a trainer or who is experienced bringing horses along. Alder has a great foundation and is ready to find his person!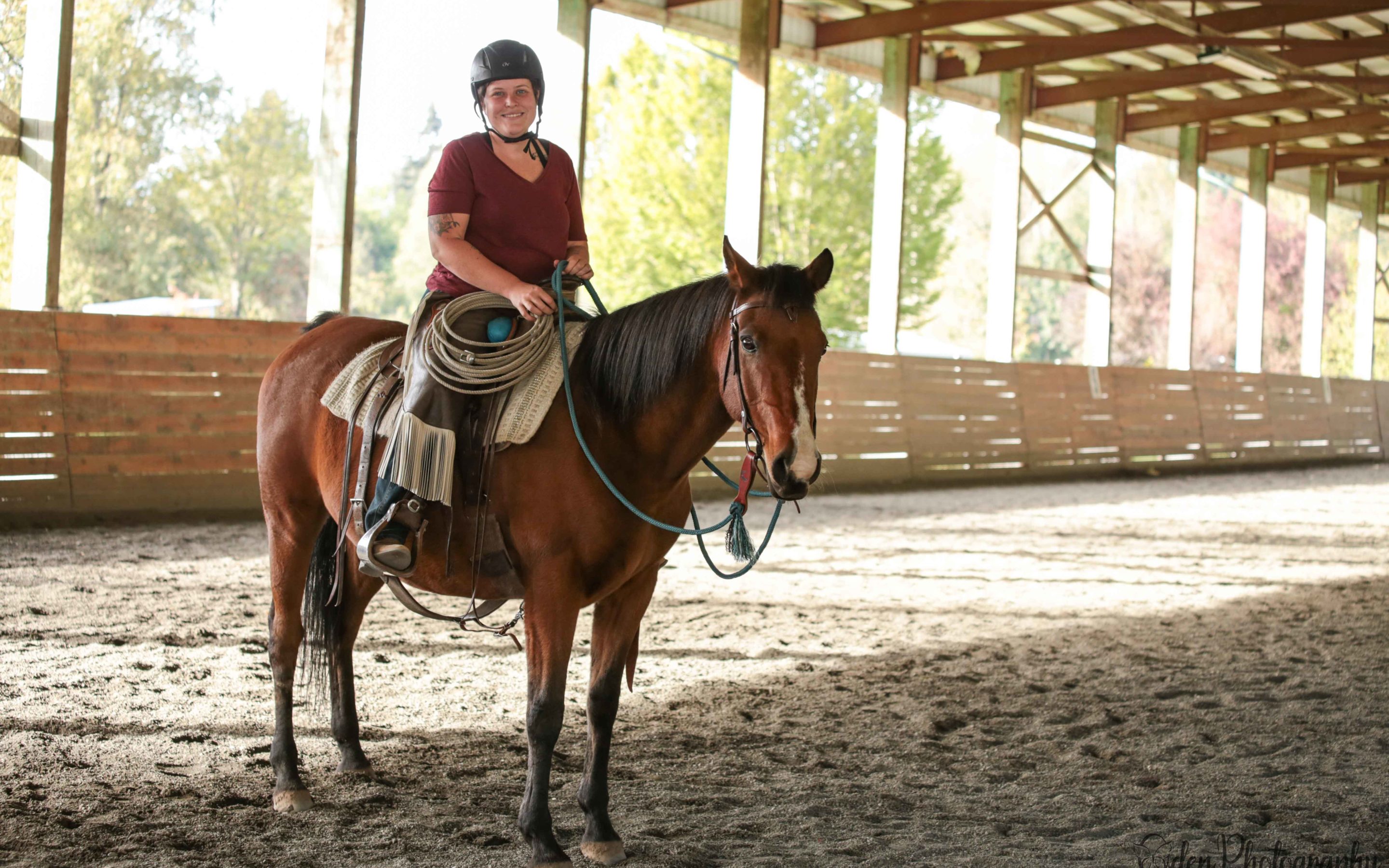 from Kaya M.
Alder continues to impress me with how accepting he is of new experiences and learning new things. I think I have been underestimating him! I was a little nervous about the clinic because we've never ridden with so many other horses or horses from outside SAFE, but he was a champ! Casey and Fancy helped us both get through a little of those nerves. Alder and I rode up to Fancy and Casey pet him to show him it was okay to approach other horses. This helped us both tremendously and we were able to settle into the class with relative ease. We worked mostly on getting accurate hindquarters and front quarters, and improving our soft feel. By the end of the clinic we had a much smoother turn around and were stopping on two reins with accuracy. I'm so proud of this boy! He's proven that he is so adaptive and ready to work with whoever is riding him. I'm so excited for his adopter to help him through the next phase of his education and build a partnership with him!

Alder's Friends:
1. Jane M.
2. Linda V.
3. Candice R.
4. Marcella H.
5. _____________________
6. _____________________
7. _____________________
8._____________________
9._____________________
10._____________________
Every horse deserves at least ten friends! Even a small monthly donation can make a difference. Plus, SAFE horse sponsors receive discounts at local businesses through the SAFEkeepers program!