Aries
SEX:
mare
BREED:
Arabian
REGISTERED NAME:
none
INTAKE DATE:
4/5/2021
COLOR: red roan
MARKINGS: blaze
For Intermediate Rider
YOB: 2003
AGE: 17
HEIGHT: 13.3 hh
WEIGHT: 800 lbs
LOCATION: Redmond, WA
ADOPTION FEE: $700
Online Adoption Application
Aries was surrendered to SAFE when her family needed to sell their home due to medical reasons. She arrived with another horse, Lucca, who is also a senior mare. They are healthy, with shiny coats and just in need of a farrier visit. Both have experience trail riding, but haven't been ridden in a year. Aries was the family's 4H horse growing up. We are still in the process of accessing Aries, but we believe she would be a good fit for an intermediate rider who can give her more support. She could make a good trail horse as long as she has a buddy to follow. The same is true with trailering. She loads easily if another horse is in first. Aries tends to be the boss mare in a herd, but has had a lot of horse friends over the years. We look forward to getting to know these sweet seniors.
All SAFE horses are adopted with a no-breeding clause, no exceptions.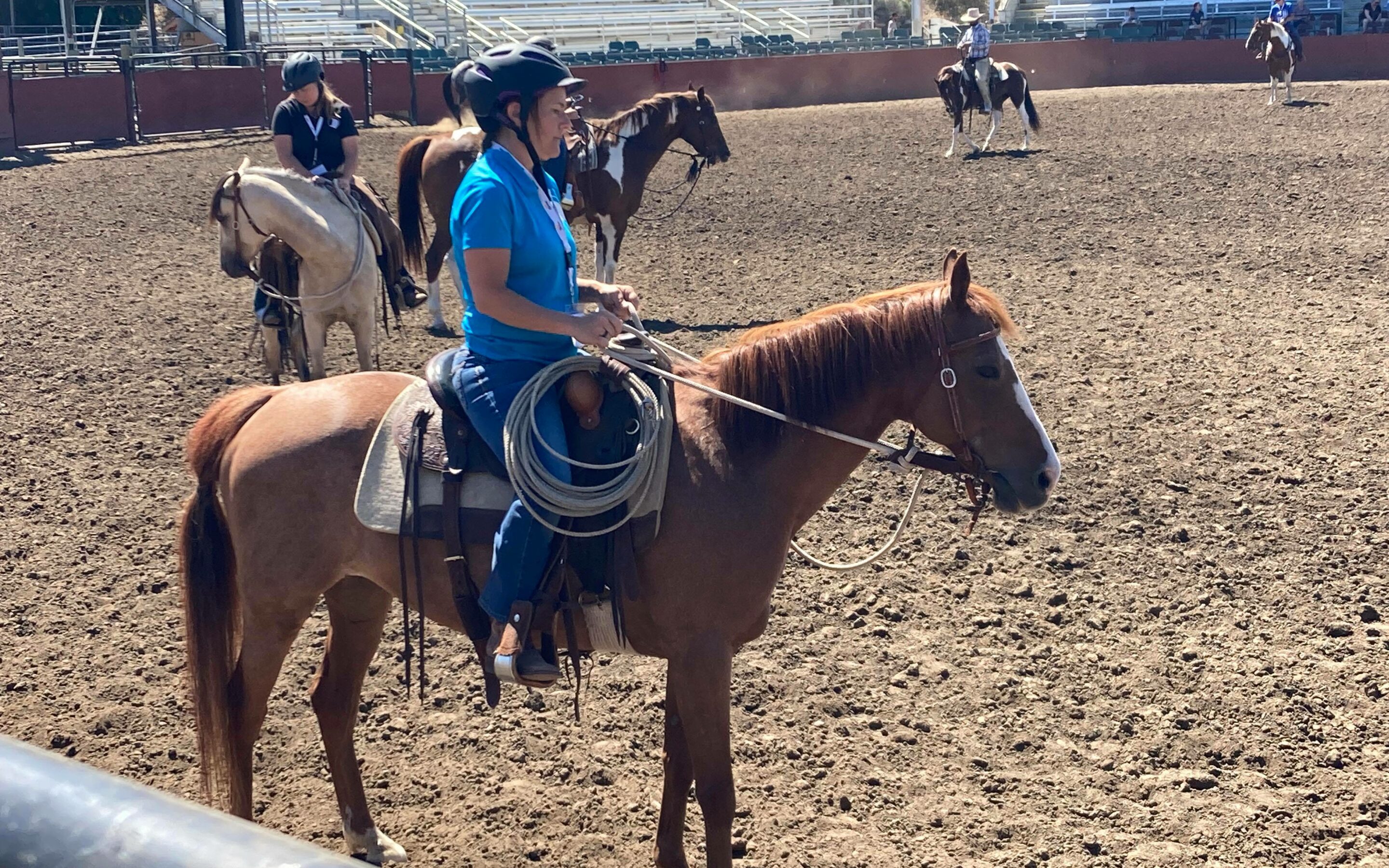 Our volunteer rider, Candi, rode Aries in the Buck Brannaman Clinic in Ellensburg in June and here's what Candi had to say.
"In July, the SAFE horsemanship team had the opportunity to attend the Buck Brannaman clinic in Ellensburg. In preparation for the clinic, I spent several weeks getting to know Aries through groundwork and riding. Loading, hauling and unloading after the journey to Ellensburg was as simple as could be. She was at ease in her paddock, in the arena and getting baths to cool her off the entire four days we were there.
"We spent three mornings in clinic learning groundwork foundations from Buck. Aries was in tune with me, listened and responded well. She has had trouble bracing and not wanting to back up. During the clinic, Buck helped me with my soft feel and I was able to learn and teach her two new ways of backing up. She is making great progress with her handy new skills.
"Aries is also learning to line up to the rail and stand still. This will prepare her for a rider needing to mount in ways other than directly from the ground.
"Aries loves the soft feel and responds well to subtle cues. She has a very sweet soul and I am so happy to be a part of her journey."

Aries's Friends:
1. Susanne M.
2. _____________________
3. _____________________
4. _____________________
5. _____________________
6. _____________________
7. _____________________
8. _____________________
9. _____________________
10._____________________
Every horse deserves at least ten friends! Even a small monthly donation can make a difference. Plus, SAFE horse sponsors receive discounts at local businesses through the SAFEkeepers program!