Asha
| | | | |
| --- | --- | --- | --- |
| SEX: Mare | BREED: Quarter Horse type | REGISTERED NAME: | |
| COLOR: Bay roan | MARKINGS: | | |
| 2007 | AGE: 11 | HEIGHT: 14.3 | WEIGHT: 1078 lbs |
| LOCATION: Redmond | ADOPTION FEE: TBD | Online Adoption Application | |
Asha and and her herdmate Tabitha were seized from their owner by animal control officers, who were called to the property by a report of a horse that was down and stuck in mud. When they arrived, they discovered that the horse had been severely starved. They were unable to save that horse, but seized two other mares that were living on the property.
Asha is about 11 years old, and we're told she is gaited. She is big bodied and tall, which bodes well for her being adopted as a riding horse. Asha is extremely sweet and kind, but has a lot of energy! All SAFE horses are adopted with a no-breeding clause, no exceptions.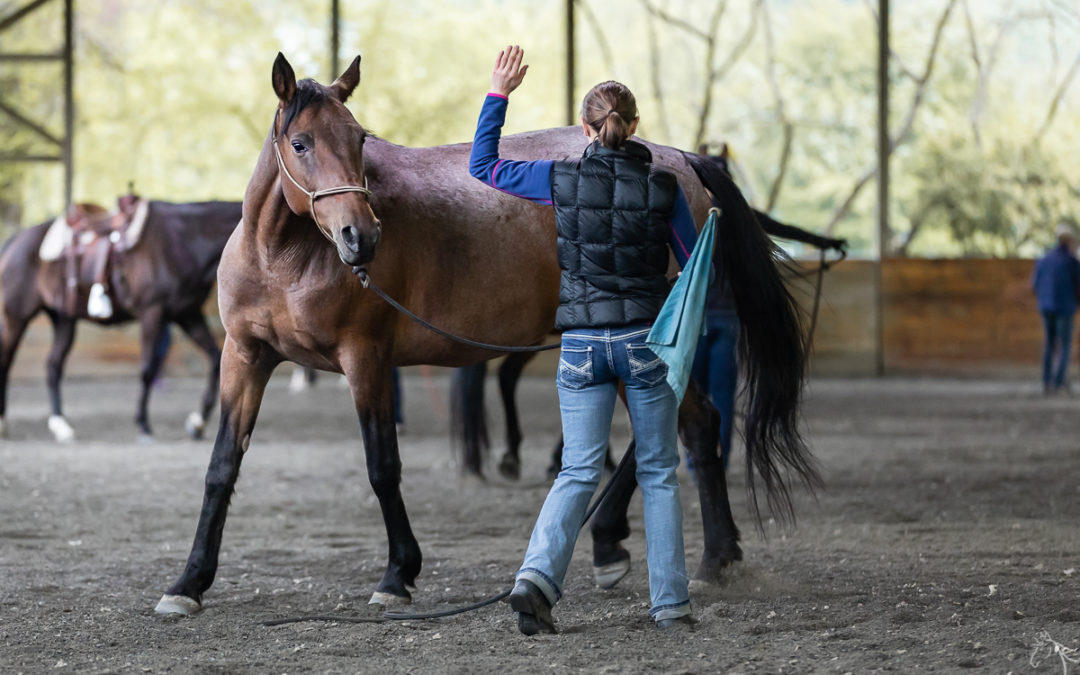 SAFE volunteer rider Casey A worked with new girl Asha during the groundwork portion of last weekends's Joel Conner clinic. Here's what she had to say:
I worked with Asha for the groundwork portion of the clinic all three days. This was the first time she had been worked since arriving at SAFE, and she did great! She is quite responsive to a feel, so she settled in quickly and thoughtfully. Though concerned about the flag and rope initially, by the end of day three, she was ok with the rope dragging through her hinds and the loop over her rump. She does have trouble changing eyes, particularly left to right, but we got a big change by the end of the clinic. Asha is a great horse, and she is going to make an awesome partner. I look forward to continuing our groundwork in preparation for starting her under saddle.

Asha's Friends:
1. Joanna R.
2. Cheryl C.
3. _____________________
4. _____________________
5. _____________________
6. _____________________
7. _____________________
8. _____________________
9. _____________________
10._____________________
Every horse deserves at least ten friends! Even a small monthly donation can make a difference. Plus, SAFE horse sponsors receive discounts at local businesses through the SAFEkeepers program!