Asha
| | | | |
| --- | --- | --- | --- |
| SEX: Mare | BREED: Gaited type | REGISTERED NAME: Unknown | |
| COLOR: Bay Roan | MARKINGS: None | | |
| 2007 | AGE: 11 | HEIGHT: 14.3 | WEIGHT: 1078 lbs |
| LOCATION: Redmond | ADOPTION FEE: Medical Hold | Online Adoption Application | |
Asha and and her herdmate Tabitha were seized from their owner by animal control officers, who were called to the property by a report of a horse that was down and stuck in mud. When they arrived, they discovered that the horse had been severely starved. They were unable to save that horse, but seized two other mares that were living on the property.
Asha is about 11 years old, and appears to be gaited. She is big bodied and tall, which bodes well for her being adopted as a riding horse. Asha is extremely sweet and kind, but has a lot of energy! We discovered that she was pregnant when seized but have no information about the foal's sire. Asha is expected to foal in September. All SAFE horses are adopted with a no-breeding clause, no exceptions.
Preparations have begun here at Safe Harbor Stables to welcome our three new foals into the world. Our three mothers-to-be became pregnant prior to their rescue, and while we are firmly on the side of responsible breeding to do our part in minimizing America's homeless horse population, we really can't wait to hear the pitter-patter of little foal feet in the barn aisle. We don't like to see unplanned pregnancies bringing new life into the world, but we're happy that these three foals are being born into a community whose mission it is to look out for their well-being for the rest of their lives.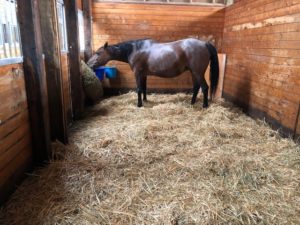 Last week we got our foaling stall set up. It was just in time, too, because that same day Asha started showing signs that she might be going into labor. Dr. Lewis from Rainland came out to examine her. She palpated Asha again and found that the baby was moving a little less than she would like, and its heartbeat was a little slower than she'd like. This is slightly concerning, but not reason for alarm at this point. It was recommended that we monitor her through the night and that it wouldn't be surprising if she had her foal over the weekend. Dr. Lewis said that we could also just be seeing late-gestation colic symptoms, or gastric ulcers related to pregnancy.
This past weekend was our fist "baby watch" for Asha. It was an uneventful weekend. All of her potential pre-labor signs have subsided for now, but we're prepared!

Asha's Friends:
1. Joanna R.
2. Cheryl C.
3. Lindsay P.
4. _____________________
5. _____________________
6. _____________________
7. _____________________
8. _____________________
9. _____________________
10._____________________
Every horse deserves at least ten friends! Even a small monthly donation can make a difference. Plus, SAFE horse sponsors receive discounts at local businesses through the SAFEkeepers program!