Billy had an interesting and challenging life when he arrived at SAFE. We're told he was used as a bucking horse for kids, and the numbers branded on his croup indicate this is likely true. He was purchased from an auction earlier this year, and then taken in by another family two months ago. They were not been able to catch him on their four acre goat farm. Unfortunately, Billy and the goats did not do well together and his owner didn't have the experience to help him.
Billy is a very brave boy but he clearly was mistreated in the past. He was friendly and fairly easy catch in a small area, but once turned out into a paddock, it took our most experienced volunteer riders to catch him. Billy's right eye has a blind spot, but it's not painful and he seems to have enough vision to manage well. After working with our horsemanship team, including his time in foster, Billy learned to be more trusting and that the halter didn't mean something bad was going to happen. Billy now lives with a loving family spanning 3 generations and a girlfriend, Vinnie, a Warmblood trail horse.
Billy
2003 paint Pony gelding
Registered Name: none
Type of Rescue: Owner Surrender
Intake Date: 10/25/20
Adoption Date: 6/14/21
Length of Time with SAFE: 9 months
ADOPTED!! by Jane, Henry, Anne and Mara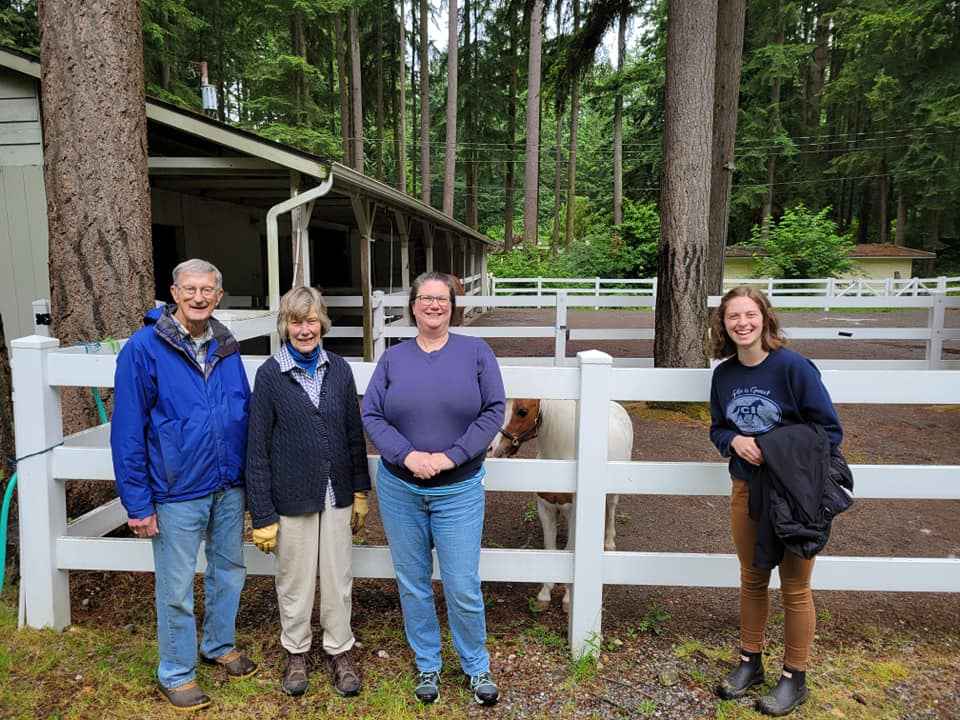 Billy is adopted! He has found a loving family in Bridle Trails with Jane and Harry, their daughter Anne and granddaughter, Marin. He even has a girlfriend, Vinnie, a Warmblood trail horse.
Billy had a rough past life. We believe he was used as a bucking horse for kids, which had to have been somewhat traumatic. When he came to SAFE, he was nervous around people and extremely scared of the lead rope. To him, ropes most likely meant pain or that something bad was going to happen. Two months before we picked up Billy, he had ended up at an auction. The couple who bought him were unable to catch him on their 4‑acre farm and realized they didn't have the experience they needed to help him. Once at SAFE, Billy was always easy to catch in his stall, he just seemed shy. But once turned out into a paddock, it took our most skilled handlers to catch him. Through our training program and giving Billy all the time he needed, he learned that being haltered wasn't going to mean fear and hurt anymore.
Even though Billy was only at SAFE for 6 months, he helped many SAFE horses. When we needed to pick up a mare living on 20 acres who hadn't been handled in years, Billy was there to bring her comfort in the trailer ride to SAFE. When a SAFE alumni was upset because her boarder friend had left, Billy came to the rescue and provided comfort again. This time he received training in the process by SAFE Alum Sophie's adopter, Julie. Check out his training progress while in foster with Julie, in the videos below.
Billy's story demonstrates the reason SAFE does the work we do. Here was a horse who was used and tossed away. Being passed from home to home due to all the trouble he experienced in his life made him less desirable to potential owners. The SAFE community provided him a place to recover, so that a kind family could find a pony to make their own. We are happy for Billy and the three generations of this family who will provide love and care for the rest of his life.