Bowie
description: 1998 chestnut Halflinger gelding
type of rescue: Animal Control seizure
intake date: 4/19/2018
adoption date: 1/7/2019
length of time with SAFE: 8 months
ADOPTED by Pat
Bowie's Story
Bowie was one of six horses removed from their owner due to neglect. He was a stallion when he was seized, and after he was signed over to SAFE, he became a happy gelding. He's a ridiculously handsome horse with a flowing mane and forelock, and classic Halflinger markings. We look forward to getting to know him better once we are able to start working him on the ground. Bowie is the sire of SAFE horse, Glory.
Bowie Today
Our handsome fellow has found a home! After spending lots of hours with SAFE Horsemanship volunteers both on the ground and under saddle, Bowie has been adopted into a home where he'll continue to be ridden and later retire to a gentleman's life of leisure.
Before leaving SAFE, it was evident that in the past Bowie had spent time in a boarding barn and he quickly settled into the daily routine. He already knew quite a bit about being a riding horse, but had some issues to work out, like learning to relax into a loose rein and slowing without a brace.
Because he was gelded late in life, he's not a beginner's mount, but with the right energy from his handler he's a gentleman on the ground and easily managed under saddle. That's why we're so excited he found Pat. Her vast horse experience is a perfect match for Bowie. He will maintain his manners, continue as a riding horse and enjoy the good gelded life.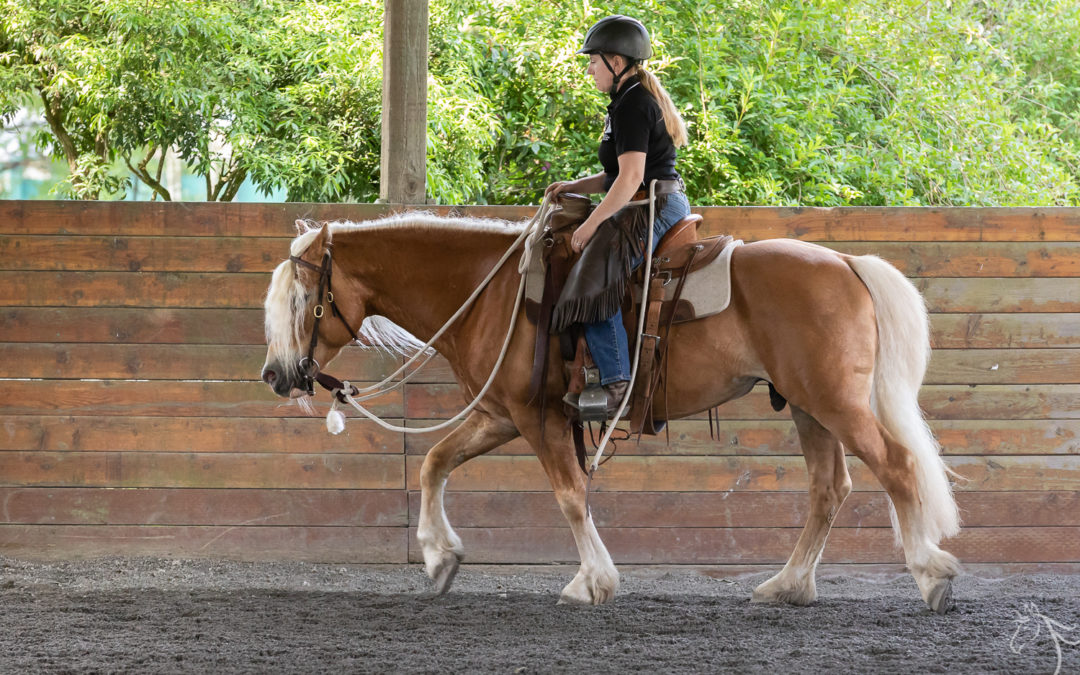 We have been pleasantly surprised to find out how much our friend Bowie knows already about being a riding horse! He has wonderful ground manners, stands nicely while being groomed and when working with the farrier or vet, trailers easily, bathes, and has settled into the daily routine at Safe Harbor without any issues. He clearly has been in boarding barn settings before, as he is quite comfortable in a busy environment with lots of other horses around. Since being gelded, he has become quite relaxed around other horses, quiet in his stall and turnout and better about keeping his attention on his handler. He does still get a little animated from time to time, especially when he sees our mini Sunny. Maybe he thinks he is a mini Haflinger!
We were able to start him under saddle without issue at Safe Harbor Stables and he has not shown any aggression or studdish behaviors. That said, we have had good hands working him and if he became distracted we made sure to regain his attention and not to let things escalate. He may always need his handler to be mindful of his stallion nature, but it is easily manageable with mindfulness and attention.
I was able to ride him in our last Joel Conner clinic. This was a good test to see how he would react to being in the arena with multiple other horses. Overall, he did well but we also learned a lot about him, both some indication of past riding and what we needed to concentrate on to help him become a more relaxed and content riding horse. From what we can guess, he was previously ridden in contact so when allowed to have the rein, especially in the canter, he didn't exactly know what to do except go faster. This issue became very evident with the energy of the other horses in the arena. He became especially animated while moving towards the gate ("heading home"). He did bolt a few times and lost connection to his rider when asked to relax and slow down. To help him with this issue, we worked on both getting him to "pet to a stop" and transition downward with just the rider's feel. When he disconnected or tried to speed up, he would be asked to come down using only the inside rein. It is evident that when this happened in the past, his rider would pull back on both reins, making him feel trapped and allowing a brace to build in his body. By using the one rein stop, we can help him with his trouble without allowing a brace to happen. Since the clinic, Bowie is doing much better. A lot of time has been spent riding him on a loose rein in all gaits. He seems a lot less worried that someone is going to grab his face when he goes up into the canter.
We have also taken him out on a few trail rides. He doesn't love to lead yet, but for the most part is a good trail companion. He does require support if he sees something new or gets worried about what lies ahead. He will probably do better on the trails with a confident buddy horse for some time and may always prefer going out with a buddy than alone . However, it may be possible that as he gains trust in his handler he could be ridden on a familiar trail without another horse.
Overall Bowie is an amazing guy. He has a great personality and loves attention. Since he was gelded at 20 years old, he will require some management around other horses and distractions but is easily managed by an intermediate handler. We do not suggest adopting him as a child's horse or a beginner's horse. He has a lot of go and needs a rider who will enjoy his energy and not be afraid of him and pull on him to stop. He is connecting well to feel and relaxes easily to the energy of his rider. He is a fun little ride and going to make someone a very happy owner!
Photos of Bowie at the Joel Conner Clinic in June: