Cassidy
| | | | |
| --- | --- | --- | --- |
| SEX: Mare | BREED: Arab | REGISTERED NAME: |   |
| COLOR: Bay | MARKINGS: Star, 4 white feet |   |   |
| YOB: 2008 | AGE: 11 | HEIGHT:  | WEIGHT:  |
| LOCATION: Redmond | ADOPTION FEE: TBD | Online Adoption Application |   |
Cassidy and her two herdmates were surrendered to SAFE after the sudden and unexpected death of their owner. The three horses had not received proper care for a while, with overgrown hooves and tangled, knotted manes. Cassidy's two companions are both draft horses, so naturally she looks small in comparison, but she is a very petite and pretty mare. We're told she is unstarted under saddle, so she will learn a lot here at SAFE!
All SAFE horses are adopted with a no-breeding clause, no exceptions.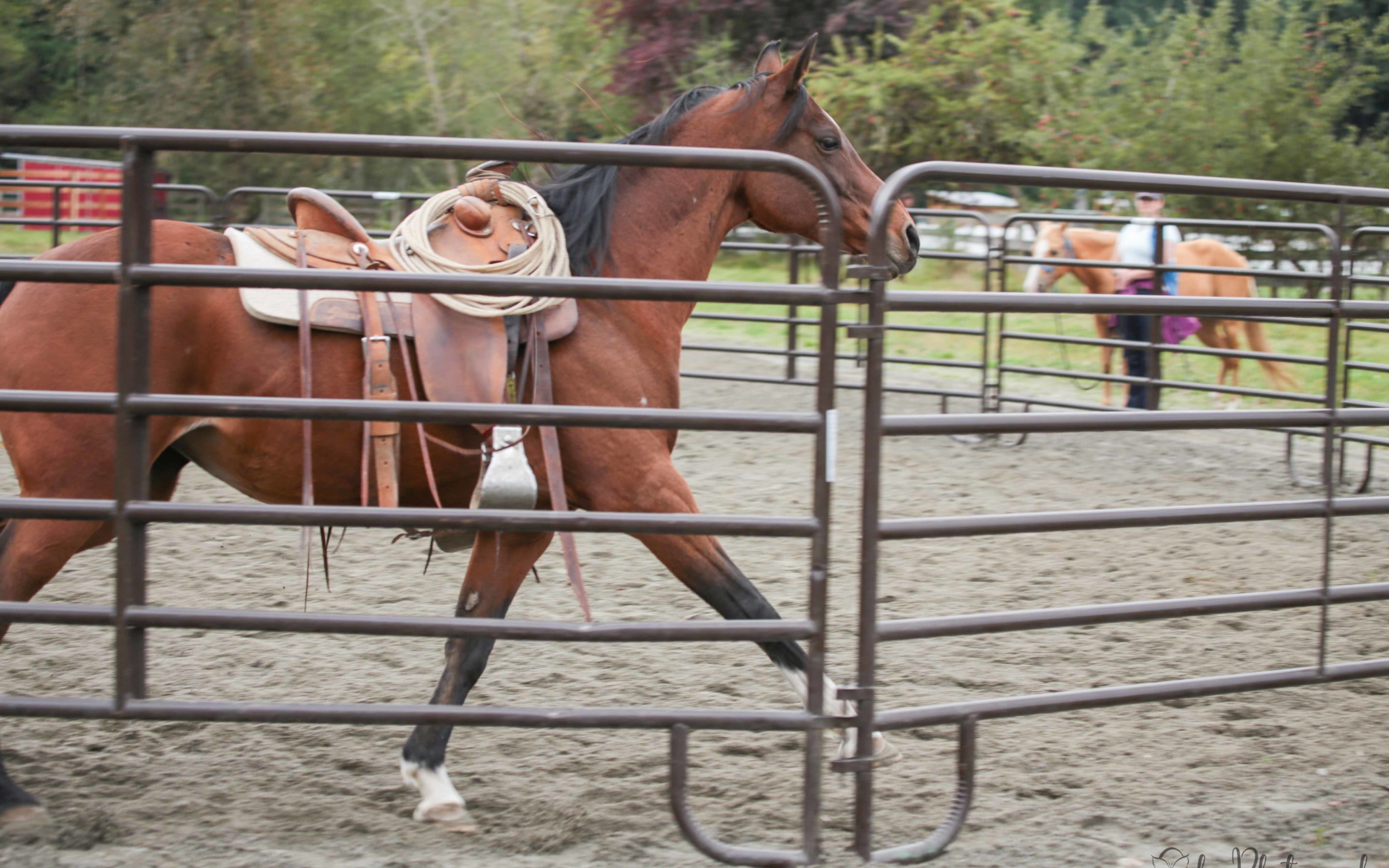 Little "Baby" has sure grown up! A lot has changed for her since her arrival at SAFE, but more recently she has become a riding horse! We put in a lot of preparation and patience to get her ready to start this next chapter. During the September Horsemanship clinic, our friend Joel Conner put on a few rides. Cassidy handled this well but there was still more groundwork to get her relaxed and accepting of the saddle.
We worked consistently to get her ready for the next clinic and that work paid off! When Joel returned in November, I was able to ride her every morning before the clinic began. Feeling confident now that I could take on her riding from there, she's remained here at SAFE and I have been riding her in the round pen a few times a week.
Our most important goal right now is to get her to follow the position my body is going, and help her learn to connect with her rider and stay focused. At this point we are not overly concerned about where her head is or trying to micromanage her. This foundation will grow into the more advanced riding but for now "baby steps" go much farther than pushing her too much.
Cassidy is a sensitive mare. She has a tendency to look for support and comfort from other horses but is starting to realize those things are also available from humans. We had a little setback recently when a cold went around the barn: poor Cassidy got it as well as a cough. She's had two weeks off and hopefully by next week she'll be well enough to start working again. We ended things on a really good note as she began feeling of me all the way down to a stop on the far side of the round pen. This is a big deal because she has been very drawn to the gate and the direction of her horse buddies. I am hopeful we can take a few days getting back into the grove and she will be back on track very soon. Best guess is that she will be ready to go into the arena to ride first of the year and ready to start meeting potential adopters in February or March.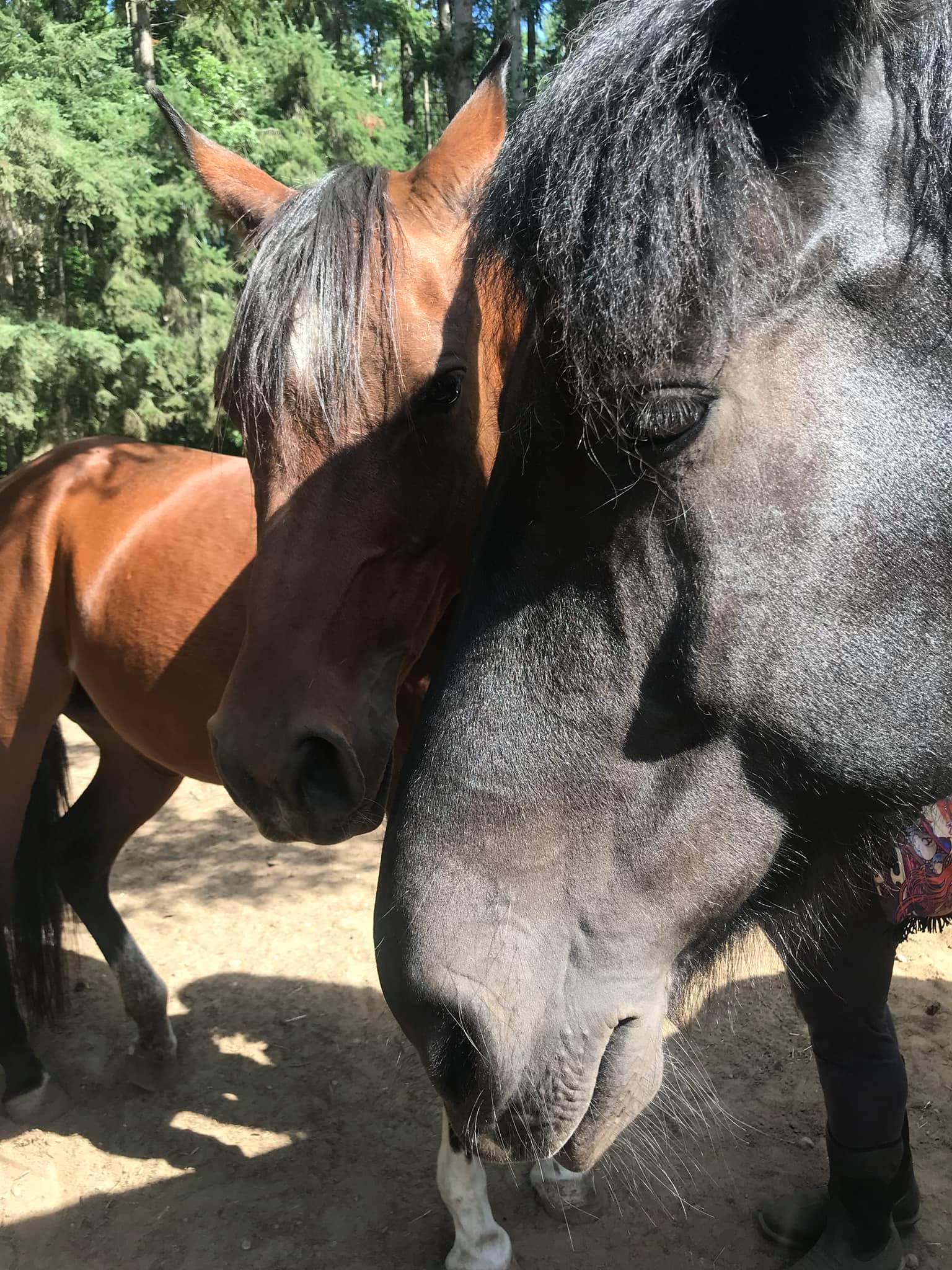 Cassidy is opening up more each day and her personality is coming through now that her herd bound issues have been addressed. In the beginning, she was so worried about being away from Moon and Slim, we were concerned she might even colic if separated too quickly. With the help of groundwork, we taught Cassidy to feel the support and comfort of a person so she didn't always have to rely on another horse to feel safe. Truthfully,  this is probably one of the hardest parts of the gentling work. You know that what you are doing is helping the horse get more confidence and balance, but their reaction to being separated from another horse can be difficult and even dangerous to deal with. When a horse is in a panic, they can easily run over the top of you without any concern for your well-being!
Luckily, when we first started working with Moon and Cassidy, Joel Conner was here for a clinic and he helped us come up with a plan that would slowly help the mares learn that it was okay if the other was not right by their side. And when we say slowly, we mean SLOWLY! We'd start by moving them just a few feet apart, then used groundwork to help them keep their focus on their handler. After weeks of working them together in the arena, we were able to move Cassidy out to the round pen while Moon stayed in the arena. And with more work, Cassidy was able to go to the arena or round pen alone and leave Moon back in their paddock. All this was done very carefully to make sure it was not too much for either of them to handle. Cassidy started to change with this work. She became more peaceful and her eyes softened. I would even go as far as to say that she appeared MORE relaxed and content after joining up with me than she had when we were near Moon.
A few days ago, Moon left SAFE on an adoption trial. The timing could not have been better, because Cassidy was ready. As Moon was leaving, she stood quietly, called out twice as they drove off, and then acted as if nothing had happened. I spent the next few hours with her, ready to support her if she became worried or upset. To be honest, I didn't really have to do anything. We walked around the property, visited her friends, and munched on grass. I took her back to the paddock she had shared with Moon and made sure she noticed that she had full access to all the hay without Moon there driving her off. She went over and said hi to the aunties and babies in the field next to her and was quiet and very content.
Since Moon's departure, we have been able to get to work preparing Cassidy to be saddled. This is important to a successful start. Over the next month, we will take her through the steps towards riding and hopefully put the first rides on some time in October. She has a very calm disposition now and I am confident she will make it as a riding horse. She is very sweet and a pleasure to be around and get to know. We look forward to seeing her transformation as she gains more experience and prepares for her forever home!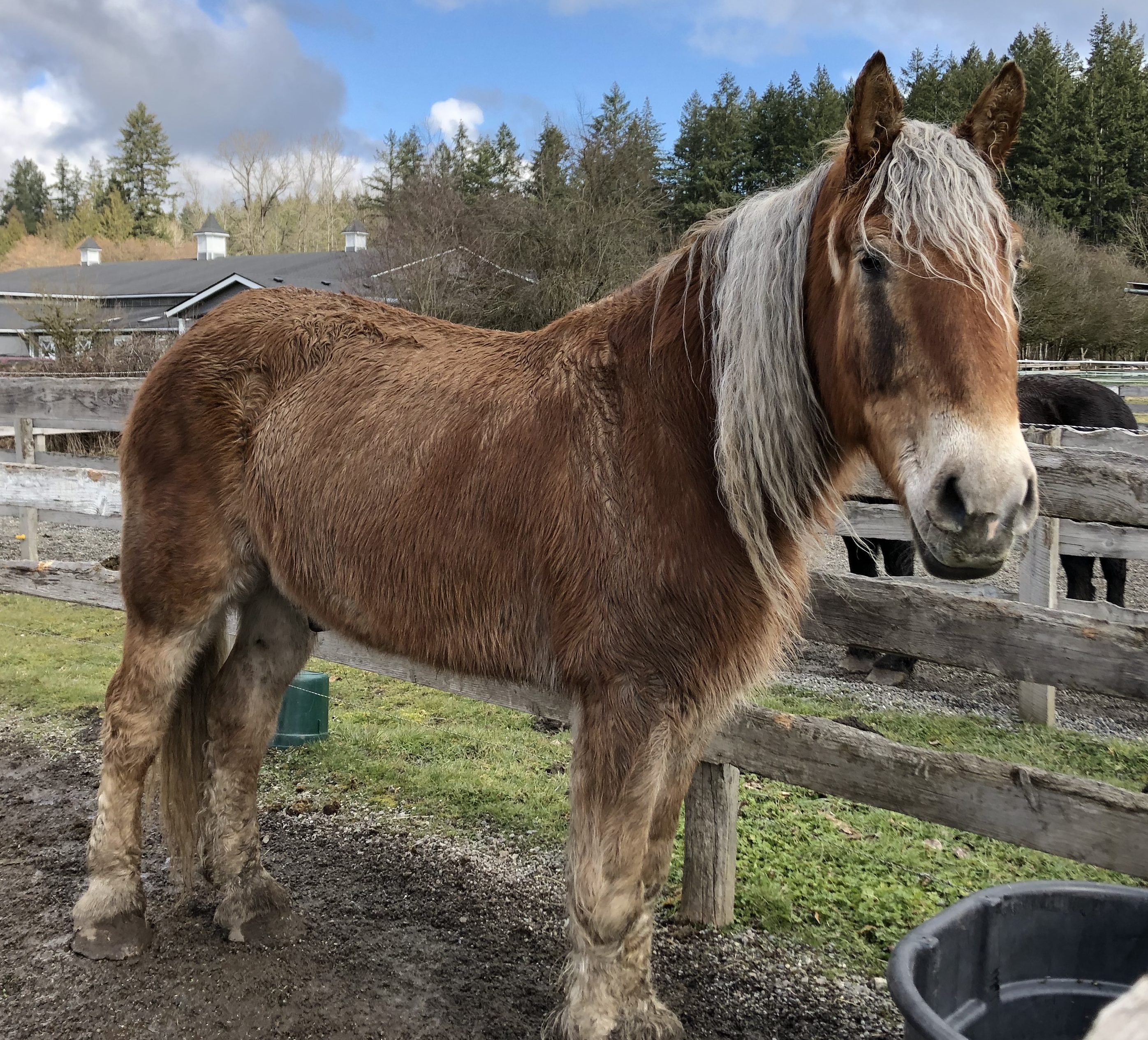 Slim, Moon, and Cassidy were surrendered to SAFE after the sudden and unexpected death of their owner. Their owner's passing coincided with an unusually large amount of snowfall in this area, so friends and neighbors pulled together to take care of the horses until they could be transported to SAFE. The three horses have not received proper care for a while, and Slim, a 17 year old Belgian gelding, is underweight. His hooves are badly in need of trimming, and his flaxen mane is tied up in knots. The other two horses are Moon, a 17 year old Percheron mare, and Cassidy, an 11 year old Arabian mare. The two mares were in better shape, as they were dominant over the gelding, and often wouldn't allow him to eat.
All three horses are very sweet and friendly, and have clearly been treated well. Slim reportedly suffered a back injury as a young horse, and cannot be ridden. We're told that Moon has been ridden, and Cassidy, who was born on the property, had not been started.
After the snow cleared, we went to pick the horses up, and were quite surprised to see Slim in person. He is huge!! We'd already decided that he would be the first horse to load into our three-horse trailer, but once we got him into it, we realized that we weren't going to be fitting anyone in there with him. He pretty much filled the space! So we hauled Slim home to SAFE, then went back the next morning to get Moon and Cassidy. All three horses hauled well, despite their inexperience with trailering.
The three horses are currently in quarantine, and are living outside 24/7. This allows us to avoid having anyone handling them any more than necessary. Slim, while a friendly and sweet fellow, has not been handled much, and because of his size, when he wants to go somewhere, there's not a lot that can be done to stop him! But once he's made a full recovery, we'll be able to start his horsemanship training and teach him some new and better ways to interact with humans. The three horses seem to have settled in well.
Want to see the new horses in person? Mark your calendars for the SAFE Open House, coming up on Saturday, April 27 from noon to 3pm. Everyone is welcome! Come say hello to our new friends!
"before" photos: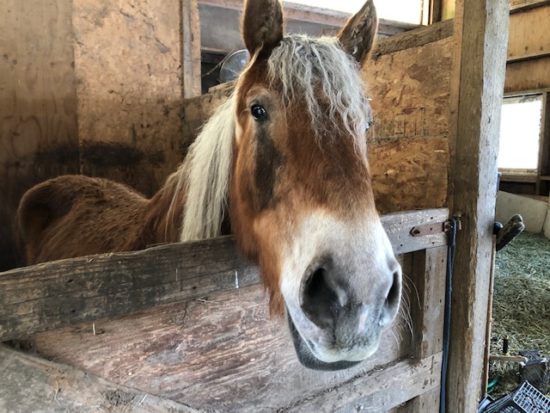 :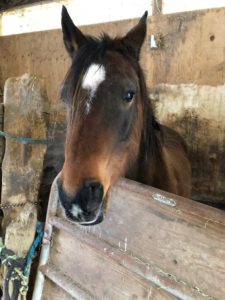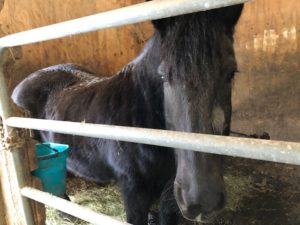 Cassidy's Friends:
1. Kristina D.
2. Jane M.
3. Jeanne A.
4. Dej J.
5. Claire B.
6. _____________________
7. _____________________
8. _____________________
9. _____________________
10._____________________
Every horse deserves at least ten friends! Even a small monthly donation can make a difference. Plus, SAFE horse sponsors receive discounts at local businesses through the SAFEkeepers program!