Cassidy
| | | | |
| --- | --- | --- | --- |
| SEX: Mare | BREED: Arab | REGISTERED NAME: |   |
| COLOR: Bay | MARKINGS: Star, 4 white feet |   |   |
| YOB: 2008 | AGE: 11 | HEIGHT:  | WEIGHT:  |
| LOCATION: Redmond | ADOPTION FEE: TBD | Online Adoption Application |   |
Cassidy and her two herdmates were surrendered to SAFE after the sudden and unexpected death of their owner. The three horses had not received proper care for a while, with overgrown hooves and tangled, knotted manes. Cassidy's two companions are both draft horses, so naturally she looks small in comparison, but she is a very petite and pretty mare. We're told she is unstarted under saddle, so she will learn a lot here at SAFE!
All SAFE horses are adopted with a no-breeding clause, no exceptions.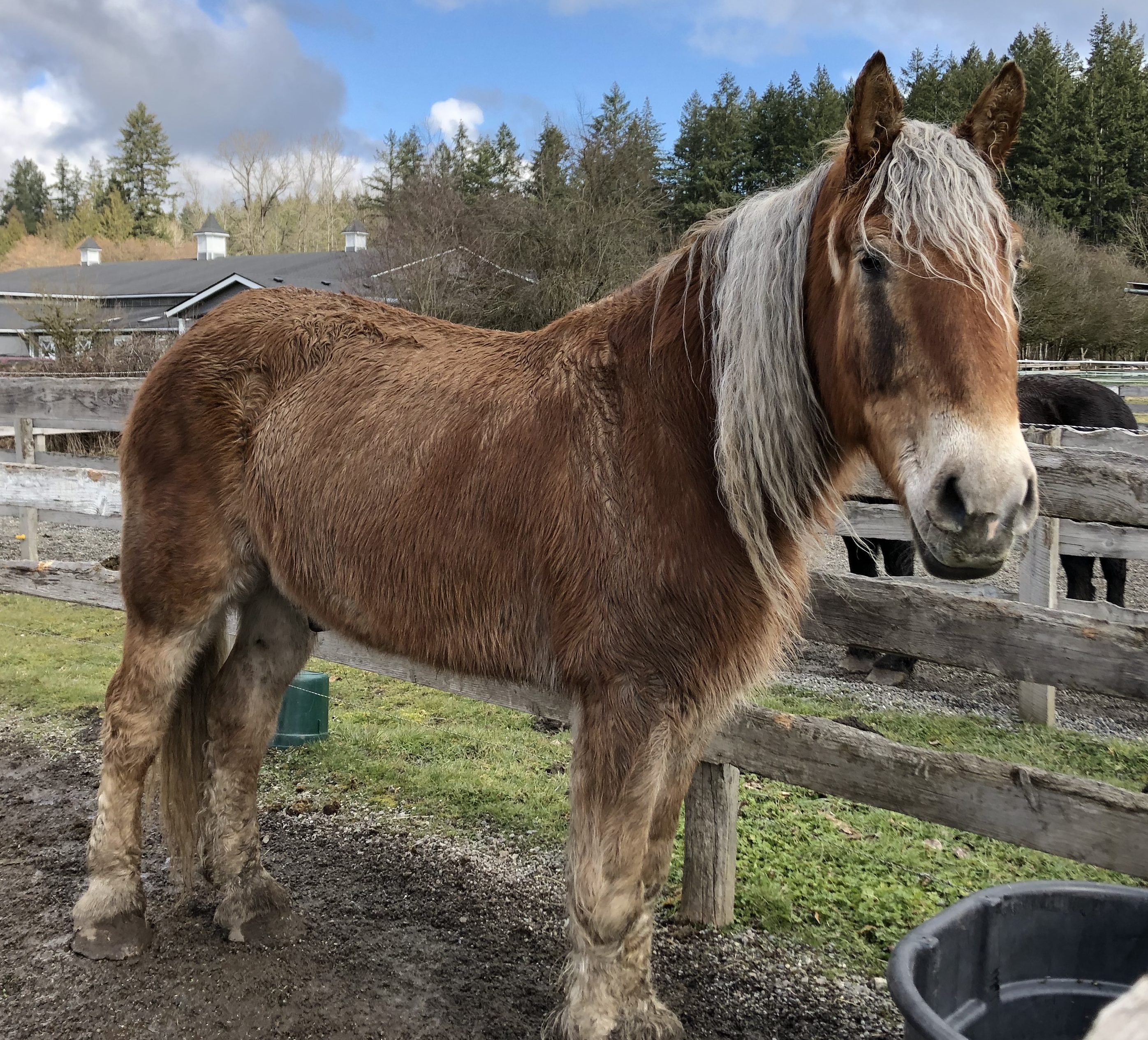 Slim, Moon, and Cassidy were surrendered to SAFE after the sudden and unexpected death of their owner. Their owner's passing coincided with an unusually large amount of snowfall in this area, so friends and neighbors pulled together to take care of the horses until they could be transported to SAFE. The three horses have not received proper care for a while, and Slim, a 17 year old Belgian gelding, is underweight. His hooves are badly in need of trimming, and his flaxen mane is tied up in knots. The other two horses are Moon, a 17 year old Percheron mare, and Cassidy, an 11 year old Arabian mare. The two mares were in better shape, as they were dominant over the gelding, and often wouldn't allow him to eat.
All three horses are very sweet and friendly, and have clearly been treated well. Slim reportedly suffered a back injury as a young horse, and cannot be ridden. We're told that Moon has been ridden, and Cassidy, who was born on the property, had not been started.
After the snow cleared, we went to pick the horses up, and were quite surprised to see Slim in person. He is huge!! We'd already decided that he would be the first horse to load into our three-horse trailer, but once we got him into it, we realized that we weren't going to be fitting anyone in there with him. He pretty much filled the space! So we hauled Slim home to SAFE, then went back the next morning to get Moon and Cassidy. All three horses hauled well, despite their inexperience with trailering.
The three horses are currently in quarantine, and are living outside 24/7. This allows us to avoid having anyone handling them any more than necessary. Slim, while a friendly and sweet fellow, has not been handled much, and because of his size, when he wants to go somewhere, there's not a lot that can be done to stop him! But once he's made a full recovery, we'll be able to start his horsemanship training and teach him some new and better ways to interact with humans. The three horses seem to have settled in well.
Want to see the new horses in person? Mark your calendars for the SAFE Open House, coming up on Saturday, April 27 from noon to 3pm. Everyone is welcome! Come say hello to our new friends!
"before" photos: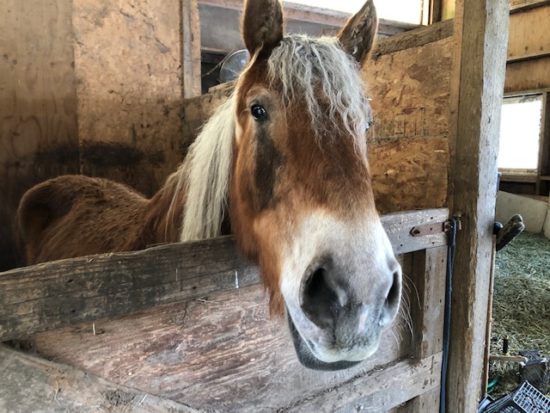 :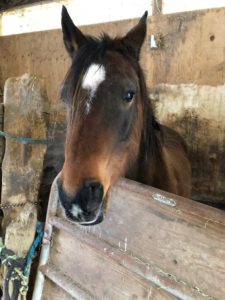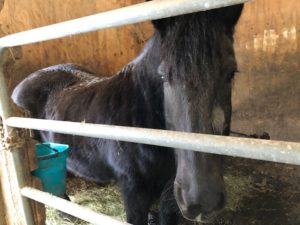 Cassidy's Friends:
1. Kristina D.
2. Jane M.
3. Jeanne A.
4. Dej J.
5. Claire B.
6. _____________________
7. _____________________
8. _____________________
9. _____________________
10._____________________
Every horse deserves at least ten friends! Even a small monthly donation can make a difference. Plus, SAFE horse sponsors receive discounts at local businesses through the SAFEkeepers program!